RuneHQ Event - Pyramid Plunder!!!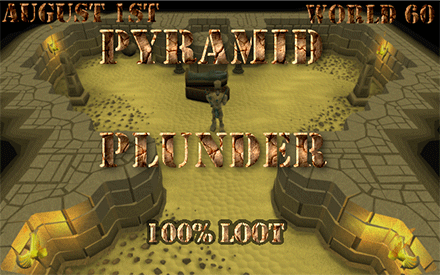 Pyramid Plunder is quite possibly the greatest thing to ever happen to the skill of Thieving. It has plundering (the best kind of stealing), it has awesome xp rates, and great rewards. So what more could you ask for? Play it with all your RuneHQ friends, you say? Okay, we can do that! Pyramid Plunder is considered dangerous (monsters can kill you), where you can gain thieving (and a bit of strength) xp. You also have a chance of receiving a Pharaoh's Scepter, which can teleport to pyramids throughout the desert, while selling it will get you a pricey 1.5m on the GE.
Event Details:
Date:

Friday 1st August 2014

Time:

6:00pm CDT / 7:00pm EDT / 11:00pm GMT / 12:00am UK

World:

60

Friends Chat:

Cardinal728

Location:

Sophanem, Pyramid Plunder
Teamspeak Details: Address - teamspeak.runehq.com
More information about the event can be found in this topic.

We hope to see everyone as we go plunder for riches!
~RuneHQ Events Team~