Table of Contents
The first step in making your own armor or weapons, is to smelt your ore into bars. To do this, go to any one of the furnaces located in towns all over the land of Runescape. When you have the ore in your inventory, simply click on the furnace to start smelting.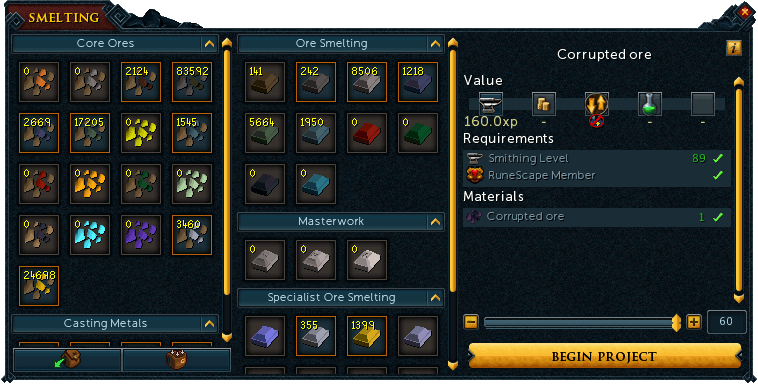 You can also use magic to smelt your bars if that is more your style by using the level 43 spell "Superheat Item" It requires 1 Nature rune and 4 Fire runes to cast this spell. Below you can find a list of the different bars you can smelt, and the required ores to do so.
The next, and final step in making your own armor/weapons is to use an anvil. Simply use your bar with the anvil and you will get a pop-up box (shown below). All you have to do is click on the item you wish to smith. You can smith items in multiples of 1, 5, x, or Smith all. Please note that you need a hammer and the required bars in your inventory to make anything.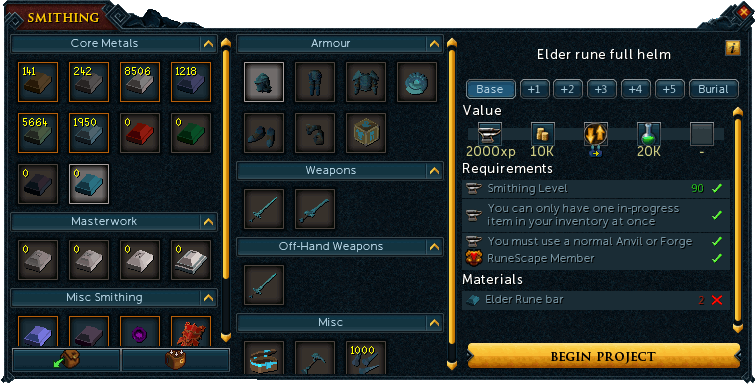 Below, you can find tables of all items that you can smith, from Bronze to Dragon.
At level 15 Smithing, you will succeed 50% of the time when smelting iron bars, and from level 45 Smithing onwards, you will succeed 80% of the time (gaining an extra 1% chance of success per Smithing level earned in between).
* Making cannonballs also requires having a
Cannonball mould
in your inventory or in your tool belt while using a
Steel bar
on a furnace.
Currently you are able to smith two dragon items: the dragon platebody and dragon square shield.
Note: For more information on how to smith a dragon platebody then please refer to our entry in the items database.
Malevolent is the most powerful melee armor in the game. It is made from Malevolent energy obtained through playing Barrows - Rise of the Six.
These tables show the experience and items you can make while training the Dungeoneering skill. You can only make these items inside the Daemonheim dungeons so you will not be able to take them outside of the dungeon!
Level ranges from 1-9. This is tier 1 of all the armor/weapon sets.
Level ranges from 10-19. This is tier 2 of all the armor/weapon sets.
Level ranges from 20-29. This is tier 3 of all the armor/weapon sets.
Level ranges from 30-39. This is tier 4 of all the armor/weapon sets.
Level ranges from 40-49. This is tier 5 of all the armor/weapon sets.
Level ranges from 50-59. This is tier 6 of all the armor/weapon sets.
Level ranges from 60-69. This is tier 7 of all the armor/weapon sets.
Level ranges from 70-79. This is tier 8 of all the armor/weapon sets.
Level ranges from 80-89. This is tier 9 of all the armor/weapon sets.
Level ranges from 90-99. This is tier 10 of all the armor/weapon sets.
If you have completed the smithing portion of the Barbarian training, you will be able to smith your own spears and hastas. Refer to the table below for the exact level and item requirements to make these.
Note: You will not be able to make a hasta until you demonstrate to Otto that you can make a spear.
Some items will help increase your smithing experience, its effectiveness, and even provide extra places/tricks to help make your smithing experience much easier. Below you will find these special equipments:
Name
Image
Requirements
Effect(s)
Dwarven stout
None
This simple drink will raise your Smithing and Mining level by one.
Ring of forging
None
If you wear the Ring of Forging, you will have a 100% success rating when smelting Iron ore into Iron bars. This is much better then about the 50% chance you have without it. The ring will only work for 140 ore before it will disintegrate.
Goldsmith gauntlets
The Family Crest
If worn while smelting gold ore into gold bars, you will gain 56.25 experience compared to the normal 22.5 experience.
Varrock armour
(1) (2) (3)
Task Set: Varrock
If you wear these while you smelt ore at the Edgeville furnace, you have a chance of smelting two bars at once. If worn while you smith on an anvil, you also have a chance of smithing two bars at once. Please note that this bonus only affects certain metals based on the level of the armor.
The Artisans Workshop can be found in south-east Falador, right next to the Mining Guild. The Workshop offers a variety of ways to train Smithing. Upon entering, the dwarf, Aksel will give you an tutorial and recommend what to do in the workshop at your level. You should aim to gain as much respect as possible in the workshop, as this can be used to buy rewards.

When training in the workshop, a large amount of coal is recommended as it is needed to make most types of ingots. Also, a hammer is necessary. You can deposit your coal and other ores in the giant smelter that is in the middle of the ground floor of the workshop. The ingots are used for a variety of activities such as repairing Cart tracks and cannons, making Burial armour and Ceremonial swords. Most of these tasks will also earn your respect from the artisan which you can cash in for nice rewards.

Ingots

All four of the training methods in the workshop require the use of ingots. To create ingots, use some of your ores on the smelter in the centre of the ground floor's room (noted ores work) to fill it up, then withdraw some ingots in exchange. You can store up to 4,000 of each ore type in the smelter, and up to 8,000 coal. Free players can smelt ingots of metals from iron to steel of Grades I to III. Members can smelt ingots of any metal from Grades I to IV, the IV variant being the purest and the I type being the least pure.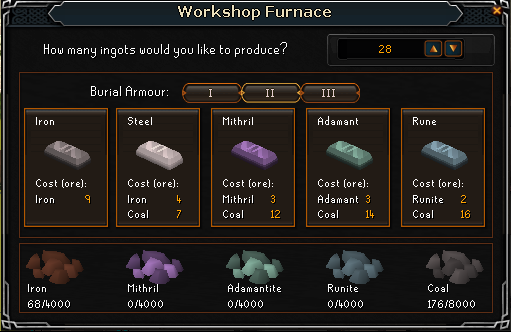 Burial Armour

Smithing burial armours is a great way to earn Smithing experience, and it can be done in the eastern section of the ground floor. You will need a hammer and any type of as many ingots as possible. If you want a tutorial, speak to Suak on the stage, who can be found shouting instructions. A cut-scene will play if you do. Suak calls out which piece of armour to smith (which is also noted in a box at the top of your screen). Listening to him is highly advised, as it lets you gain extra experience if done correctly.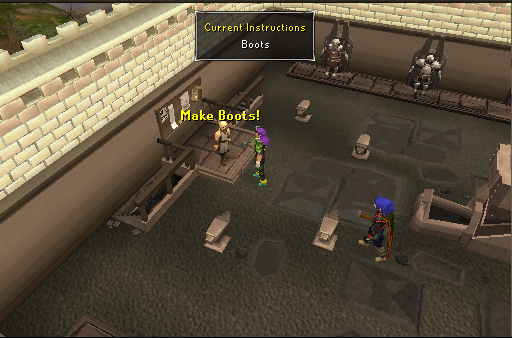 Using grade I ingots will produce burial armour for Miners, grade II for Warriors and grade III for Smiths. Once you are full of burial armour, you can deposit everything in the chute next to the anvils.

Tracks

To make tracks, go down the ladder underground and follow the path round to the track room. If you want a tutorial on making tracks, speak to Sten. Free players can smith bronze and iron cart tracks whereas members can also smith steel cart tracks too. You will need a hammer. Near the tracks are ingots. Take whichever you like, and build the five components of the tracks: some rails, a base plate, some spikes, a joint and some ties.

Every piece of track shows a percentage completion of itself, indicated by 40%, 60%, 80% and 100% in their names. If you create a complete section of track (100%), you can earn extra Smithing experience per piece of track if you head through the nearby tunnels and lay it yourself. Any unfinished track (40%, 60%, 80%) will be automatically dumped into the mine carts on your way back out.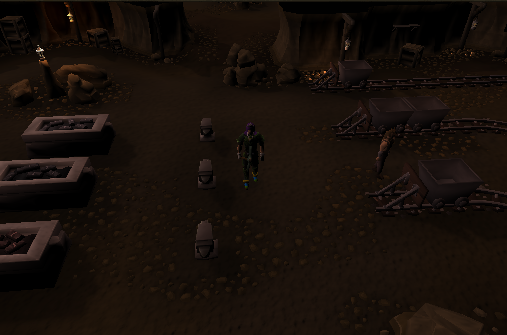 To make a complete section of bronze track requires a Smithing level of 12; iron track sections require 35 Smithing; and steel tracks require 60 Smithing.

Ceremonial swords (members only)

Ceremonial swords are a quick and easy way to gain Smithing experience. However, you must be a member and have a Smithing level of 70, as well as having a hammer and a pair of tongs (found on the desk as you enter the Artisans Workshop).

Talk to Egil to get two chances to practise with bronze ingots. After these practice ingots, you must use the appropriate ores on the nearby furnace and use Grade IV ingots. Then, get a plan from Egil and click on the anvil twice to open up the interface.

The picture at the top of the interface shows the plan. You need to try to create the same shape below. The closer you are, the more XP you will earn. Select a hit type (Careful, Soft, Medium or Hard) and click one of the 16 hammer buttons to create a dent at that position. For every hit, the cooldown number decreases. When this number reaches zero, the sword is no longer workable. Then, speak to Egil to award you experience. A dent larger than 8 for the tip of the sword or 6 for the rest of the sword shatters the sword. If this happens, no experience is awarded.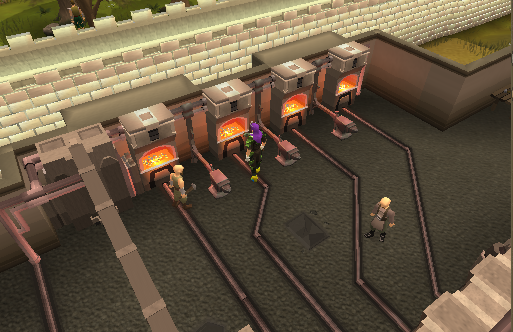 Cannon repair (members only)

Repairing cannons is a cheap and easy way to earn respect in the Workshop. It gives a bit less xp/h as Ceremonial swords do. For this method you have to be member and you need some coal and iron ore to make your ingots, as well as having a hammer, a cog mould, a pipe mould and test cannonball mould (found on the desk in the cannon repair chamber.) This chamber can be found down the stairs, south east of the tracks room, through the door.

If you want a tutorial, talk to Isak, next to the door. You can find 2 smelter conveyors in this room, so you don't have to run up and down the stairs to get your ingots.

Repairing cannons is fairly easy. Just follow this step-by-step plan:
Base:


Take the cannon base from the desk next to Isak. Empty it to get 10 broken cogs. Use these on an anvil to repair them. If you happen to break some of them, use an steel ingot on a furnace to make some replacements. Once you have all 10, fill the base and put it on the rock in the center of the chamber.

Stand:


Take the cannon stand from the next desk and take the 3 broken pipes out of it. Use these pipes on a furnace to repair them. Now put them back in the stand and attach it to the cannon.

Barrel:


Pick up the broken barrel from the next desk and use it 3 times with an anvil to repair it. Attach it to the cannon.

Furnace:


Pick the cannon furnace from the last desk and take the broken fuse box and broken flint out of it. Use these on an anvil to fix them. Now use the cannon furnace with one of the barrels with gunpowder, which are next to the anvils, and add the fuse box and flint. Finally add the furnace to the cannon.

Testing:


Next up it the testing. Make 8 test cannonballs by using 2 ingots on a furnace. Load them in the cannon and it will start firing. If it stops, you have to click on it to repair it.
| | |
| --- | --- |
| Action | Amount of exp |
| Repairing or smelting a cog | 38.5 exp |
| Fixing a pipe | 3.5 exp |
| Repairing the barrel | 3 x 7.7 exp |
| Repairing the fuse box and flint | 15.2 exp |
| Smithing 4 cannonballs | 38.3 exp |
| Adding a part to the cannon repair stand | 403.7 exp |
| Testing the cannon | 1731 exp |
Diversions

Burst pipes - The burst pipes can be found on the floor of the main level around the furnace that gives you ingots; the burst pipes will have steam coming out of them. 50 Smithing is required to fix them.

Animated suits of armour - these are ancestors of the dwarves, and can be killed to gain respect (which can be used to buy rewards).

Bronze ceremonial swords - Aksel will appear and ask you to make a Bronze ceremonial sword. The better your sword, the more experience you will get (up to 5 times your Smithing level).

Rewards

Rewards can be bought using 'Respect', which is earned for working in the Workshop. Respect can be gained by completing diversions or simply by earning XP. Players can buy these rewards from Elof in the workshop's basement. To buy every reward, you will need a combined total of 440% respect, although you can only have 100% respect at a time, so you will need to keep buying prizes.
| | | |
| --- | --- | --- |
| Reward | Price (Respect) | Effect |
| Quick Repairs | 5% | Repairing burst pipes in the Workshop's ceremonial swords area will become 50% faster. |
| Repair Expert | 15% | 50 more XP when repairing pipes. |
| Quick Learner | 20% | Experience gained for creation of assigned burial armour is increased by 2%. |
| Budding Student (m) | 40% | Experience gained for creation of assigned burial armour is increased by 2%. Requires and stacks with Quick Learner for a 4% bonus. |
| Master Student (m) | 60% | Experience gained for creation of assigned burial armour is increased by 1%. Requires and stacks with Quick Learner and Budding Student for a 5% bonus. |
| Ceremonial Sword Plans I - V (m) | 30% each (150% total) | Allows keeping a perfect ceremonial sword that looks close to the sword of the plans you have bought (from any metal). |
| Golden Cannon (m) | 50% | Allows turning the Dwarf multicannon to Golden version. Cosmetic effect only. |
| Royale Cannon (m) | 100% | Allows turning the Dwarf multicannon to Royale version. Cosmetic effect only. Requires Golden Cannon. |
Those who are Members have access to an enjoyable mini-game that makes Smelting-and-Smithing a bearable task; the Blast Furnace. In-fact, donít think youíre alone on this; this is a team effort to make everything run smoothly. It is suggested that you are on a Blast Furnace world, so others can help out run it. The Blast Furnace is located under a building at south-east area of Keldagrim, north of the mine-carts.

To learn how to play it, please read our Blast Furnace Mini-Game Guide.
Current Blast Furnace world: World 58

As the current Blast Furnace world is 58, it is highly recommended for you to play it there. The more players there will be, the faster games you will have.
When pickpocketing HAM members, exploring in the Digsite, or just searching in random boxes, you may run across Rusty swords. If you have a whetstone or armour repair stand in the workshop of your Player owned House, you can restore these swords to their former glory. All you need to do is use the Rusty sword with the repair equipment. Its possible to receive any type of normal or long sword, from Bronze to Mithril by doing this. There is also a chance that you may damage the item beyond repair, and never be able to fix it. You will also gain 25 Smithing experience for every sword successfully repaired.
You may also run across Damaged armor, the same way you would acquire a Rusty sword. Just like the swords, Damaged armour can also be repaired. You will need to have an armor repair stand in your Player owned House to do so. Fixing Damaged armor will result in a platebody (Bronze to Mithril), while fixing Broken armor will result in you receiving platelegs or plateskirts (Bronze to Mithril). Just like Rusty swords, there is a chance that you can damage these items beyond repair. You will also receive 25 Smithing experience for each piece of armor successfully repaired.
You can also repair your own Barrows equipment in your house at a discounted price. You will need to bring both your damaged piece of armor and some Coins to any armor repair stand. (Requires 55+ Construction) The discount you received, compared to paying someone else to fix it, is based on your own smithing level. All you have to do is divide your smithing level by 2 to find out the percentage you'll save. For example; If you had a smithing level of 50, you would simple divide by 2, resulting in a savings of 25%.
First of all, always smelt your bars at the furnace in Lumbridge, which is at the shortest distance from the bank chest located in Combat Academy for free-play worlds. Always smith your bars into armor in Varrock, from west bank to the anvils just south of it. This is the shortest distance between anvil and bank for free servers.
Level 1 - 29
Bronze, of course. Begin by making bars of bronze in the hundreds, maybe 300 or so. Smith them into the best bronze you can make. Once you have 30 or so smithing, you can switch to iron.
Level 30 - 46
Now its time for iron. As with bronze, collect hundreds of iron, then smith all the bars at once. If you are a member, get a ring of forging so that the 50 percent chance of failing is canceled. Do not smith them until you reach 33 smithing. that is when you can make the iron into iron plate bodies, which can be sold to the general store or the armorer in Varrock for a decent amount of gp. Continue making iron plate bodies, and making 100's of iron bars at a time, until you have reached 47 smithing.
At level 40, you can try smithing gold ore into bars. However, this is very expensive, and it's better to wait until higher levels.
Level 47 - 69
It's time for steel. It will become significantly harder and harder to level up at this point, so it may bore you. Like before, you should make your bars in the hundreds- collecting 1000 coal and 500 iron is a good place to stop getting the ores and making bars. When you have 48 smithing, make the bars into steel plate bodies. Now, if you are mining your own ores, you will make some decent cash. You can sell steel plate bodies in bulk to people with 55 magic for 1000-900 gp each- they use high alchemy on them to train magic. Continue making steel plates. This may be the best way to train smithing for a while. You probably shouldn't train using mithril until you can make mithril platebodies, which go for 3000 each for high- alching.
If you are a member, a good way to train smithing is probably by making cannonballs. You can buy steel bars for approximately 800 each, make them into cannonballs, then sell the cannonballs for approximately 290 each. Each bar makes four cannonballs, so you make approximately 360 gp profit each bar! (Prices correct at time of writing).
If you have a smithing level in the high-mid 60s or higher, and 43 magic, a good idea is to go into the hobgoblin mines in the wilderness, or mining guild, and make mithril bars there. Bring a fire staff, your pickaxe, nature runes, and teleportation runes if you are mining in the hobgoblin mines. Mine mithril and coal ore, and cast superheat item to make the ores into mithril bars. Then, store them in the bank and start over. This is a good way to get mithril bars and to train magic/smithing without a lot of walking.
You probably shouldn't train using mithril until you can make mithril platebodies, which go for 3,000 each for high-alching.
Level 70+
Now you are in rank with the big boys. The fastest way to train would be smelting gold with the Goldsmithing Gauntlets, but that will cost a lot. Cannonballs are also good exp, and will make you money. There is not much more to know if you have made it this far, but just continue to buy ores and smith, smith, smith. It will get boring so you will probably want to train other skills as breaks.
To help you in your training, refer to the Smithing Calculator.
Temporary level boosts and Quest rewards
For more information on how to boost your level, see the Temporary Stat Leveling Techniques special report.

For XP rewards from quests, see the Quest Experience Guide special report.

Upon mastering the skill of Smithing (achieving level 99) you are eligible to buy the smithing cape! For more information please refer to the Skillcapes (Capes of Accomplishment) guide!
This Skill Guide was written by Maxg3002 and Keystone. Thanks to ShadowfireGX, boyboy126, Swordsmith X, stormer, Bluefire1320, Oblivion590, Nuke-Marine, DRAVAN, red_tracer, Watsermetjou, Giac Jr, Sir_Karamu, Burtybob , Greg, Hvburrito, Alk12, Alientech, carduel, Mimz, evilishies, DarkBlitz, morbis99, Jakesterwars, I Play Rs, Mamyles, PrimeFalcon, Nickvogelezang, Meowmix686, Seethru, mmmmbacon7, Aredjay, Ratomisio, Breakinglaw, havoksnake, firekidn1, rosa reggis, Mario_Freak4, Nirackaona, Motion_Man, phantomness, FreedomGundam6, Zaros Ultor, Avoricofgol, KC0IVQ, Davejade, and ksb single for corrections.
This Skill Guide was entered into the database on Thu, Apr 22, 2004, at 06:10:03 PM by Keystone, and it was last updated on Thu, Dec 24, 2015, at 06:20:12 PM by Jarkur.
If you see this guide on any other site, please report it to us so we can take legal action against anyone found stealing our content. This guide is copyrighted by RuneHQ, and its use on other sites is expressly forbidden. Do not ask if you can use our guides or images, the answer is and always will be NO!
Print this page with images - Back to Previous Page - Back to the Skill Guide Index Page - Back to Top