Table of Contents
Equipment
Hunter Stores
There are two Hunter stores in RuneScape, and the Hunter skill tutor in Taverley also sells some supplies.
Equipment from Hunter Stores
Here are all of the items available for sale at the Hunter stores.
| | | | |
| --- | --- | --- | --- |
| Item | Hunter Level Required | Use | Cost |
| Bird snare | 1 | Allows you to catch Hunter birds. | 6 |
| Noose wand | 1 | Allows you to catch tracking creatures. | 4 |
| Butterfly net | 15 | Allows you to catch Hunter butterflies. | 24 |
| Butterfly jar | 15 | Allows you to store Hunter butterflies. | 1 |
| Rabbit snare | 27 | Allows you to catch Rabbits. | 18 |
| Box trap | 27 | Allows you to catch box trap creatures. | 38 |
| Teasing stick | 31 | Allows you to catch pitfall creatures. | 1 |
| Unlit Torch | 39 | For smoking traps to remove your scent. | 4 |
| Magic box | 71 | Allows you to catch imps. | 720 |
Camouflage outfits
At the Fancy-dress shop owner in Varrock you can trade in materials and coins for camouflage outfits. The furs needed for this are a reward from: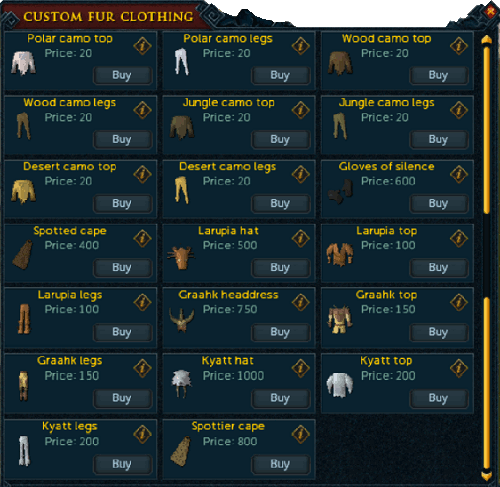 The outfits greatly increase the catch rate at their matching location (by roughly 25%). You only benefit from the outfit in the main hunter areas, listed in the main locations section below. The Larupia outfit is for the Piscatoris and Feldip hunter areas, Graahk for the Uzer hunter area, and Kyatt for the Trollweiss area. For the Herblore Habitat area specifically (where Jadinkos can be caught with tracking), there is Witchdoctor camouflage gear that can be obtained as a reward from playing the mini-game.
Locations
Main Locations
A variety of Hunter activities can be done at the main locations. All of them are easily accessible by Fairy rings, and are marked by a Hunter Training symbol on the minimap. Each type of (main) location has corresponding camouflage gear, made from furs that are rewarded by various methods of Hunting.
Note: to view a detailed map of the main Hunting Areas simply click on the names in the table below.
Dedicated Locations
Only one type of trapping can be used at these 'dedicated locations', and there are no matching hunter outfits that will benefit you while hunting here.
Most of the hunter locations below are also marked by a Hunter Training symbol on the minimap, but cannot all be easily reached by Fairy rings. Alternative ways of reaching the area are given in the last column of the table below, but may require certain requirements not all specifically listed here. Furthermore, the quickest (recommended) method of transport is listed first; the slowest last.
Catchable Pet Locations
There are six Summoning pets to be caught with the Hunter skill:
They can all be caught in a variety of colors (except Broav). The Gecko, Monkey, Raccoon, and Squirrel locations are detailed below. Platypus and Broav can both be caught in the Feldip Hunter area, after/during the above mentioned quests.
Once you have a pet of a particular species, the traps will always fail if trying to catch another (unless you have it in the manegerie of your Player Owned House); thus these critters are not very suitable for training Hunter.
Catchable pet overview
Gecko

Blue

Green

Orange

Red
Monkey

Black and white

Black

Black, yellow, and brown

Brown and light brown

Brown, black, and white

Grey and white

Light grey and white

Orange

White and brown striped

White
Raccoon

Brown

Grey

Red
Squirrel

Brown

Light brown

Orange

Grey

Light grey

White
Platypus

Brown

Light brown

Grey

White
Gecko and Monkey locations
Geckos and Monkeys can be caught with Box trapping, all around Karamja.

Catching a Gecko (or Baby gecko) requires level 27 Hunter and level 10 Summoning. Catching a Baby monkey requires level 27 Hunter, level 95 Summoning, and Bananas as bait.
Species
Image
Location
How to get there

Black and white Monkey
Green Gecko
Orange Gecko
Black Monkey

North East corner of Karamja, North West of the shipyard.

Brown, black, and white Monkey
Green Gecko
White Monkey

Middle North part of Karamja.

Gray and white Monkey
Black, yellow, and brown Monkey
Orange Monkey
Blue Gecko

Around Tai Bwo Wannai village, North West of Shilo Village.

White and brown striped Monkey
Light grey and white Monkey
Orange Gecko

Around Shilo Village, in the middle of Karamja.
Kharazi jungle South of Shilo Village, next to the teak trees (beware of aggressive Jungle Wolfs).

Brown and light brown Monkey

South West of the Karamja Shipyard (beware of aggressive Tribesman (level 60) and Jogre).
Raccoon and Squirrel locations
Raccoons can be caught with Box trapping, Squirrels with Net trapping.

Catching a Raccoon (or Baby raccoon) requires level 27 Hunter and level 80 Summoning. Catching a Squirrel (or Baby squirrel) requires level 27 Hunter, level 60 Summoning, and Nuts as bait.
Species
Image
Location
How to get there

White Squirrel
Orange Squirrel
Grey Squirrel
Grey Raccoon

Directly West of Barbarian village.

White Squirrel
Grey Raccoon
Orange Squirrel
Grey Squirrel

Just West of the Invention Guild, North of Falador.

Red Raccoon
Light brown Raccoon
Light gray Squirrel
Gold Squirrel
White Squirrel

Near the Sorcerer's Tower and Glowing wisps, South West of Catherby.

Light grey Squirrel
White Squirrel
Light brown Squirrel
Brown Squirrel
Light brown Raccoon
Grey Raccoon
Red Raccoon

Directly East of Varrock, slightly North of the Bright wisps.

Light brown Squirrel
White Squirrel
Light gray Squirrel
Brown Squirrel

South West of Falador, directly East of the Crafting Guild, and west of the Clan camp.
Types of Hunting
Bird Snaring
This is the first type of hunting you should do. First buy a Bird snare from a Hunter store, then head to the Feldip Hills Hunter Area (south near the shore). Lay your Bird snare and wait for a bird to either get caught in it or trigger it and escape. If you catch one, check the trap to remove the reward. If the bird escapes, dismantle the trap and set it up again. You can also use a torch to smoke the trap, removing your scent and increasing your chance of success. Torches can be purchased at the Hunter stores. This requires level 39 Hunter.
Rabbit Hunting
When you complete the Eagles' Peak quest, you have the ability to hunt rabbits. They are found only in the Piscatoris Hunter area. To hunt rabbits, you will need one Ferret and Rabbit snares bought from a hunter store. Once you are at the hunter area, set up your snares infront of a rabbit burrow (you can smoke these snares as well, with 39 hunter and a lit torch with you). There are six of them facing in the same direction. Then, 'flush' the rabbit out of its burrow by clicking on the burrow with a ferret in your inventory.
Creature
Hunter Level Required
Hunter Reward
Notes
Location
Experience

Rabbit
27
Rabbit's foot can be used with a ball of wool to create a Strung rabbit foot. This amulet increases the chance of getting Bird nests whilst woodcutting.
It is also used to make a Divination potion.
Piscatoris Hunter area
144
Tracking
The only thing you need for this is a Noose wand, which you can buy from the Hunter stores. To track, equip the Noose wand, find a burrow, and then inspect it, then follow the tracks that appear. As you reach the end of the tracks, search nearby bushes and plants to either find more tracks, or a message saying there might be an animal hiding in the bush. If there is an animal hiding in the bush, right click it and attack the bush to catch it.
Rewards
The fur received from catching a kebbit can be used to make several camouflaged clothing items which will help your hunting when in particular areas. You can ask the Fancy-dress shop owner in the eastern half of Varrock to make the fur into these camoflaged clothing items for 20 coins each.
Butterfly Catching
In order to catch butterflies using a Butterfly net, you need to have it equipped. If you want to catch the butterfly in a jar, you must have empty jars in your inventory.

Butterflies can also be caught barehandedly. This requires a higher Hunter level and additionally an Agility level, this method awards much higher experience than with a net.
Note: all moths (excluding Charming moth) can be used on another player in multi-way combat to enhance the melee combat skills.
Impling Catching
These creatures can be found in the magical world of Puro-Puro featured in the Impetuous Impulses mini-game and also anywhere across Gielinor. In Puro-Puro, players must equip a Butterfly net (any type) and have an Impling jar (empty) in their inventory to catch the implings. Whereas in Gielinor, players are able to catch the implings barehanded without requiring these items.
Looting the Implings after they are caught will give you random items. Images below are of implings within the jars you will loot.
Deadfall Trapping
To set a deadfall trap, you will need some logs and a knife (Toolbelt works).
Net Trapping
You can start using the Net Trap at a Hunter level of 29. You will need a Rope, a Small Fishing net, and (optionally) some Bait. The bait is made from various herbs mixed with Swamp tar. To make the bait, collect some Swamp tar from the Lumbridge Swamp. For every 15 Swamp tar you will need 1 herb. After you have obtained 15 Swamp tar, use your herb with a Pestle and mortar to get Ground herb. Use the Ground herb with the Swamp tar and you will obtain 15 Swamp tar mixed with the herb. Repeat this process until you have the amount of bait you wish to have.
After you have a rope, a small fishing net and bait you can leave for any of the Locations listed in the table below. Search for a young tree, use your bait, small fishing net and rope on it to make a Net Trap. Step back and wait until a creature gets caught or until the trap gets dismantled after a certain amount of time.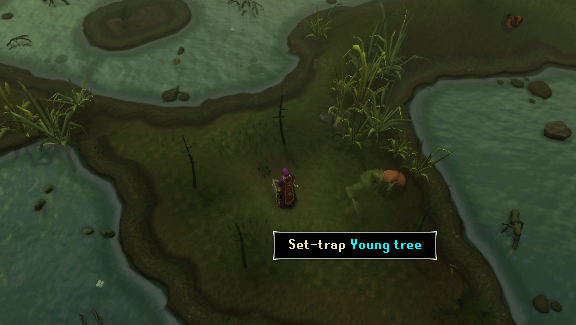 Note: as Orange salamanders are found at the Uzer (main) hunter location, make sure to bring desert camouflage gear for a better catch rate. The outfits don't work at the other locations. Also, bait is not required, it is there to speed up the Hunting, the bait actually lures creatures to the trap more efficiently.
If you do not collect your salamander in time the trap will dismantle and the salamander escapes.
Falconry
The Falconry area is located in the Piscatoris Hunter area. No equipment is needed but 500 gp is required as payment to Matthias for the use of his falcon. No gloves can be worn or weapons wielded while using the falcon. On payment Matthias gives you the falcon and you automatically wear the falconer's glove and the falcon perches on your arm. To catch the kebbits click on them, the falcon flies from your arm and hopefully catches the kebbit. Run to the spot where the falcon is holding his catch and clicking again allows you to retrieve the falcon and get the fur and bones. Speak to Matthias again to return the falcon and glove before leaving the Falconry area.
Rewards
The furs obtained through Falconry can be made into useful items. Spotted and Dashing kebbit fur can be made into capes that decrease your weight by taking them to the Fancy-dress shop owner in Eastern Varrock. Dark kebbit fur can be made into Gloves of silence, which greatly increase your thieving ability!
Both capes have the same stats, the only difference is the amount of weight reduction.
Box Trapping
All you need is a Box trap. If you decide to use bait, use it on the box trap and wait for the animal to take notice. Should the animal trigger the box trap but not get caught, you'll lose your bait. If the box trap falls over the bait you have placed inside it will not be lost. Simply collect your trap and bait and start over.
Creature
Hunter Level Required
Hunter Reward
Bait
Notes
Location
Experience

Ferret
27
Ferret
Raw meat (any kind)
A Ferret is used when Rabbit snaring to 'flush' the rabbit out of its burrow.
Piscatoris Hunter area
115

Gecko
27
Baby gecko
None
Used as a Pet. 10 Summoning is required to catch.
Gecko and Monkey areas
100

Raccoon
27
Baby raccoon
None
Used as a Pet. 80 Summoning required to catch.
Raccoon and Squirrel areas
100

Monkey
27
Baby monkey
Banana (Required)
Used as a Pet. 95 Summoning required to catch.
Gecko and Monkey areas
100

Cobalt skillchompa
27
Cobalt skillchompa
Spicy tomato
Can be used as a special weapon that boosts xp when used on certain skill plots.
Tree Gnome Stronghold Hunter area
121

Viridian skillchompa
46
Viridian skillchompa
Spicy tomato
Can be used as a special weapon that boosts xp when used on certain skill plots.
Port Phasmatys Hunter area
176

Platypus
48
Baby platypus
Smouldering lavender
(Required)
Used as a Pet. 10 Summoning and completed the As a First Resort... quest to catch.
Feldip Hunter area, on the beach South of Oo'glog
205

Chinchompa
53
Chinchompa
Spicy tomato
Can be used as Ranged weapon.
Piscatoris Hunter area
198.4

Penguin
56
Penguin or KGP agent
Raw cod
KGP agents can be handed over to Jim the polar bear in exchange for extra Hunter experience. Must have completed Hunt for Red Raktuber to catch.
Penguin area
150

Carnivorous chinchompa
63
Red chinchompa
Spicy minced meat
Can be used as Ranged weapon.
Feldip Hunter area
230.5

Pawya
66
Papaya fruit
Raw pawya meat is used as bait for Grenwall
Isafdar
400

Azure skillchompa
68
Azure skillchompa
Spicy tomato
Can be used as a special weapon that boosts xp when used on certain skill plots.
Snowy Hunter area, as far North as possible
199

Common jadinko
70
Withered vine
None
Used as bait to catch other jadinkos
Herblore Habitat
200

Igneous jadinko
74
Marble vine
Lergberry bush and Abandoned house
Used to make a Juju farming potion (3)
Herblore Habitat
500

Cannibal jadinko
75
Plant teeth
Kalferberry bush, Green vine blossom, Juju hunter potion, and Tall grass
Used to make a Juju cooking potion (3)
Herblore Habitat
510

Aquatic jadinko
76
Aquatic vine
Kalferberry bush, Red vine blossom, Juju hunter potion, and Pond
Used to make a Juju fishing potion (3)
Herblore Habitat
570

Amphibious jadinko
77
Oily vine
Lergberry bush, Blue vine blossom, and Pond
Used to make a Juju woodcutting potion (3)
Herblore Habitat
450

Grenwall
77
Raw pawya meat
5 Grenwall spikes are a secondary ingredient for Extreme ranging potions
Isafdar
605

Carrion jadinko
78
Pungent vine
Kalferberry bush, Green vine blossom, Boneyard
Used to make supercompost
Herblore Habitat
635

Draconic jadinko
80
Draconic vine
Lergberry bush, Red vine blossom, Juju hunter potion, and Dark pit
Used to make a Juju mining potion (3)
Herblore Habitat
554

God jadinkos
81
Saradomin vine, Guthix vine, or Zamorak vine
Varies from player to player
Used to make either Saradomin's blessing, Guthix's gift, or Zamorak's favour
Herblore Habitat
453

Crimson skillchompa
89
Crimson skillchompa
Spicy tomato
Can be used as a special weapon that boosts xp when used on certain skill plots.
Desert Quarry
309

Crystal skillchompa
97
Crystal skillchompa
Spicy tomato
Can be used as a special weapon that boosts xp when used on certain skill plots.
Tyras Camp
410
Pitfall Trapping
You will need logs (or an axe to cut trees to get logs) and a knife to create Pitfall traps. To create traps you simply need to click on the areas designated where the creature is with the knife and logs in your inventory to set the trap. Once your trap is created, use a Teasing stick to prod the animal. The creature will then chase you, trying to hurt you, until you jump over the trap and lead it onto the spikes. The creature may jump over the trap and attack you! If this happens you have to leave that creature and set a new trap and lead a different creature to reset things so the first creature or subsequent creatures do not attack you any longer.
| | | | | | |
| --- | --- | --- | --- | --- | --- |
| Creature | Hunter Level Required | Hunter Reward | Notes | Location | Experience |
| Spined larupia | 40 | | Fur can be made into spined larupia-skin clothing. | Feldip Hunter area | 165 |
| Horned graahk | 41 | | Fur can be made into graahk-skin clothing. | Shilo Village area | 231 |
| Sabretooth kyatt | 55 | | Fur can be made into sabretooth kyatt-skin clothing. | Trollweiss Hunter area | 315 |
Rewards
The fur obtained from pitfall creatures is either tatty or perfect. You use both to make trousers and tops at the Fancy-dress shop owner in eastern Varrock, but only perfect fur can be made into headdresses. It takes a total of four furs for a Polar kebbit, Common kebbit, Feldip weasel, or Desert devil set, and a total of three Larupia, Graahk, or Kyatt furs, one of which has to be "good" and not "tatty", to make and you can also sell both types of fur to the fur traders of Rellekka and Ardougne, although the tatty fur will get a lower price. These clothes will increase your chances of catching creatures using Hunter in their respective areas. Larupia clothes for the jungle and woodland, Horned graahk clothes for the desert, and Sabretooth kyatt clothes for the polar areas.
All three headdresses, tops, and legs have the same stats.
Magical Imp Box Trapping
| | | | | | |
| --- | --- | --- | --- | --- | --- |
| Creature | Hunter Level Required | Hunter Reward | Notes | Location | Experience |
| Imp | 71 | Imp-in-a-box | Imp-in-a-box can be used to send two items to the bank. | Everywhere | 450 |
Charm Sprites
Introduction
At level 72 Hunter you can catch Charm sprites at the hunting area just South West of the Tree Gnome Stronghold.
Charm sprites are flying creatures that can be caught with a Yaktwee stick and Sprite lure. Yaktwee Swinmari Cianta will sell you both these items for 2,000gp each, at the Charm sprites hunting area. You will require one of each; they will not be consumed upon use so you only need to acquire them once.
To get there, you can use either Eagles' Peak Lodestone, or the Spirit tree (requires completion of The Tree Gnome Village Quest).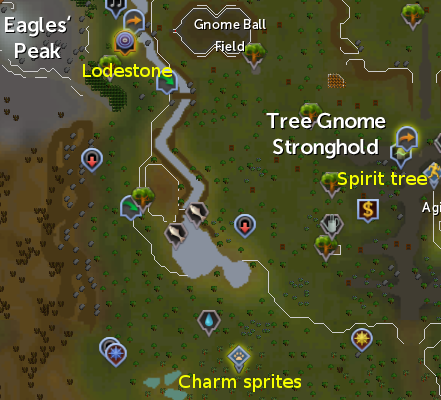 Catching Charm Sprites
To catch charm sprites you need to:
Click on a moving Neverberry bush to throw your Sprite lure at it.
You will then see your lure on the floor next to the bush, click it.
Once you have clicked it, the lure will return to your inventory and you may see 1-3 charm sprites appear from the bush. Click each one to catch them. You don't have to wait inbetween clicks nor do you have to wait for the charm sprites caught to reach you, so you can click as fast as you please.


Rewards
Charm sprites yield gold, green, crimson, blue, and mystical charm slices. You can combine 5 of the same kind to form one Summoning charm of the corresponding color. The mystical charm slices can be used in place of any of the other colors.
| | | |
| --- | --- | --- |
| Name of Sprite | Experience for Catching | Example capture count for first 1,000 (165,850 xp) |
| Gleaelg | 130 | 685 (89,050 xp) |
| Tranart | 200 | 246 (49,200 xp) |
| Slithtils | 400 | 69 (27,600 xp) |
Notes: Yaktwee Swinmari Cianta can store up to 15 charm slices of each color for you, as well as 1 Sprite lure and 1 (Enhanced) Yaktwee stick. Catching 1,000 sprites takes roughly 3 hours if clicking at full speed non-stop, that's 5.55 catches a minute on average.
Milestone - 1,000 Charm Sprites
After catching 1,000 charm sprites you will complete the "Yaktwee's a Charm" (completionist) achievement, and you will be able to upgrade your Yaktwee stick to an Enhanced yaktwee stick by speaking to Yaktwee Swinmari Cianta. The Enhanced yaktwee stick will provide a 5% boost to all Hunter experience earned while wearing it.

Checking Progress
You can right-click the Yaktwee stick to "Check upgrade count". This will tell you the amount you've caught already and the amount remaining to 1,000 (this option is removed when your Yaktwee stick is Enhanced). The other right-click option is: "Check statistics", which will tell you the amount of Sprites you've captured per type (this option remains available on the Enhanced version).
Distraction and Diversion
While hunting in the area you may see Nyriki Tapio appear, allowing you to descend into the Big Chinchompa cave (a safe 'mini-game'). Prior to him showing up, the ground will start shaking periodically, accompanied by a message in the chatbox. The Big Chinchompa distraction and diversion can be done twice a day, and provides a nice Hunter experience boost. The game starts at the top of every hour, so that's when there is a chance of Nyriki appearing in this area.
Arc Hunting
The following creatures can be caught in The Arc and the Uncharted Isles, after completion of Impressing the Locals.
Tortles
Trapping tortles requires the use of Tortle traps. These can be purchased from Reggie or Player made at level 96 Fletching. These traps can be used multiple times, so you do not need a bunch of them. The number of traps that can be set at a time depends upon your Hunter level.
Kami
Similar to moths, implings, and butterflies, Kami can be caught on islands within the Arc. They can be caught with or without use of an Impling jar. Note that the possible rewards are the same whether obtained by barehanded catching or by opening the kami jars.
Private Hunting Grounds
One of the rewards of the Big Chinchompa Distraction and Diversion are quota tickets. These can be used to step through the private hunting ground portals right next to the orange portal on the first floor of the house south of the Gnome agility course, at the Tree Gnome Stronghold. At these hunting grounds you will be able to hunt specific creatures without having to fight with other players for a spot. Entering a portal does not use a ticket but you must have one in your inventory. When you catch a creature one ticket will be used up. If you forgot to take the needed traps then you may take 5 traps out of the chest outside of the portals.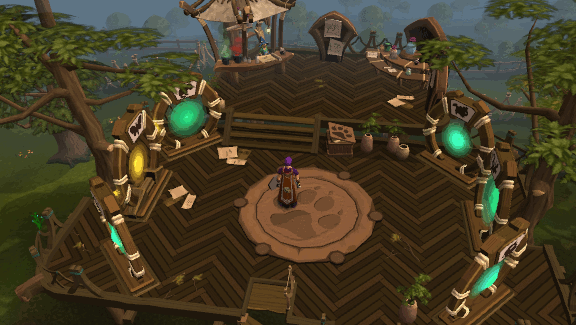 Scarab Catching
Within Het's Oasis are 2 pools - North West and South East corners. At each pool is 1 crocodile (Chito and Frito respectively) which you can control to catch the whirligig (scarabs) swimming across the pool surface. There are other crocs around the oasis, but only these 2 can be controlled for Scarab catching. Note that if you move too far from the pool you will stop controlling Chito or Frito. You can also manually stop controlling them by clicking them while they are on shore.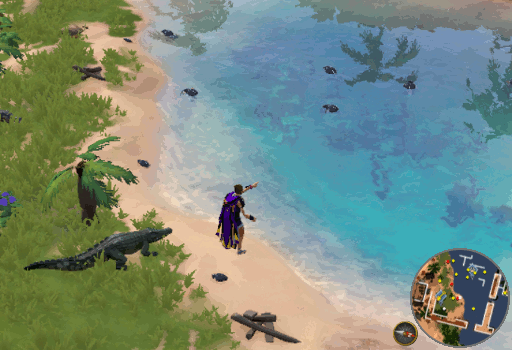 Basics
Once you have clicked either croc to begin handling it, click any of the scarabs in the water. This will cause him to swim out, catch it, and (usually) bring you back the shell and place it on the shore somewhere - there is a chance an additional shell, or no shell, will be obtained.
While he is out in the water, you can click a few of the other scarabs in the pool to obtain additional experience, but typically no additional shells. By default, you can "stack" up to 3 additional experience catches per trip. The experience gained for each scarab "stacked" depends on the experience for catching the type of scarab clicked. You can keep count of how many additional scarabs you have clicked during a catch by looking at your buff bar. You should see a scarab icon with the stack count on it. Note that while you will usually not get additional shells during a stacked catch, each one will count toward your "scarabs caught" count. With 3k catches, you can unlock 2 additional stacks per trip from Dundee.
Flowers
As there are only 2 pools, but 6 types of scarabs to catch, there must be a way to change which scarabs can be caught. This is completed by placing the oasis flowers into the baskets found near the pool. Each pool has 2 baskets which must be repaired before they can be used. This will require 5 Steel nails and 10 Teak plank for each one (20 Steel nails and 40 Teak plank total) and will earn 4,950 Construction for each basket fixed. Once repaired, you will never have to fix them again.
Once repaired, each basket can hold up to 32 oasis flowers of any type. You cannot mix and match flowers in any basket, but you can put a different type in each basket. Note that the more of any given flower type is within a basket, the more of the associated scarab-type will be present. Each basket lures up to 4 scarabs.
| | |
| --- | --- |
| Number of Flowers | Number of Whirligig Lured |
| 25 - 32 | 4 |
| 17 - 24 | 3 |
| 9 - 16 | 2 |
| 1 - 8 | 1 |
| 0 | 0 |
For each successful shell obtained, 1 flower will be consumed. As "stacked" catches do not reward shells, flowers will not be consumed for every scarab clicked, however, the initial scarab clicked will determine the shell obtained and thus the flower used.
The contents of any given flower basket can be checked, flowers removed, and filled X or fill all. This allows you to easily swap between the various types of scarabs depending on your needs.
Shells
With completion of a hunting trip, shells are typically brought back to the shore. It is advisable to collect them as each set of 15 shells (same type) can be ground for Herblore and to create a Prayer powder or they can be used together to create a Holy scarab pouch. See each associated skill guide for more information.
Upgrades
As you hit various milestones of scarabs caught, you will unlock various upgrades which can be "purchased" from Dundee. Completely unlocking all of the upgrades will complete the "The Crocodile Hunter" Completionist cape requirement.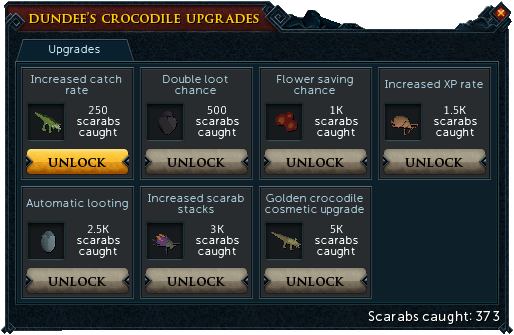 Dungeoneering Hunter
There are certain monsters within the dungeons of Daemonheim that can be hunted by using logs and Fletching them into traps. These monsters can then be skinned for their hide, which can be Crafted into ranged armour.
Extras
Barehanded Hell-rat Catching
After completion of Evil Dave's Big Day Out, you can catch Hell-rats (barehanded) in Evil Dave's basement of doom, for 10 xp each.
Hunters' Crossbow
The Hunters' Crossbow can be obtained from Leon in the Hunter Store in Yanille for 1300 coins. It only uses Kebbit bolts, and you need at least level 50 Range to be able to wield it.

Hunters' Potions
Below you will find all the Hunter related potions and what they are used for.
Number of Traps
The higher your Hunter level is, the more traps you can set up.
| | |
| --- | --- |
| Hunter Level | Number of Traps |
| 1 - 19 | 1 |
| 20 - 39 | 2 |
| 40 - 59 | 3 |
| 60 - 79 | 4 |
| 80 - 99 | 5 |
Hunter urns
To boost the experience you receive while Hunting by 20% (or by 25% with an Urn enhancer), you can use Hunter urns. Simply have an urn in your inventory for it to fill up over time while you train. When it is full you can teleport it away for extra experience.
Urns are devided into five types; each type works while Hunting creatures requiring up until a certain Hunter level, listed in the table below. The "(nr)" version of the urns can be bought from the Grand Exchange. A Mud rune must be added to them to become active and ready for use (the non-tradable "(r)" version of the urn). While adding the Mud rune yourself requires a particular Crafting level, one may also use the assist system to have another player perform this task.
Note: to further boost the experience received from urns, one may use an Urn enhancer (requires level 24 Invention and the relevant blueprints).
Temporary level boosts and other rewards
For more information on how to boost your level, see the Temporary Stat Leveling Techniques special report.
For Experience rewards from quests, see the Quest Experience Guide special report.
The Hunter's outfit will provide a 6% bonus (if wearing the full set) to all xp gained while hunting, this stacks with the 5% bonus from the Enhanced yaktwee stick (while equipped ofcourse) for a total of 11%.
At level 90 Hunter you will unlock The Trapper in the Player-Owned ports mini-game, for special missions.
Capes of Accomplishment

Once you have achieved level 99, you may visit the Hunting expert to purchase a Hunter cape for 99,000 Coins.

Once you have achieved level 120, the Hunting expert will sell you the Hunter master cape for 120,000 Coins.
Discount
Note that as of December 2018, another one of Mod Daze's Easter Eggs have been found. This enables you to purchase a Skillcape for half price (only from the Hunting expert, not Elen) if you are wearing a Ring of Charos (a). Be aware that "Half price" is 92,000 Coins as the experience at level 92 is approximately half way to level 99.
This Skill Guide was written by Im4eversmart and Scorchy_Devil. Thanks to Mythiquedame, Sheep01, World Life01, Piro_Omar, Daemon Dredd, burtonboy127, fatso1311, Killmouski, Swordpoint2, Jett_Man, Alk12, Morogoddess, 1Wngedangel, flarb007, hermister, ise_esi, Evanave08, Ragusa, mr dumbbo, agentorang12, jimulis, Killangel0, darkpoet666, nasgul men, craigger1, killallday, GHOST OF SRV, Lavitz, Sccrluk9, game man3, Clamball, Sir_Bob126, andro_girl, Bent One, Brenden, Jakesterwars, Lizard8x8, Emre2, knightsofzamorak, xspartan127x, keemo905, Greg, Egekalaycan, 007ryder, Ssx Tricky99, nashorslayer, ksb single, Jarkur, and ChathMurrpau for corrections.
This Skill Guide was entered into the database on Tue, Nov 21, 2006, at 10:07:33 AM by Im4eversmart, and it was last updated on Tue, Mar 14, 2023, at 09:04:44 PM by Alk12.
If anything is incorrect or missing, or if you have any new information to submit to this database, please submit it to us on our Content Submissions Forums.
If you see this guide on any other site, please report it to us so we can take legal action against anyone found stealing our content. This guide is copyrighted by RuneHQ, and its use on other sites is expressly forbidden. Do not ask if you can use our guides or images, the answer is and always will be NO!
Print this page with images - Back to the Skill Guide Index Page - Back to Top