Table of Contents
*Members only
The most basic way to light a fire in Runescape is to use a log on a Tinderbox, or vice versa - though you can also Right-click either item in your inventory or logs on the ground. Note that a Tinderbox can be added to your toolbelt to relieve you from needing to carry one in your inventory. Logs can also be lit using an unstrung bow (See our Barbarian Training section), a Dwarven army axe, (Augmented) Crystal tinderbox, Pyro-matic, Pyrelord, Forge regent, or thrown into a Bonfire. Note that the familiars require 46 and 76 Summoning respectively.
Once you light a fire, you will create it beneath your feet then move 1 tile to the West of it, unless something is blocking that space. The time your newly kindled fire will last is random (unless it becomes a Bonfire). One method of training Firemaking is to make log rows of fires. Though not very common since the release of Bonfires, this method is best done in places with large open space. Once the fire goes out, you will be left with a pile of Ashes - these have a variety of uses and can be sold on the Grand Exchange.
Be aware that it is not possible to light a fire EVERYWHERE. The space you are intending to light a fire must be clear and some buildings will not allow you to light a fire within them. Even the Grand Exchange will not allow you to light a fire within 2 tiles of the counters.
Below you will find a list of logs that can be burned as well as how long a Player-made Bonfire will last. Values may change depending upon your Firemaking level as well as any boosts that you may have active. See our Woodcutting for where to find the trees to harvest these logs.
Logs
Level
Experience
Player-made Bonfire
Duration
Members Only?
Base
Bonfire
(1 person)
Bonfire
(5+ people)
Bonfire (5+ people)
Flame gloves and Ring of fire

Protean
1
*
*
*
*
6 minutes 00 seconds
(360 seconds)

Regular
1
40
50
57
60
2 minutes 00 seconds
(120 seconds)

Achey tree
1
40
50
57
60
2 minutes 00 seconds
(120 seconds)

Oak
15
60
85
97
102
2 minutes 20 seconds
(140 seconds)

Willow
30
90
105
120
126
2 minutes 50 seconds
(170 seconds)

Teak
35
105
120
137.2
144
3 minutes 10 seconds
(190 seconds)

Arctic pine
42
125
130
148.7
156.1
3 minutes 20 seconds
(200 seconds)

Maple
45
135
135-175*
140-200*
147-210.2*
3 minutes 30 seconds
(210 seconds)

Acadia
47
140
180
205.9
216.1
3 minutes 50 seconds
(230 seconds)

Mahogany
50
157.5
180
205.5
216.1
4 minutes 00 seconds
(240 seconds)

Eucalyptus
58
193.5
195
223
234.1
4 minutes 30 seconds
(270 seconds)

Yew
60
202.5
220-260*
228-297*
240-312.2*
5 minutes 00 seconds
(300 seconds)

Magic
75
303.8
310
354.6
372.3
5 minutes 30 seconds
(330 seconds)

Corrupted magic
75
319
325.5
372.7
390.9
5 minutes 30 seconds
(330 seconds)

Blisterwood
76
303.8
310
354.6
372.7
5 minutes 30 seconds
(330 seconds)

Cursed Magic
82
303.8
310
354.6
372.3
5 minutes 30 seconds
(330 seconds)

Curly root
83
378.7
N/A
N/A
N/A
N/A

Elder
90
434.3
450
514.8
540.5
6 minutes 00 seconds
(360 seconds)

Driftwood
92
454
563.3
644.7
676.5
5 minutes 30 seconds
(330 seconds)
*Experience varies depending upon Firemaking level
Gnomish Firelighters (Members Only)
Often just referred to as Firelighters, these are Members only items which can be earned from Fire spirits and Treasure Trails. When you have obtained some, there are a few options on what you can do with them.
You can use the Firelighter on logs to "dye" them that color. When the log is burned, this will cause the flame color to match the firelighter used on it. It will also increase the experience earned by 10 (total of 50 experience per log), but it will not affect either the length of time the fire lasts nor grant any perks for cooking upon it.
In addition to using them on logs, you can simply light them as well. Doing this will enable a 5 minute long buff where all Fire spirits will be collected into your inventory. Multiple firelighters can be struck at a time to increase the buff for up to 60 minutes (12 firelighters). See our Fire Spirit section to learn more about them and what they do. NOte that you will receive BLAH experience for striking a firelighter.
This method of training eliminated the need to create long lines of fire. It allows you to add logs to an existing fire, player-made or permanent. Player made bonfires can be created anywhere that a normal fire can be set. Currently worlds 29 (F2P) and 16 (P2P) are spotlighted for this activity to help get more folks involved for better experience. As for permanent bonfires, there are currently only four throughout Gielinor:
Unlike single log fires, player-made bonfires will last different lengths of time based upon the type of logs use to create the fire. They will always die away after a certain amount of time, even if you are still adding logs. Duration of player-made bonfires is between 2 to 6 minutes; higher level logs will last for a longer period of time. The type is based upon the log that is first lit to create the fire. See the table in the previous section to see how long each type will last.
In addition to adding logs to the fire, it is also possible to cook food upon them. Doing so will earn you an additional 10% Cooking experience. It is possible to toggle the active "use on bonfire" item between logs and food to allow you to just click the bonfire with items in your inventory as opposed to using the items on it. This is done by Right-clicking the bonfire and choosing the "Configure" option.
Similar to the bonus Cooking experience, bonus Firemaking experience can be earned depending on the number of people adding logs to a bonfire. This is why it is beneficial to use the official Bonfire worlds. See the table in the previous section to see experience calculations.
| | | | | |
| --- | --- | --- | --- | --- |
| Number of Players | 2 | 3 | 4 | 5+ |
| Boost Percentage | 1% | 2% | 3% | 4% |
Another boost received when using bonfires is one to your Life points. In order to obtain the boost, you will need to add about 5 logs or bones to a bonfire/brazier. Note that bones can ONLY be added to a brazier.
The amount of Life points you can be boosted depends upon your Firemaking level. This boost will stack additively with other Life point boosts (Thermal baths and Fortitude) and multiplicatively with boosting equipment.
| | | | | | | | | | | |
| --- | --- | --- | --- | --- | --- | --- | --- | --- | --- | --- |
| Level | 1-9 | 10-19 | 20-29 | 30-39 | 40-49 | 50-59 | 60-69 | 70-79 | 80-89 | 90-99 |
| Boost | 1% | 1.3% | 1.5% | 2% | 2.5% | 2.7% | 3.6% | 4% | 4.2% | 5% |
In addition to variation in the amount of Life points added, the length of time the boost lasts also varies. This, however, is determined by the type of logs or bones used to obtain the boost. Be aware that unlike familiar timers, this one will continue to count down even if you are lobbied or logged out and even if you die.
Note that it is possible to purchase the ability to permanently increase the duration of the Life Boost (25%) from Death for 250 Reaper points or 2,500 Slayer points.
*Members only
While taking advantage of the boosts provided by using bonfires and brazier, you also have a 1/100 chance to free a Fire spirit. A special burning sound will play when they appear to help notify you.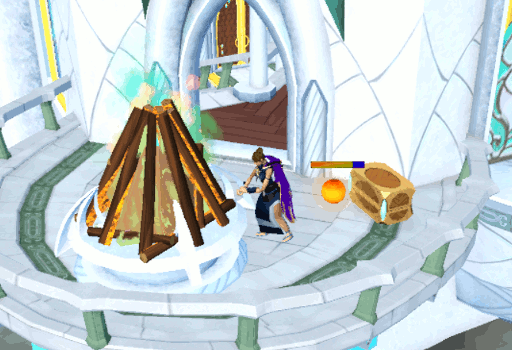 Using a Crystal tinderbox will quadruple your chances of releasing a Fire spirit if equipped. Enabling the "Fairy fire" perk at the Memorial to Guthix will cause a Divine fire spirits to appear instead. This spirit offers different rewards and will award you with up to 430 Divination experience.
Once a spirit appears, you will need to click on it to interact with it. Note that the Fire spirit will only remain for 1 minute, so you will need to act quickly; a status bar can be seen above it so you know roughly how much time you have left. Since they depend upon each burnt item to spawn, it is possible to have multiple present if you continue skilling instead of interacting with it.
After freeing the Fire spirit and interacting with it, it will hop into your inventory so that you can obtain a reward from it and you will obtain bonus experience for the next 1-5 logs burned. The reward can either be claimed now or at a later time - the Fire spirits will not stack in your bank. Note that higher level logs burned and wearing a Fire-based skilling cape will increase the value of your reward. If you are burning Protean logs, it will vary depending upon your Firemaking level. See Fire spirits and Divine fire spirits for a list of items that can be obtained from each.
Another advantage is the Firelighter buff, wherein for 5-60 minutes you will automatically interact with any Fire spirit that spawns. If it is active when you claim your rewards, you will also receive a 1.3x boost on the drop table.
Barbarian Training (Members Only)
Upon completion of the Basic Barbarian Training, you will unlock the ability to light fires with a strung bow (exceptions below). Using this method of lighting logs yields the exact same experience as if you were to use a Tinderbox.
Note that several bows cannot be used to create a fire. These include:
All bows from Treasure Hunter promotions
While the experience levels may be equal to lighting fires with a Tinderbox, the experience level necessary to be able to light them is slightly higher.
Be aware that while it is cooler to use a bow to light a fire, within RuneScape there is no advantage to doing so. In fact, if anything it is at a disadvantage as you will have 1 less inventory space for logs when lighting fires in this method and you can add the Tinderbox to your toolbelt so you will never be without.
After finishing the Advanced Barbarian Training, you will be granted the ability to sacrifice the remains of Barbarians using these ships. Funeral Pyre Ships are built to set the spirits of Barbarian heroes free, sending them to their final resting place.
To create them, you must first gather Chewed bones of the deceased barbarian warriors. They are dropped by various creatures that wander the Ancient Caverns. Be sure to not use Mangled bones for this as they will release a Ferocious barbarian spirit which will attack you.
Once you have your bones, a fire starter (Tinderbox or bow), and desired logs, travel to the lake at the top of Baxtorian falls. Along the Northern edge, you will find 2 "construct pyre" sites. Simply click the area and you will create the vessel, add the remains, light it, and set it adrift. This will earn you both Crafting and Firemaking experience. You will also receive a 300% Prayer bonus on the next 1-5 bones you bury or ashes you scatter; this only applies if you used Chewed bones. The number of bones/ashes that will receive this bonus depends upon the type of log used to create the ship.
For releasing the spirit of a Barbarian hero (Chewed bones only), you will also receive a reward. These items include:
*Members only
Sometimes while traveling about Gielinor, you may find that you need to enter a dark area. The best example of this is the Lumbridge Swamp Dungeon. To help you see in these places, Jagex has provided us with several different options.
Unlike other light producing options, lighting these items will NOT earn you Firemaking experience. However, like the other options, this method will also require a Tinderbox to create. Once a lightsource is lit, you can extinguish it by using the extinguish option. Once you have added oil to a lamp or lantern, it never needs to be added again.
Below is a list of the light source options available along with pertinent Notes about them. Note that all of these items are Members only.
Item
Level
Notes

Black candle
1
Purchased from Candle-maker.

Can be extinguished via the area; suggested to use within a lantern to keep lit.

Used during Merlin's Crystal.

Candle
1
Purchased from Candle-maker, Gunslik, Jiminua, Jossik, Obli, and Sigmund.

Dropped by Cave bugs, Giant skeletons, and Skeletons.

Can be extinguished via the area; suggested to use within a lantern to keep lit.

Torch
1
Respawns at the Fishing Platform.

Purchased from Aleck, Candle-maker, Gunslik Jiminua, Miltog, and Obli.

Pickpocketed from Cave goblins in Dorgesh-Kaan.

Candle lantern
4
Made with level 4 Crafting by using a Glassblowing pipe with Molten glass. You can add either a Black or White candle then light it.

Oil lamp
12
Purchased from Miltog.

Made with level 4 Crafting by using a Glassblowing pipe with Molten glass.

Can cause an explosion in Lumbridge Swamp Cave.

Can be used with Oil lantern frame to create Oil lantern.

Oil lantern
26
Made with level 26 Smithing and Crafting. Will need to be filled with Oil to be used; at some point it will run out of fuel and extinguish. You will need to add more to relight it.

Bullseye lantern
49
Made with level 49 Smithing and Crafting. Will need to be filled with Oil to be used; will NEVER run out of fuel.

Used to make Emerald and Sapphire lanterns.

Sapphire lantern
49
Made with level 49 Smithing by adding a Sapphire to a Bullseye lantern (lens and oil).

Used during Tears of Guthix and While Guthix Sleeps.

Emerald lantern
49
Made with level 49 Smithing by adding an Emerald to a Bullseye lantern (lens and oil).

Only necessary during Lunar Diplomacy.

Light orb
49
Made with level 87 Crafting by using a Glassblowing pipe with Molten glass then adding a Cave goblin wire.

They can be used to replace lights in Dorgesh-Kaan for 1,000 experience each; once you have replaced 100, you will receive 5,000. Despite the large experience gains, it can be annoying to find lamps which need replacing (primarily 2nd and 3rd floors).

Mining helmet
65
Purchased from Miltog.

Dropped by Cave goblins.

Will not extinguish on their own once lit.

Requires completion of The Lost Tribe to obtain.

Fire skill capes
99/120
Both the Firemaking cape and the Firemaking master cape provide this perk.

Note that the Max cape, Completionist cape, and Completionist cape (t) can also have this perk if a Firemaking skillcape has been used on it.
Note that the Seer's headband (1, 2, 3, and 4) can be used as a light source as well. It has not been included in this table as they are dependent upon completion of the Seers' Village Achievements not Firemaking levels.
To make Oil, you must do the following:
Collect 1 Swamp tar for each item you wish to fill. Works on Oil lamp, Oil lantern, and Bullseye lantern.
Travel to the Chemist in Rimmington or Miltog in Dorgesh-Kaan.
Use your lantern on the Oil still and it will be filled with oil.
Incense sticks are a Firemaking skilling method wherein you get more experience for creating the item rather than lighting it; 2 experience to light, 56+ experience to create. While it is not the best training method, using these items provide helpful effects.
To create incense, you will need 2 logs, 2 ashes, and 1 herb. These can only be combined in specific ways. For example, Impious ashes can only be combined with Regular, Oak, and Willow logs to create incense. See the table below for these combinations and what they create.
Each incense burned will last for 10 minutes; the timer can be increased up to 60 minutes by burning more of the same type incense. As the timer runs out, it is possible to burn more incense to boost the time. You cannot exceed 60 minutes, so do not burn a new stick with more than 50 minutes on your timer.
Similar to familiar timers, lobbying and logging out will pause your incense timer. Thanks to this feature, it is possible to constantly have an incense effect going as long as you burn 1 or more sticks before the timer runs out.
When the first incense is lit, it will be at level 1 potency. For each additional stick burned and 10 minutes that pass, it will increase one potency level - up to level 4 potency. Increasing the potency will increase the strength of the effect. Note that you do not need to consistently keep 40+ minutes on your timer once you reach level 4 potency; you just need to burn more incense before the timer runs out to maintain the potency.
It is possible to skip the 40 minute wait for level 4 potency if you "overload" the incense. This is achieved by Right-clicking a stack of incense and choosing that option. Using the "overload" option will cause the effect to only last for 10 minutes total, so you will need to burn additional sticks to increase the time (9 incense sticks for full potency and full time when initiated).
Incense
Effect
Potency
1
2
3
4
Guam
Chance to gain an additional log when cutting normal trees
10%
20%
30%
40%
Tarromin
Chance to automatically bank ashes gained from burning logs
25%
50%
75%
100%
Marrentill
Reduce poison damage
12.5%
25%
37.5%
50%
Harralander
Increase your run energy replenishment rate
25%
50%
75%
100%
Ranarr
Prayer bonus
+1
+2
+3
+4
Toadflax
Chance to avoid failing an agility obstacle
12.5%
25%
37.5%
50%
Spirit weed
Increased familiar special attack recovery rate
10%
20%
30%
40%
Irit
Poison damage reduction
25%
50%
75%
100%
Wergali
Chance to produce a strung bow when fletching logs into unstrung bows
0.5%
1%
1.5%
2%
Avantoe
Chance to automatically bait Hunter traps
5%
10%
15%
20%
Kwuarm
Weapon poison damage
+2.5%
+5%
+7.5%
+10%
Bloodweed
Chance to get double logs when cutting bloodwood trees
2.5%
5%
7.5%
10%
Snapdragon
Faster stat restore rate
50%
100%
150%
200%
Cadantine
Chance to not exhaust a tree
2.5%
5%
7.5%
10%
Lantadyme
Additional seconds added to potion timers
30 seconds
1 minute
1 minute &
30 seconds
2 minutes
Dwarf weed
Chance to bank dropped or gathered items
2%
4%
6%
8%
Torstol
Increase to base XP gain
0.5%
1%
1.5%
2%
Fellstalk
Spawn chance to elite NPCs
x1.01
x2.02
x3.03
x4.04
At level 71 it is possible to acquire the effects for 2 different types of incense at once. And at level 95, you can acquire the effects for up to 3 different incense types at once. If you try and activate another type of incense after you have reached your cap, you will be given the option to choose which incense effect you would like to remove.
Be aware that effects are NOT additive. This is particularly important to note if you choose to use the Irit and Marrentill effects together. It means that if you have the 50% poison reduction on both of them (Irit 2 and Marrentill 4) that you will only have 75% reduction ( 1-(1-0.50) x (1-0.50) = 0.75 ). Luckily, these incense sticks are the only 2 where this mechanic is noticeable as no other effects are so closely related.
This underground cavern is accessible via the main entrance found East of Shilo Village. You will need to speak to Maverick before you are allowed entry. Check out the Jadinko Lair map for more details. Note that you will need 83 Firemaking and Woodcutting to train here.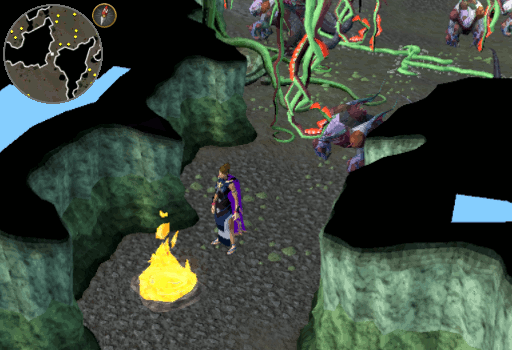 The corridors here are used as barriers to protect the Jadinko Queen from the mutated creatures nearby. To ward them off, you can light fires in the pits at the ends of the corridors. They will first need to be filled with a Curly root then lit. While Straight roots can be hardened on a fire, only Curly roots can be added to it and will give you Firemaking experience.
To obtain these roots, you will need to chop them from the vines hanging in the 3 different corridors. You will want to focus on cutting hook shaped vines to obtain Curly roots as cutting the straight ones will give you Straight roots. Each vine will need to be chopped twice: once to cut it and once to obtain the roots - 80.8 Woodcutting experience per action, so 161.6 experience per cleared vine. Clearing a vine will earn you 4 roots.
Once you have a full inventory of roots, walk toward the Jadinko Queen's cavern. Near the edges you will find "dry patches" to add your roots. Whether starting the fire from scratch or adding roots to the pile, you will receive the same amount of Firemaking experience, 378.7 per root. As the roots are burned, you will gain favor with the Jadinko Queen - 3pts for new fires and 2pts for roots added. This can be turned in to the offering stone near her in exchange for fruits, seeds, and teleport bags. Be aware that you can only have up to 2,000 points before you will need to exchange them.
If you have access to Curses and 91 Prayer, you can use the Superheat Form curse to automatically burn Curly roots as you obtain them. To use this method effectively, you will want to bring as many Prayer restoring items as possible/desired and equip an item that will prevent you from engaging in combat with the nearby Jadinkos. Suggestions include plushies and umbrellas. Once there, activate Superheat form and start hacking away at the vines, sipping potions as necessary. It is possible to flick Superheat form off and on depending upon what stage of the process you are at, however, this makes an already fairly active training method require even more attention. If for some reason you run out of Prayer or forget to activate it when chopping a vine for the second time, you will receive Curly roots as normal and can add them to a dry patch to light. Note that use of Superheat Form will NOT increase your Favour Points.
Char's Training Cave (Members Only)
Upon completion of The Firemaker's Curse, access to Char's Training Cave is unlocked. However, it requires level 91 Firemaking to use and boosts do not work. The cave is located West of the Tree Gnome Stronghold, along the South side of Eagles' Peak. The easiest way reach the cave is by using The Book of Char's teleport option. This will place you at the entrance of the cave. Alternatively, you can use the Eagles' Peak lodestone and run South to the cave entrance.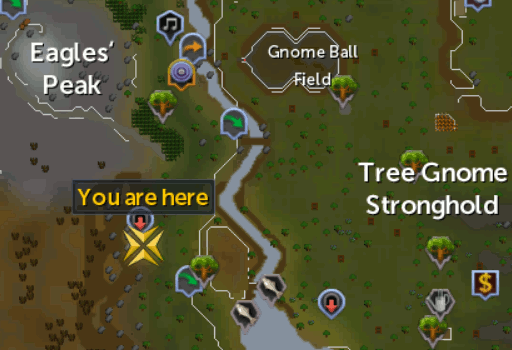 To start the training, you will need to have a Pitch can and The Book of Char in your inventory - the Book can be re-obtained from Char and the Pitch can is found nearby. Speaking to Char, she will explain that the training consists of lighting fires in certain patterns using a Pitch can for 5 minutes. There is no order or limit to the amount of symbols you can light within the time frame. Char will tell you to start, note that the clock will begin to count down before you descend the stairs to the training board. Make sure you are facing South when starting the training as it is considered the top of the area. When you have finished a symbol, Char will clear the grid of all fires and you can create another one.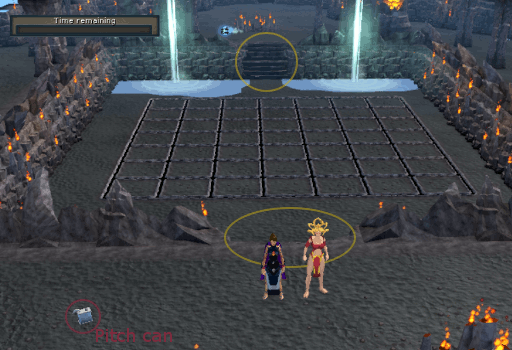 The Book of Char mentions all but one pattern - the symbol of Zaros. When you first make that symbol, it will appear in the book. Creating this symbol will complete the "Impressing Char" requirement for the Master Quest Cape and Completionist Cape (t).
| | | | | |
| --- | --- | --- | --- | --- |
| Image | Symbol | Number of Fires | XP per Fire | Total XP |
| | Spiral | 31 | 267 | 57,981 |
| | Concentric Squares | 32 | 207 | 70,920 |
| | Square | 24 | 230 | 88,620 |
| | Cross | 13 | 212 | 88,644 |
| | Zaros | 13 | 212 | 96,031 |
To maximize the gained experience, place the Pitch can on your ability bar and use the hotkey to quickly light a fire on your current location then click to your next desired space and repeat. You will also want to make as many spiral symbols as possible and finish up with a square symbol if you don't have enough time for another spiral. If you accidentally misplace a fire, you can Right-click it and stomp it out.
While training the Dungeoneering skill, you will occasionally encounter branches that you can burn and use to cook food. You will only be able to light fires in dungeons with a Complexity level of 2 or above. Below is a table showing the different types of branches and the level required to burn them.
| | | | |
| --- | --- | --- | --- |
| Branch | Level | Experience | Members Only? |
| Tangle gum | 1 | 25 | |
| Seeping elm | 10 | 44.5 | |
| Blood spindle | 20 | 65.6 | |
| Utuku | 30 | 88.3 | |
| Spinebeam | 40 | 112.6 | |
| Bovistrangler | 50 | 138.5 | |
| Thigat | 60 | 166 | |
| Corpsethorn | 70 | 195.1 | |
| Entgallow | 80 | 225.8 | |
| Grave creeper | 90 | 258.1 | |
Special Activities (Members Only)
In addition to normal skilling methods, several Minigames as well as Distractions and Diversions make use of this skill and/or provide rewards that are useful to skilling. The sections below give brief details of the activity, why it is important to this skill, and some information about the experience that may be gained.
Beacon Network is a Firemaking minigame that is unlocked with completion of All Fired Up.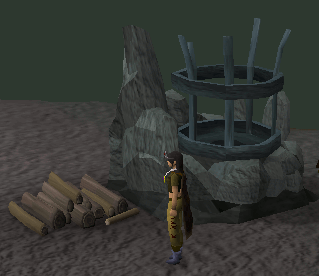 King Roald of Varrock has set up a network of beacons alongside the borders of the Wilderness, that are to be lit when danger arises. Can you help him test this network? The objective of the game is to keep as many beacons as possible lit simultaneously. Apart from the Firmaking experience, those who succeed will find the rewards very helpful for continuing their training (see table below). For more information, please see our Beacon Network guide.
Balthazar Beauregard's Big Top Bonanza (Circus)
Balthazar Beauregard's Big Top Bonanza is a Distraction and Diversion that resets weekly. In this activity you are asked to act as a performer in Balthazar's circus.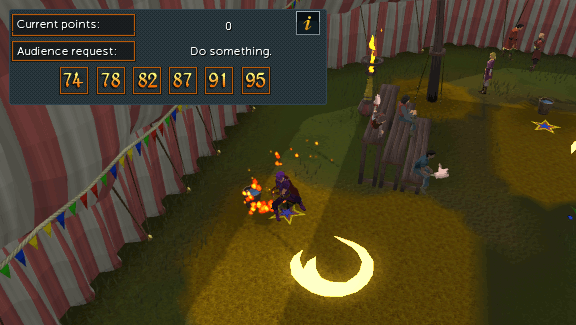 There are Agility, Magic, Ranged, Thieving, and 2 Firemaking performances that you can participate in. Note that completion of The Firemaker's Curse is necessary to complete the Firemaking performances. The only Firemaking related rewards, however, is the experience you earn performing.
Barbarian Assault is a Combat based minigame that does not require any special quests or activities to play, just completion of the Tutorial before you can begin.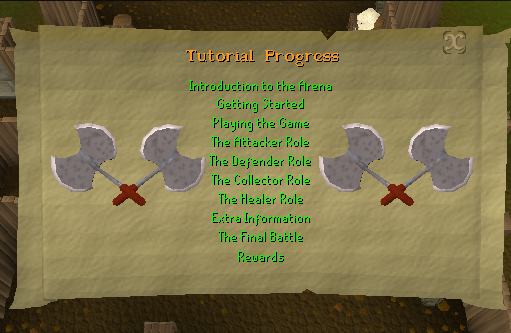 While this activity itself is not related to Firemaking, a few of the rewards can be. The Penance Horn (and its Master version) can be filled with XP potential by completing waves of Barbarian Assault. This can then be used to get double experience in Firemaking (burning logs only), Agility, or Mining. See our Barbarian Assault guide for more information on how to play.
Blast Furnace is a Smithing based minigame where you help the Consortium smelt bars.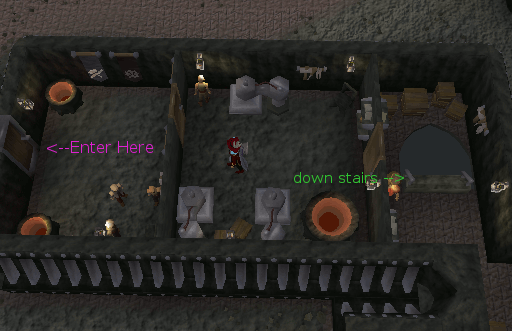 This is another minigame that doesn't have much to do with Firemaking itself, however, in this minigame, one of the actions performed does give you 5 Firemaking experience per action. Despite the experience being minimal, it also offers experience in Agility, Crafting, Magic, Smithing, AND Strength as well.
Evil Tree is a Distraction and Diversion that resets daily. In this activity you need to help deal with an Evil tree.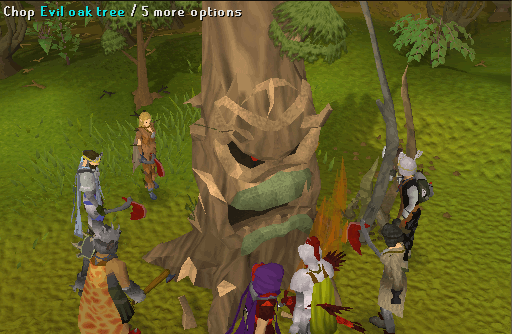 By participating in this activity, it is possible to obtain experience in Farming, Woodcutting, and of course Firemaking. Note that Farming experience is earned by helping it grow, then you earn the other experience by cutting it down and burning it to ashes - harsh. Once the tree has been removed, be sure to speak with the Tool Leprechaun for a reward as well. See our Evil Tree guide for more information about where to find them and how much experience you will gain.
This activity is neither a Minigame nor a Distraction and Diversion. It is simply an extra thing that can be done in this specific area.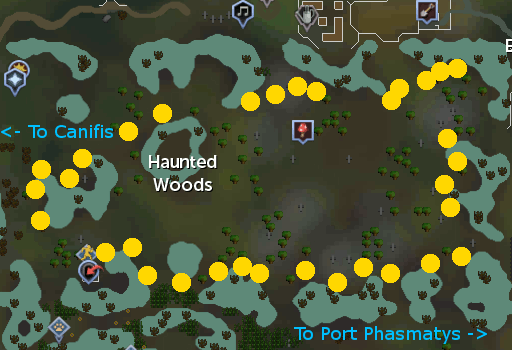 At level 47 Firemaking, you can wander around the Haunted Woods between Canifis and Port Phasmatys to find 33 torches creating a ring around the area. These can be lit for 100 Firemaking experience each by using a bit of Bark on them. One of the Medium Morytania Achievements requires you to light a torch while wearing Flame gloves. Due to the rarity of obtaining Bark and the minimal experience, it is not suggested to light these beyond the 1 necessary for the Achievement.
Phoenix Lair is a Distraction and Diversion that resets daily. In this activity you will need to traverse into the lair and kill the Phoenix so that it can be reborn again.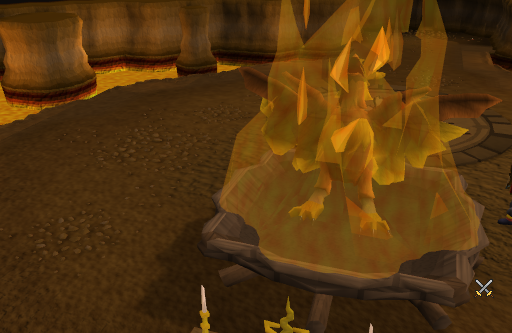 For this activity, you will need to run through the caves to gather 5 types of twigs. When you reach the main cavern, you will fletch them to create a funeral pyre. This will summon the Phoenix and you will need to defeat it. Once the battle is complete and the Phoenix has been reborn, you will be rewarded with 3,000 Fletching, 1,000 Crafting, 7,500 Firemaking, and 500 Slayer experience, as well as 5 Phoenix quills and a chance to obtain an egg that can be hatched. When you return for another battle in the future, you can bring 10 Phoenix quills to skip to the Phoenix's cavern.
Note that completion of In Pyre Need and 51 Slayer are necessary to complete this activity.
Shades of Mort'ton - Pyremaking
Mort'ton Shade Burning is a multi-skill based minigame where you need to burn shade remains to obtain rewards.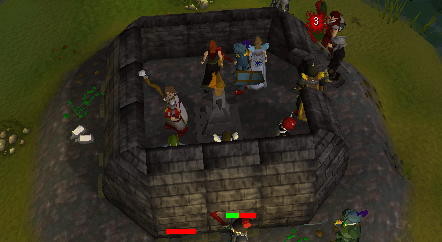 To cremate shade remains, you will need to use Sacred oil on logs to create Pyre logs. This is oil made by using Olive oil on the temple's sacred fire when your Sanctity is 10% or more. For a better understanding, see the Shades of Mort'ton guide and/or refer to the Mort'ton Shade Burning guide.
Once you have Pyre logs, place them on one of the funeral pyre sites located around Mort'ton. Add your shade remains on top of the logs; be aware that certain shades require minimum level of logs to burn them and you cannot retrieve these items after they have been added to the pyre site! Once you have placed an appropriate level of logs and shade, click the pyre site to set it alight and "free" the shade. Some loot will the appear on the nearby stand; hopefully a dungeon key.
Shade remains are obtained by killing shades in Mort'ton and the Mort'ton dungeon. A minimum of a Bronze key is required to enter Mort'ton dungeon (obtainable by cremating Loar remains). Deeper levels of the dungeon are accessible only with higher level keys, which are obtained by cremating the higher level shades you encounter as you descend. Remember that higher level shades will also need higher level Pyre logs to cremate them. Amongst the new areas, you will also encounter color-coded chests which include rewards for your hard work; higher level keys/chests will obviously yield better loot.
Note that pyrelogs can also be used to cremate Vyre corpse as well.
Trouble Brewing is a multi-skill based minigame where you need to brew rum.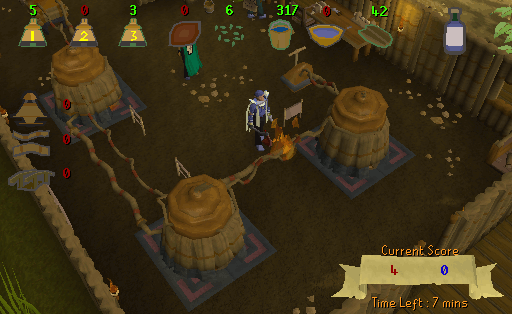 The point of this minigame is to collect various ingredients to create rum. You will need to use teamwork to get these items, repair and manage parts of your distillery, and maybe even sabotage your competition. Upon completing the 20 minute activity, you will be rewarded 2 Pieces of eight, 100 Crafting experience, 250 Cooking experience, and 150 Firemaking experience for every bottle created. You will also obtain 1 Pieces of eight and extra experience for each ingredient you contributed; up to 100.
Now that you know all the various training methods, what is the best way to train Firemaking? Look no farther, it can be found below.
Free Training
Members Training
Capes of Accomplishment (Members Only)

Once you have achieved level 99, you may visit Ignatius Vulcan to purchase a Firemaking cape for 99,000 Coins.

Once you have achieved level 120, Ignatius Vulcan will sell you the Firemaking master cape for 120,000 Coins.
Discount
Note that as of December 2018, another one of Mod Daze's Easter Eggs have been found. This enables you to purchase a Skillcape for half price (only from Ignatius Vulcan, not Elen) if you are wearing a Ring of Charos (a). Be aware that "Half price" is 92,000 Coins as the experience at level 92 is approximately half way to level 99.
This Skill Guide was written by ChathMurrpau. Thanks to previous guide writers: Sporhund and Alfawarlord, as well as G'ed, TheMothAssassin, invghost, pokemama, Mayhew132, darren 1994, princefalcon, Hampster_Hat, R K O Orton, Moo, DRAVAN, sir karamu, bowler1995, Flameshame, Lord Gu672, DarkBlitz, Jakesterwars, Greg, Squiggeh, renowa 558, Mimz, kilvehk, and Javezz for corrections.
This Skill Guide was entered into the database on Thu, Jun 17, 2004, at 10:37:26 PM by Pirate Bob49 and Monkeymatt, and it was last updated on Mon, Apr 15, 2019, at 05:25:50 AM by Chath.
If anything is incorrect or missing, or if you have any new information to submit to this database, please submit it to us on our Content Submissions Forums.
If you see this guide on any other site, please report it to us so we can take legal action against anyone found stealing our content. This guide is copyrighted by RuneHQ, and its use on other sites is expressly forbidden. Do not ask if you can use our guides or images, the answer is and always will be NO!
Print this page with images - Back to the Skill Guide Index Page - Back to Top