Table of Contents
The first step in making your own armor or weapons, is to smelt your ore into bars. To do this, go to any one of the furnaces located in towns all over the land of Runescape. When you have the ore in your inventory, simply click on the furnace to start smelting.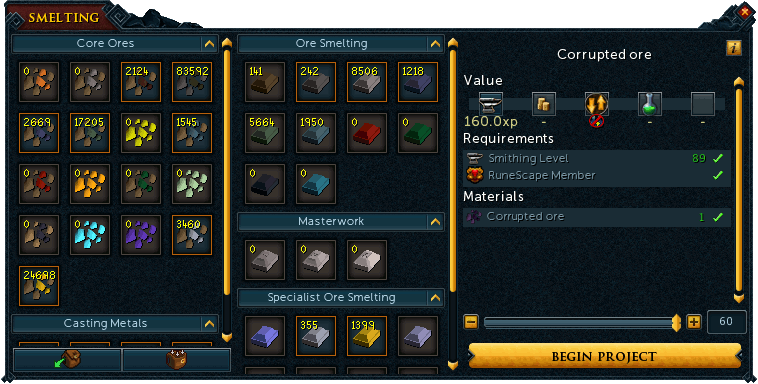 You can also use magic to smelt your bars if that is more your style by using the level 43 spell "Superheat Item" It requires 1 Nature rune and 4 Fire runes to cast this spell. Below you can find a list of the different bars you can smelt, and the required ores to do so.
The next, and final step in making your own armor/weapons is to use an anvil. Simply use your bar with the anvil and you will get a pop-up box (shown below). All you have to do is click on the item you wish to smith. You can smith items in multiples of 1, 5, x, or Smith all. Please note that you need a hammer and the required bars in your inventory to make anything.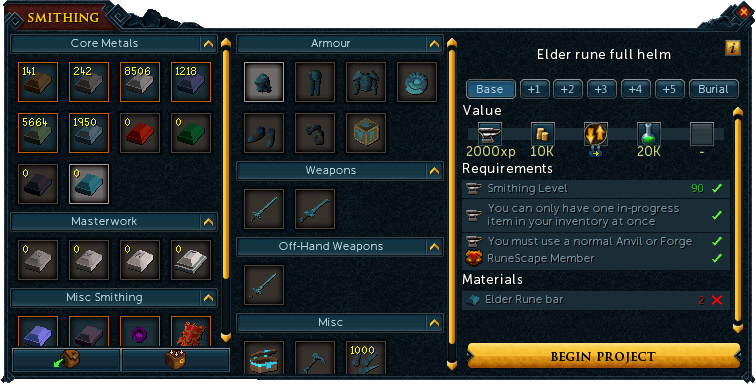 Below, you can find tables of all items that you can smith, from Bronze to Dragon.
At level 15 Smithing, you will succeed 50% of the time when smelting iron bars, and from level 45 Smithing onwards, you will succeed 80% of the time (gaining an extra 1% chance of success per Smithing level earned in between).
* Making cannonballs also requires having a
Cannonball mould
in your inventory or in your tool belt while using a
Steel bar
on a furnace.
Currently you are able to smith two dragon items: the dragon platebody and dragon square shield.
Note: For more information on how to smith a dragon platebody then please refer to our entry in the items database.
Malevolent is the most powerful melee armor in the game. It is made from Malevolent energy obtained through playing Barrows - Rise of the Six.
These tables show the experience and items you can make while training the Dungeoneering skill. You can only make these items inside the Daemonheim dungeons so you will not be able to take them outside of the dungeon!
Level ranges from 1-9. This is tier 1 of all the armor/weapon sets.
Level ranges from 10-19. This is tier 2 of all the armor/weapon sets.
Level ranges from 20-29. This is tier 3 of all the armor/weapon sets.
Level ranges from 30-39. This is tier 4 of all the armor/weapon sets.
Level ranges from 40-49. This is tier 5 of all the armor/weapon sets.
Level ranges from 50-59. This is tier 6 of all the armor/weapon sets.
Level ranges from 60-69. This is tier 7 of all the armor/weapon sets.
Level ranges from 70-79. This is tier 8 of all the armor/weapon sets.
Level ranges from 80-89. This is tier 9 of all the armor/weapon sets.
Level ranges from 90-99. This is tier 10 of all the armor/weapon sets.
If you have completed the smithing portion of the Barbarian training, you will be able to smith your own spears and hastas. Refer to the table below for the exact level and item requirements to make these.
Note: You will not be able to make a hasta until you demonstrate to Otto that you can make a spear.
Some items will help increase your smithing experience, its effectiveness, and even provide extra places/tricks to help make your smithing experience much easier. Below you will find these special equipments:
Name
Image
Requirements
Effect(s)
Dwarven stout
None
This simple drink will raise your Smithing and Mining level by one.
Ring of forging
None
If you wear the Ring of Forging, you will have a 100% success rating when smelting Iron ore into Iron bars. This is much better then about the 50% chance you have without it. The ring will only work for 140 ore before it will disintegrate.
Goldsmith gauntlets
The Family Crest
If worn while smelting gold ore into gold bars, you will gain 56.25 experience compared to the normal 22.5 experience.
Varrock armour
(1) (2) (3)
Task Set: Varrock
If you wear these while you smelt ore at the Edgeville furnace, you have a chance of smelting two bars at once. If worn while you smith on an anvil, you also have a chance of smithing two bars at once. Please note that this bonus only affects certain metals based on the level of the armor.
The Artisans Workshop can be found in South East Falador, next to the Mining Guild. The Workshop offers a variety of ways to train Smithing and rewards for doing so. Please see our Artisan's Workshop Special Report for more details.
Those who are Members have access to an enjoyable mini-game that makes Smelting-and-Smithing a bearable task; the Blast Furnace. In-fact, donít think youíre alone on this; this is a team effort to make everything run smoothly. It is suggested that you are on a Blast Furnace world, so others can help out run it. The Blast Furnace is located under a building at south-east area of Keldagrim, north of the mine-carts.

To learn how to play it, please read our Blast Furnace Mini-Game Guide.
Current Blast Furnace world: World 58

As the current Blast Furnace world is 58, it is highly recommended for you to play it there. The more players there will be, the faster games you will have.
When pickpocketing HAM members, exploring in the Digsite, or just searching in random boxes, you may run across Rusty swords. If you have a whetstone or armour repair stand in the workshop of your Player owned House, you can restore these swords to their former glory. All you need to do is use the Rusty sword with the repair equipment. Its possible to receive any type of normal or long sword, from Bronze to Mithril by doing this. There is also a chance that you may damage the item beyond repair, and never be able to fix it. You will also gain 25 Smithing experience for every word successfully repaired.
You may also run across Damaged armor, the same way you would acquire a Rusty sword. Just like the swords, Damaged armour can also be repaired. You will need to have an armor repair stand in your Player owned House to do so. Fixing Damaged armor will result in a platebody (Bronze to Mithril), while fixing Broken armor will result in you receiving platelegs or plateskirts (Bronze to Mithril). Just like Rusty swords, there is a chance that you can damage these items beyond repair. You will also receive 25 Smithing experience for each piece of armor successfully repaired.
You can also repair your own Barrows equipment in your house at a discounted price. You will need to bring both your damaged piece of armor and some Coins to any armor repair stand. (Requires 55+ Construction) The discount you received, compared to paying someone else to fix it, is based on your own smithing level. All you have to do is divide your smithing level by 2 to find out the percentage you'll save. For example; If you had a smithing level of 50, you would simple divide by 2, resulting in a savings of 25%.

Upon mastering the skill of Smithing (achieving level 99) you are eligible to buy the smithing cape! For more information please refer to the Skillcapes (Capes of Accomplishment) guide!
This Skill Guide was written by Maxg3002 and Keystone. Thanks to ShadowfireGX, boyboy126, Swordsmith X, stormer, Bluefire1320, Oblivion590, Nuke-Marine, DRAVAN, red_tracer, Watsermetjou, Giac Jr, Sir_Karamu, Burtybob , Greg, Hvburrito, Alk12, Alientech, carduel, Mimz, evilishies, DarkBlitz, morbis99, Jakesterwars, I Play Rs, Mamyles, PrimeFalcon, Nickvogelezang, Meowmix686, Seethru, mmmmbacon7, Aredjay, Ratomisio, Breakinglaw, havoksnake, firekidn1, rosa reggis, Mario_Freak4, Nirackaona, Motion_Man, phantomness, FreedomGundam6, Zaros Ultor, Avoricofgol, KC0IVQ, Davejade, and ksb single for corrections.
This Skill Guide was entered into the database on Thu, Apr 22, 2004, at 06:10:03 PM by Keystone, and it was last updated on Sun, Nov 26, 2017, at 06:15:22 AM by ChathMurrpau.
If you see this guide on any other site, please report it to us so we can take legal action against anyone found stealing our content. This guide is copyrighted by RuneHQ, and its use on other sites is expressly forbidden. Do not ask if you can use our guides or images, the answer is and always will be NO!
Print this page with images - Back to the Skill Guide Index Page - Back to Top