Table of Contents
Soul Reaper is a once daily assignment that requires at least 50 Combat to do. For this, you will need to help Death harvest the souls of bosses from around Gielinor. This will happen in the form of special assignments that will grant the player reaper points and Slayer experience once completed. These points can be spent on various rewards, including items, cosmetic gear, and new Titles.
To start getting Soul reaper tasks, you must first talk to Death by visiting his office. This is found by entering the portal just North of the Draynor Village lodestone. Once there, talk to Death to obtain a task. He will also give you a Grim gem when starting Soul Reaper. This gem works like the Enchanted gem does in regular Slayer, and can be used to get tasks in the future instead of returning to him.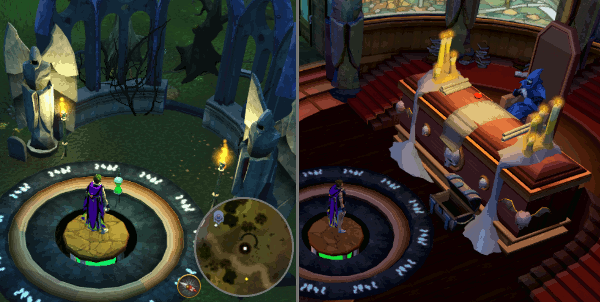 Only one new task can be assigned daily (unless you purchase more). If you do not wish to do the assigned task, this task may be canceled, or re-rolled up to five times per day. Each re-roll will reduce the rewards gained by 25%, excluding the first re-roll each day which is free; See the table below.
| | |
| --- | --- |
| Re-roll number | Reward Reduction |
| 1 | 0% |
| 2 | 25% |
| 3 | 50% |
| 4 | 75% |
| 5 | 100% |
Players can select to do either solo bosses or group bosses, this will change which tasks Death can assign you. You can also choose to be assigned extended tasks which will cause him to tell you to kill more than he would normally ask of you. Both of these options may be changed in your game Settings any time you are not currently on task. If you are being assisted by someone to complete your task (this can be done on solo or group mode), you do not have to deal the most damage for the kill to count for your Reaper assignment.
When bosses are killed, you will not gain Slayer experience like regular tasks, instead you will gain a large amount of Slayer experience and some reaper points once the task is complete. It is possible to receive Slayer experience for each kill in addition to the Soul Reaper rewards once the task is completed if you choose to do both types of Slayer tasks at once. For example: if you have a Black dragons task and a King or Queen black dragon Reaper task, you can kill your assigned Reaper target and get Slayer experience because they count as Black dragons. Despite being a type of Slayer assignment, the bonuses of any Slayer helmet will not apply unless you are also doing a normal assignment like the example given above.
Note: During the events of Missing, Presumed Death, Death is replaced by Frank for this activity in the same location.


If you choose to, you can enable a counter to display your current Slayer/Reaper task, your Slayer/Reaper points, and your current task streak - or just the number left in your Slayer/Reaper assignment. This interface can be expanded or condensed by Right-clicking and choosing "shrink" or "expand". This is also how you toggle between your Slayer and Reaper task display. To enable this counter: go to your Options (gear icon), Settings, Skills tab, and find it under Slayer; it is the dropdown box along the top.



Name and Combat Level
Picture
Other Requirements
Kills required
Slayer experience (Normal)
Solo Reaper points
Group or Extended Reaper points
Group and Extended Reaper points
Araxxi
3,000
High Combat Suggested
3-5
20,000
20
25
30
Barrows Brothers
150
Midlevel Combat or Better
4-15
7,000
7
8
9
Barrows: Rise of the Six*
650
High Combat Suggested
3-5
20,000
20
25
30
Chaos Elemental
350
Midlevel Combat or Better
2-6
10,000
10
12
14
Commander Zilyana**
596
10-15
12,000

15,000 (Hard mode)
12

15 (Hard mode)
15

18 (Hard mode)
18

21 (Hard mode)
Corporeal Beast
785
5-10
12,000
12
15
18
Dagganoth Kings
303
Upper Midlevel Combat or Better
10-15
10,000
10
12
14
General Graardor**
624
10-15
12,000

15,000 (Hard mode)
12

15 (Hard mode)
15

18 (Hard mode)
18

21 (Hard mode)
Giant Mole**
230
Midlevel Combat or Better
3-8
7,000

10,000 (Hard mode)
7

10 (Hard mode)
8

12 (Hard mode)
9

14 (Hard mode)
Gregorovic
1,000

80 Prayer
Upper Midlevel Combat or Better

5-10
17,000
15
18
21
Har'Aken
800
1-2
15,000
15
18
21
Helwyr
1,000

80 Magic
Upper Midlevel Combat or Better

10-15
15,000
15
18
21
Kalphite King*
2,500
High Combat Suggested
10-15
15,000
15
18
21
Kalphite Queen
333

Exiled Kalphite Queen
356
Midlevel Combat or Better
4-8
10,000
10
12
14
King Black Dragon
276
Midlevel Combat or Better
4-14
7,000
7
8
9
Kree'Arra**
580
10-15
12,000

15,000 (Hard mode)
12

15 (Hard mode)
15

18 (Hard mode)
18

21 (Hard mode)
K'ril Tsutsaroth**
650
10-15
12,000

15,000 (Hard mode)
12

15 (Hard mode)
15

18 (Hard mode)
18

21 (Hard mode)
Legiones: (Legio Primus, Legio Secundus, Legio Tertius, Legio Quartus, Legio Quintus, Legio Sextus)
304

95 Slayer
High Combat Suggested

10-15
15,000
15
18
21
Nex*
1,001
5-10
17,000
17
21
25
Nex: Angel of Death*
7,000
3-6
30,000
22
27
32
Queen Black Dragon
900
5-10
10,000
10
12
14
Telos

2-4
23,000
20
25
30
Twin Furies - Avarys and Nymora
702
80 Ranged
5-10
17,000
15
18
21
TzTok-Jad
702

TokHaar-Jad
780
Midlevel Combat or Better
1-3
10,000
10
12
14
Vindicta
1,000
80 Attack
5-10
17,000
15
18
21
Vorago*/**
10,000
High Combat Suggested
3-5
20,000

25,000 (Hard mode)
20

25 (Hard mode)
25

31 (Hard mode)
30

37 (Hard mode)
* Can be toggled off by selecting Solo Soul Reaper mode.
** Can be done in hard mode, but only if all kills are done in hard mode. This will give additional points and experience.
After you've gained some Reaper points, you can purchase items, effects, and titles from the Soul Reaper shop by talking to Death. Slayer points can also be used on a number of these rewards. By completeing certain objectives, you can unlock cosmetic rewards as well.


Items: These are helpful items that can be used in your day to day 'Scaping. They include
Death notes
Incomplete hydrix
Aura refresh (tier1)
Aura refresh (tier2)
Aura refresh (tier3)
Aura refresh (tier4)
Death's deal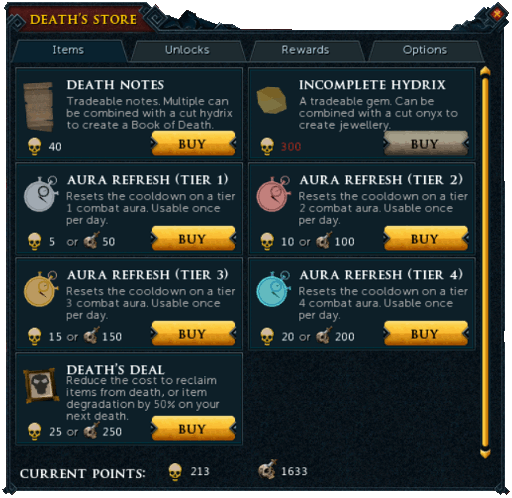 Unlocks: These are features that can be unlocked. Some are useful, such as the Bonfire booster, while others are simply cosmetic, such as the graves loot beam.
Book of Death
Reaper's Choice
Rainbow loot beam
Grave loot beam
Bonfire booster
Instance cost
Additional tasks
Reaper scroll
Death's support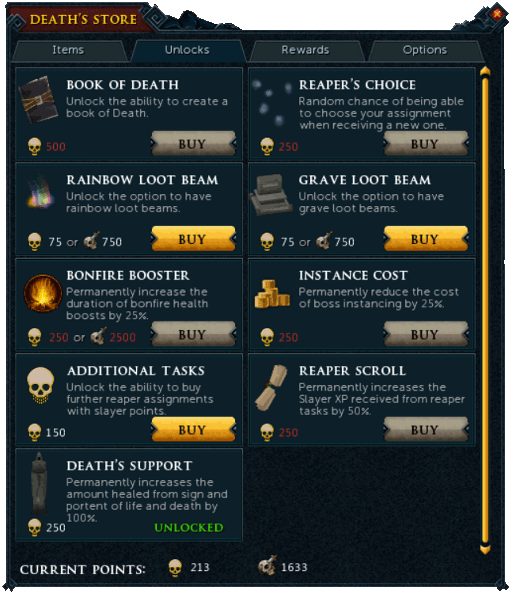 Rewards: These are titles, cosmetics, and a pet that can be obtained by completing certain requirements.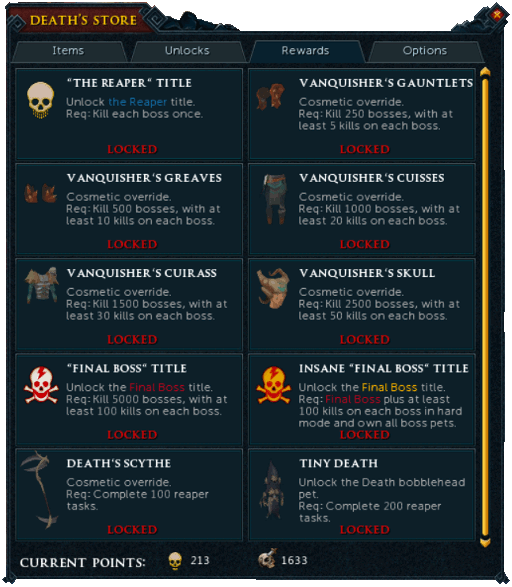 Options: When you open the Options tab you will be informed that they are available within the game settings. This makes them adjustable outside of Death's office.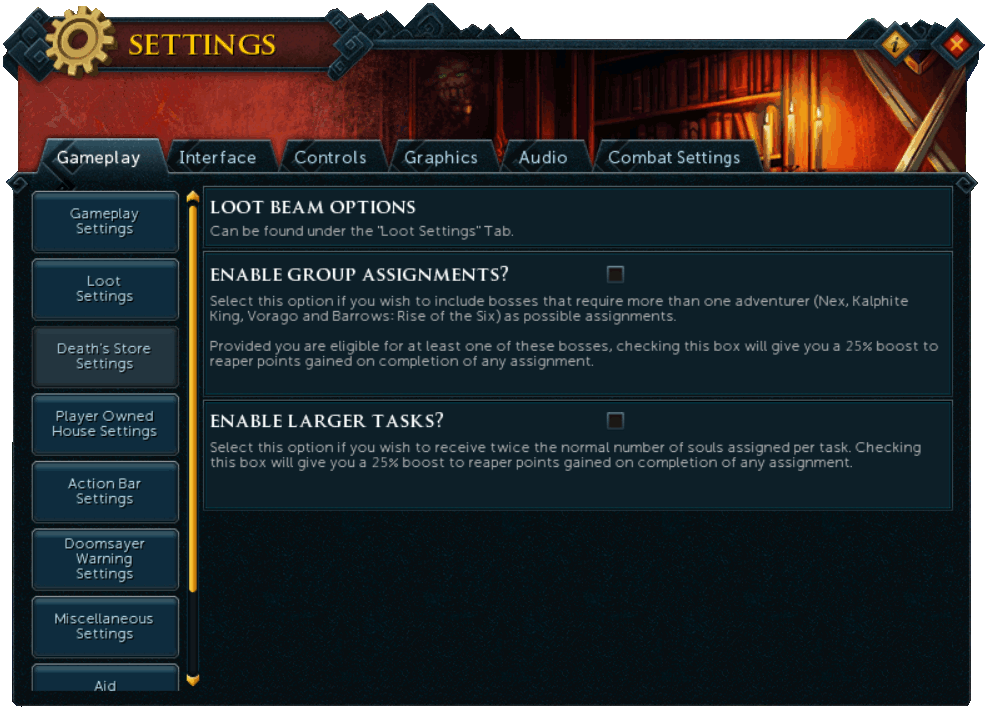 Note: Unlocking all of the permanent rewards is a requirement for the Trimmed completionist cape.
This Special Report was written by ChathMurrpau, Javezz, NarcanCowboy, and Deimos XD.
This Special Report was entered into the database on Tue, May 09, 2017, at 03:35:03 PM by ChathMurrpau, and it was last updated on Thu, Dec 13, 2018, at 04:44:16 AM by Chath.
If anything is incorrect or missing, or if you have any new information to submit to this database, please submit it to us on our Content Submissions Forums.
If you see this guide on any other site, please report it to us so we can take legal action against anyone found stealing our content. This guide is copyrighted by RuneHQ, and its use on other sites is expressly forbidden. Do not ask if you can use our guides or images, the answer is and always will be NO!
Print this page with images - Back to the Special Report Index Page - Back to Top