Table of Content:
44 Runecrafting
Nature talisman OR Nature tiara
Pure essence Membership
Recommended:
Shilo Village for banking method.
Super energy for running.
Coins
The Grand Tree
Amulet of Glory (4)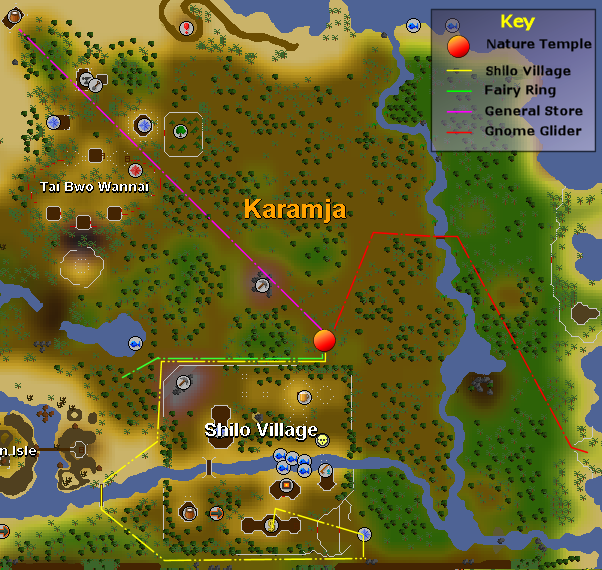 No matter what method you use to craft Nature runes, it will take some time. Whatever method you use, it won't be like crafting Air runes. Hereunder, are a list of various methods people use.
* = These methods revolve around using a teleportation item or banking. For these, it is optional to bring a pickaxe and mine the rocks to the north-west of the altar. There are 2 Adamantite rocks, 2 Mithril rocks, 2 Coal rocks, 1 Iron rock and the remainder few are Tin rocks. Since you are going to the bank after your nature crafting trip, you might want to take home a few ores for you. This increases not only your Runecrafting level per trip, but also your mining (which can ultimately be used for Smithing at a later stage, or selling to make some money).
This Special Report was written by Sporhund, Sk8rRIMuk, Skeletonmat, and zhicks1. Thanks to DarkPyroNinja for corrections.
This Special Report was entered into the database on Sun, Jun 25, 2017, at 02:28:13 AM by DarkPyroNinja, and it was last updated on Sun, Jun 25, 2017, at 02:31:02 AM by DarkPyroNinja.
If anything is incorrect or missing, or if you have any new information to submit to this database, please submit it to us on our Content Submissions Forums.
If you see this guide on any other site, please report it to us so we can take legal action against anyone found stealing our content. This guide is copyrighted by RuneHQ, and its use on other sites is expressly forbidden. Do not ask if you can use our guides or images, the answer is and always will be NO!
Print this page with images - Back to the Special Report Index Page - Back to Top