Table of Contents:
1. Introduction to the Grand Exchange
2. Getting Started in the Grand Exchange
3. The Basics of Trading Items
- Selling and Buying Items
- Armor Sets
4. Your Trade History

Welcome one and all the Grand Exchange of RuneScape! Located to the west of Varrock Palace, the Grand Exchange (also called GE) is a way for players, F2p and P2p alike, to trade their wares in a safe and fair environment. Having to go to over-populated worlds, like world 2, is now a thing of the past. The GE makes it easy for users to submit their items for a predetermined price, set by Jagex, in any world and any user looking to buy the items submitted can then buy without the hassle of being scammed.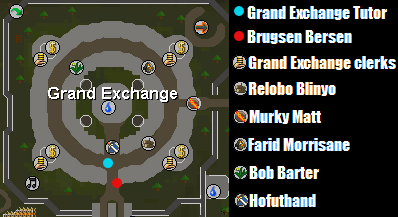 Getting Started in the Grand Exchange:
Before you can start all of your trading with the Grand Exchange you must first go through a tutorial to see how everything works. You can take this tutorial by speaking to either the Grand Exchange Tutor or Brugsen Bursen, both of whom are by to the south entrance of the Grand exchange. We shall go over how to use the GE later in this guide.
Brugsen Bursen: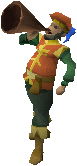 Grand Exchange Tutor:


Around the central fountain of the exchange you will notice some other people who you can talk with. These people are the expert traders and know all about the prices of their area of expertise. Each person can tell you of the ever changing prices of their corresponding area. The traders are as follow:

Hofuthand - Weapons and Armour Prices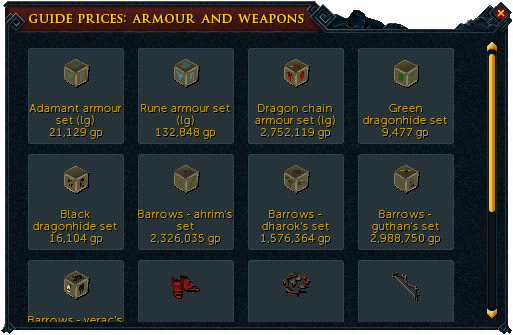 Bob Barter - Herb Prices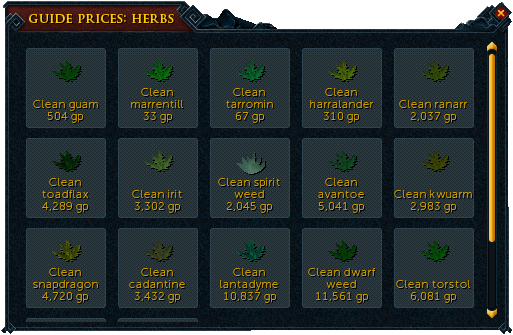 Relobo Blinyo - Log Prices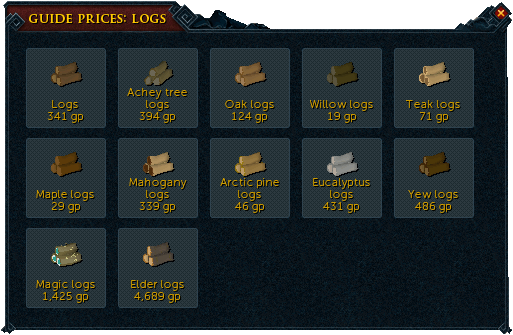 Farid Morrisane - Ore Prices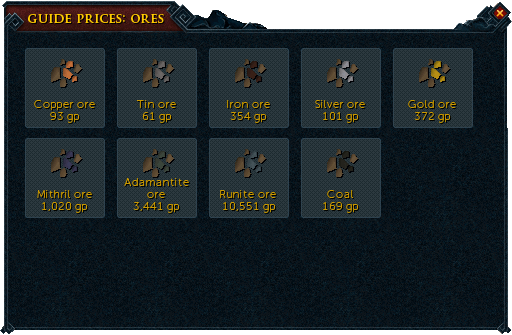 Murky Matt - Rune Prices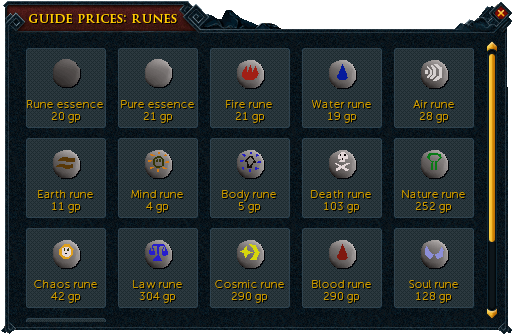 * Note: The prices for any item able to be sold here always changes, so the picture prices are not necessarily correct!

In the corners of the Grand Exchange are four booths with a number of people - those in blue are the Grand Exchange clerks, and those in grey are Bankers. In the center is a fountain surrounded by a garden useful for filling buckets, vials, or other containers.
Trading items through the Grand Exchange is simpler than you may at first think. All you have to do is have those items you wish to sell, or the cash you wish to spend. Even if you do not have them, don't worry, there is a bank right next to the Exchangers. You can make up to 6 trades at a time if you are P2p and up to 2 trades if you are F2p.
To sell/buy your items at the Exchange you can simply talk to an Exchanger, the people with the blue coats in one of the booths located in the corners, and right click the option "Exchange." This will then bring up a menu with 6 (or 2) little boxes inside. These boxes will be like your trading screen for when you normally trade with another player.
First, click on one of the boxes to choose if you want to "Buy" items (box on the left) or "Sell" your items (box on the right). Now from there you will be brought to another screen where you can choose an item from you inventory to sell, or offer cash for an item you wish to buy.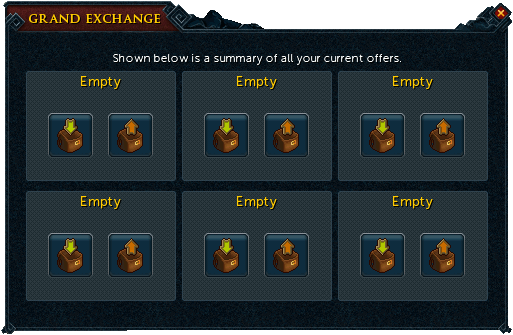 If you are choosing to sell items, click on the item(s) of one kind in your inventory that you wish to sell. You may sell only one type of item per Exchange box but you may offer as many of them as you wish.
A picture of the item will be shown in the top left and directly under it will show how many of the item you are choosing to sell. By clicking the buttons under "Quantity" you can add any amount to that item ranging from 1, 10, 100, 500, or a custom number you select.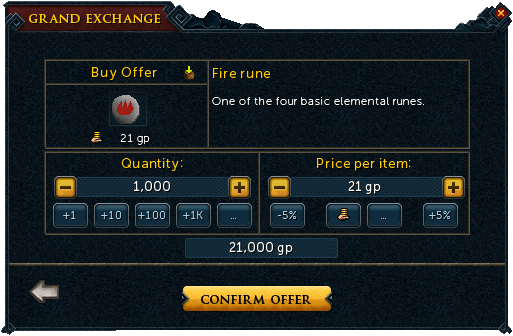 To the right of the "Quantity" box you will see the "Price per Item" box. This is the price of each individual item you are selling. Below this box you will see buttons to either increase or decrease the price by 5% increments. You may also set the item to the Guide Price or set the price yourself.

* On the sides of both boxes are a plus and a minus sign. If you click them, the quantity or price will either raise or lower by one.
After you have set your price and quantity, hit the "Confirm Offer" button on the bottom of the screen. This brings you to the initial screen with the 6 (or 2) exchange boxes. When you have a trade set in one of these boxes, you can see if you have sold/bought anything by just looking at the bar under your item. If the bar is green you know you have sold/bought something.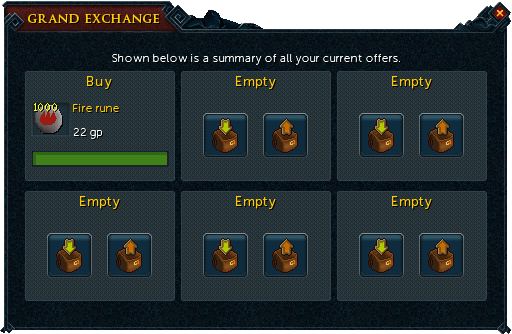 You will also receive a message in-game saying that you have sold something in the Exchange, so that way even if you are doing something else, like skilling or questing, you will know if you have a trade.

If you have bought or sold something and you would like to claim your item(s)/cash, talk with any of the Exchangers, or any Banker in-game and select "Collect" to go to your collection box. Here you can collect your cash from selling items, or your items that you have bought.
Buying items is pretty much the same principle as selling items, with a few changes. When you select the "Buy" box in your Exchange boxes you will be brought to a screen that looks similar to the sell screen, but instead of having a picture of the item you wish to sell there is a little magnifying glass. Click on this magnifying glass and then type in any item, or key word, you wish to buy. For example, if I wanted to search for White Knight armor I could just type in the word "white" and it would bring up an entire list of items that start with the word "white".



After you have found the item you wish to buy, click on it and set the price you wish to buy it for. By clicking the buttons under "Quantity" you can choose any amount to buy, ranging from +1, +10, +100, +1K, or a custom number you select. Click "Confirm Offer" and just wait till you get a seller.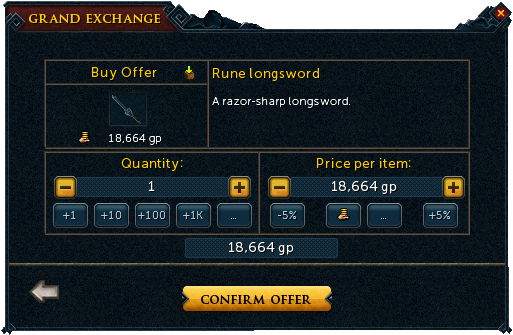 Now at any time you wish to cancel an offer, just click the Exchange box with the offer you wish to stop, and click the "X" button which then takes your offer off the market. This causes the bar under your order to turn red, which means the offer was aborted. To get your items back, you must click your item(s) in the bottom right corner, otherwise they will just sit there.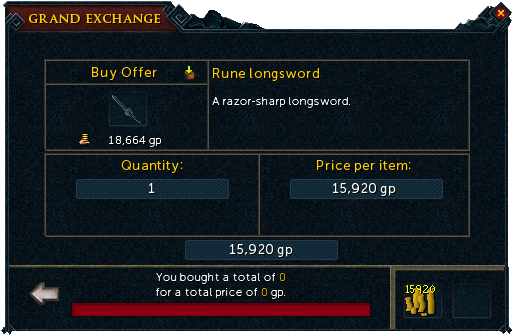 If you are wanting to sell a full set of armor, like some Barrows, for example, you can have them all grouped into one set which only takes up one of your 6, or 2, Exchange boxes. To make an armor set, you must first have all of the pieces of that armor that are required for the set in your inventory. Talk to an Exchanger and select the option "Sets". You will then see a screen with all kinds of different boxed sets. Find the one you want, right click "Exchange", and your armor will then convert into a set.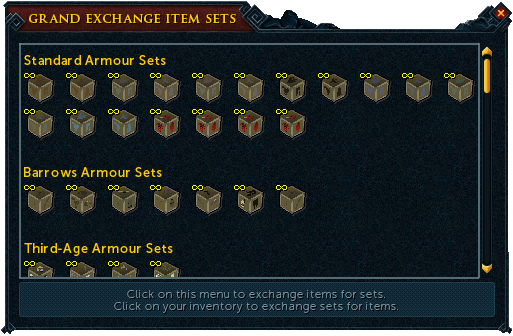 The Trade History is where the history of your last 5 trades is kept. It records the type of offer (bought or sold), the item, the quantity, and the price (what you paid or received). Trades will only show up on your history if you have collected your items/cash. This also includes trades you have aborted. To access your trade history, just talk with an Exchanger and select "History".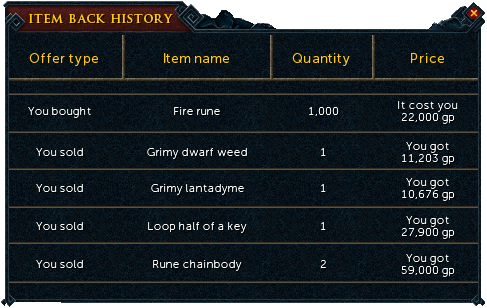 We hope you enjoyed this guide and that it helped you to know what to do at the Grand Exchange. Now go out there and make some great deals!
This Special Report was written by Xander_7. Thanks to Jakesterwars, Lilroo503, Shiv, and Skeletonmat for corrections.
This Special Report was entered into the database on Mon, Dec 10, 2007, at 05:34:02 PM by Jakesterwars, and it was last updated on Tue, Nov 19, 2013, at 01:38:09 PM by Javezz.
If you see this guide on any other site, please report it to us so we can take legal action against anyone found stealing our content. This guide is copyrighted by RuneHQ, and its use on other sites is expressly forbidden. Do not ask if you can use our guides or images, the answer is and always will be NO!
Print this page with images - Back to the Special Report Index Page - Back to Top