Table of Contents:
You must have completed Troll Stronghold and have either 60 Strength or Agility to pass the boulder blocking the way to the dungeon from Trollheim.
The fastest way to reach the God Wars Dungeon is via the God Wars Dungeon Teleport spell. This requires 61 Magic and completion of The Mighty Fall, but will teleport you past the boulder blocking the path to the dungeon.

If you don't have access to this spell, then the next fastest way to reach the dungeon is via the Trollheim Teleport spell which requires 61 Magic and completion of Eadgar's Ruse. This will teleport you to the summit of Trollheim and you'll just need to climb down the mountain and make your way to the boulder as indicated by the yellow line on the map below.

If you don't have access to either of these spells, you'll need to make your way to the dungeon from Burthorpe via the Death Plateau as indicated by the blue line on the map below. Note that if you do use this route, you'll need a pair of Climbing boots.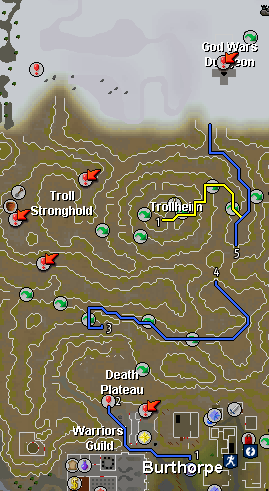 To enter the Icy Region itself, after you pass the Thrower trolls, you will have to shift a rock or climb through a crevice, for which you need either 60 Strength or 60 Agility.

After you pass this obstacle, your stats and run energy will start to drain because of the cold environment, so you should go to the dungeon itself as fast as possible!

Also, this area is inhabited by aggressive level 132 Ice wolves so using Protect from Melee is recommended for lower leveled players.
If it is your first time, there will be a dying knight near the entrance, requesting you to deliver a letter to Sir Tiffy in Falador. You can read this if you want, but you donít have to deliver it to enter the dungeon.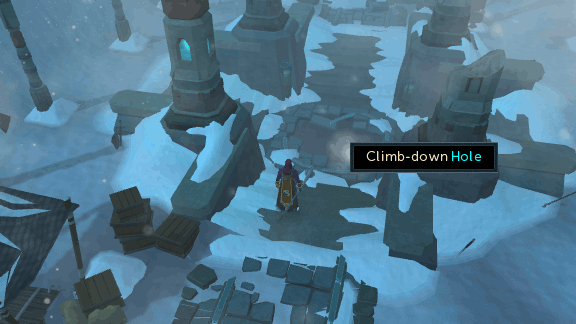 Click here for a detailed map of the battlegrounds.
When you go down the rope, you will enter the main area of the GWD. Itís filled with monsters related to the gods battling each other and anyone who isnít showing his or her allegiance to their god.
To be perfectly safe inside the GWD, you can just put on an item of every god. A cheap setup would be:
If you're wearing something similar, you will be safe in the dungeon as long as you donít unequip an item. If you do, all the monsters of the god youíre not wearing an item from will attack you!

The equipment suggested in this guide is only a suggestion. You can alter it to suit you best, but remember to try and take at least a Zamorak item and an item of the god's general you're going too. Cheap alternatives are Holy or Unholy symbols and Saradomin or Zamorak cape from the Mage Arena. Alternatively you can take a Zaros item which will protect you from all followers. The cheapest option here is the Shard of Zaros which is obtained by completing Fate of the Gods.
Apart from the slightly stronger regular monsters like Imps, Goraks and Bloodvelds, there are also a few that can only be found here.
Aviansies are Armadyl followers, and can only be ranged or maged. They are a pretty popular place for Ranged training, as you can camp there pretty much endlessly for experience and drops. Just bring a few Bones to Peaches spells or tablets, and you can heal easily.
Saradomin has a few unique monsters as well. The Knights of Saradomin and the Saradomin priests wander all over the main room, as well as their own encampment.
Bandos chose Cyclopes, Orks, giants and goblins to defend his honor.
All gods also have Spiritual rangers, mages and warriors. These monsters can be given as a Slayer assignment, and especially the Spiritual mages are a much-wanted task. With their 83 Slayer requirement, they are the only monster in RuneScape that can drop Dragon boots.
Around the main room lie the camps of the five gods, and each needs a specific skill or item to enter.
God name
Location
Items/Levels Needed
Zamorak
Zamorak's Fortress.
To the north, across the broken bridge
70 Constitution to cross the bridge.
Your Prayer points will be drained to 0 as soon as you to cross.
Saradomin
Saradomin's Encampment
70 Agility.
You must climb down two rocky walls to access the main part of the camp.
Armadyl
Armadyl's Eyrie, to the south.
70 Ranged.
It is seperated from the main hall by a huge chasm, but you can cross by clicking on the gong hanging above the chasm and you will be teleported across.
Bandos
Bandos' Stronghold, to the west.
70 Strength.
Bang on the big door and you will enter the stronghold.
Zaros
Ancient Prison, to the south, a bit east of the entrance to Armadylís Eyrie.
70 Constitution, 70 Agility, 70 Ranged, and 70 Strength and the Frozen key. To obtain the key you need to kill the followers of the other four gods IN their camps. (About 50 kills per god). You can use the key 5 times. You can recharge it for 15K-30K coins per charge depending on your smithing level.
Note: Please look at detailed map HERE to learn more about where monsters are.

Note: Stat boosting potions or items will NOT work.
In each camp, you will find followers as well as Zamorak minions, but there are only Zamorak monsters in Zamorakís Fortress.

To enter to generalís rooms inside the camps, you will need 40 kills of that god. For example, you can kill 40 Aviansies to enter the room of the Armadyl general, Kreeíarra.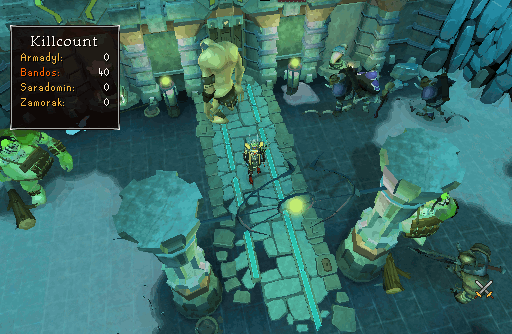 In the above picture, you see a player who has reached the required kills to enter General Graardor's room in the Bandos' Stronghold. The color of the text will turn orange once you reach 40 kills.
The generals are always protected by three sergeants, who can drop the special armor or weapons (like Bandos armor or Zamorakian spear) and shards of the godsword blade, but only the generals can drop a hilt.
All generals have two attack styles, including one single combat and one multi-combat so every person in the room can get hit.
Inside the boss rooms is an altar, but you can only use this once every 10 minutes. The teleport function will take you just outside the boss room, though this does not mean you are out of danger if youíre not wearing the right god item!
To the west of the dungeon is Bandos' Stronghold. Simply bang on the big door to enter.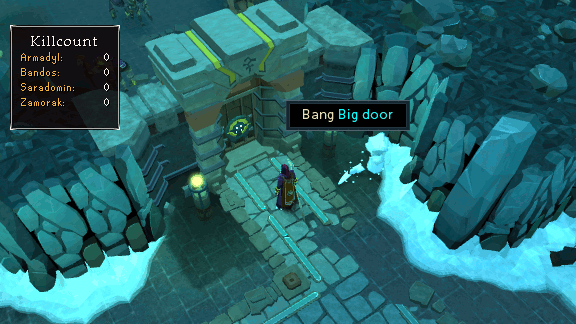 The Bandosí Stronghold is kept by General Graardor. This giant monster is guarded by his maging Sergeant Steelwill, his ranging Sergeant Grimspike and his meleeíing Sergeant Strongstack.
This general is one of the most popular, as he and his sergeants drop many unique items including the Bandos hilt, Bandos chestplate and Bandos tassets. He is also considered one of the easiest generals to kill.

You should always try to take a piece of Bandos and Zamorak equipment to be left alone by the monsters. You can also use the Bandos pool in Ooíglog, which will keep the Bandos followers from attacking you for an hour (except for Graardor and his sergeants.)

General Graardor has 3 special abilities:

"Graardor Smash" - General Graardor will smash the ground, causing the ceiling to come loose. Shadows on the ground will mark where chunks of rock will land. If you are crushed by a rock, you will suffer upwards of 1,000-1,500 damage per rock.

"Graardor Angry" - Basically a berserker stage, Graardor will temporarily deal more damage and have a higher attack speed. This is easily counterable with Protect from Melee and the Devotion ability, in which Graardor won't deal any more than 1 damage to his target for 10 seconds.

"Graardor Protect" - Graardor will enter a prayer stance. While he is praying, any attacks done to him will be deflected back to you.
Setup

As the Bandos boss can be tanked (see Strategy), a lot of players use this setup or something similar with great success!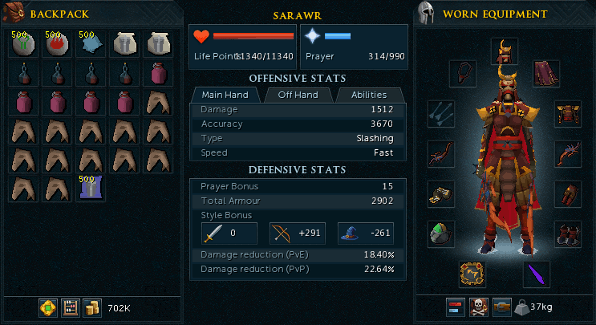 In your inventory, you should take 2 Holy overloads (or 2 Overload flasks, and 2 Prayer renewal flasks) a quick teleport out (like a Teleport to house tablet), a few Prayer potions or super restore flasks and as much food as possible.
If possible, take a healing familiar like a Unicorn stallion, or a Beast of Burden like a Pack yak to bring extra food. You can also sacrifice healing for a combat familar like an Iron or Steel titan for faster kills.
Strategy:

First things first; getting the required 40 killcount to enter the boss room. You can easily get this by killing goblins or hobgoblins near the entrance to the Stronghold, or inside. A fast and easy method is to attack Orks just outside the Stronghold with auto retaliate turned on as they will be aggressive the entire time.
If you run north-west immediately when you enter, you should not worry too much about monsters other then Zamorak and Bandos followers.

As mentioned before, Graardor can be tanked. This means that he will attack one person, and not switch targets as long as you donít teleport or run away. You should use this to your advantage.

Graardor uses a single target melee attack, and a multi-target ranged attack. Therefore, the tanker should use Protect from Melee or Soul Split, depending how much damage you are taking.

The first person to enter should be prepared to tank, while using Protect from Melee or Soul Split. Graardor and the sergeants will immediately attack you, so be ready! The rest of the team should follow in at once and, while using Soul Split, attack Graardor.
When the general is dead, you can kill off his minions, preferably starting with Sergeant Steelwill, as your armor is weak to Magic.

After they are all dead and everyone has collected the loot, you should prepare for the next fight, as youíd probably want as many kills per trip as possible.

Everyone but the person tanking should stand in the north-west corner of the room, as far as possible from the place where Graardor spawns.

The tanker himself should hang around the middle, and make sure they have Protect from Melee on when he appears. Then they should attack Graardor as quickly as possible, so the rest of the team can safely come out while praying Protect from Missiles to kill off the general again.

If youíre using Guthanís armor as a tanker, you can use it to fight Graardor as you can heal at the same time. Other team members should use their best weapons against him, but have the opportunity later on to heal a bit with Guthanís on the sergeants when Graardor is dead.

If youíre running low on Prayer, you can use the altar inside the room to refill your Prayer points, but only once every 10 minutes.
On the north side of the dungeon you will find Zamorak's fortress. To access this area, you will need to jump over the broken bridge. This requires 70 Constitution and will drain your Prayer points to 0. There are several Imps found here, meaning that K'ril's room is by far the quickest and easiest to access as obtaining the kill count shouldn't take more than 5-10 minutes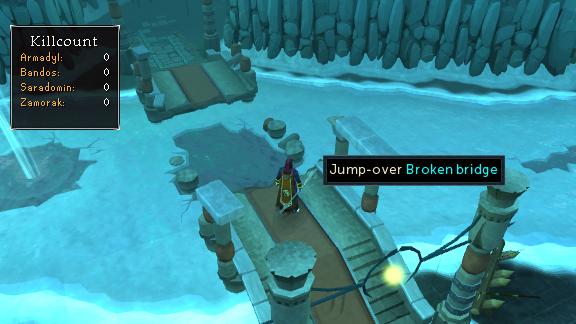 In the boss room you will find Kíril Tsutsaroth and his three bodyguards: Tsanon Karlak (melee), Balfrug Kreeyath (magic) and Zaklín Gritch (ranged).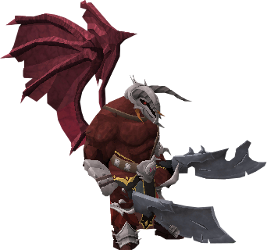 Recommended Equipment:
Example Setup and Inventory: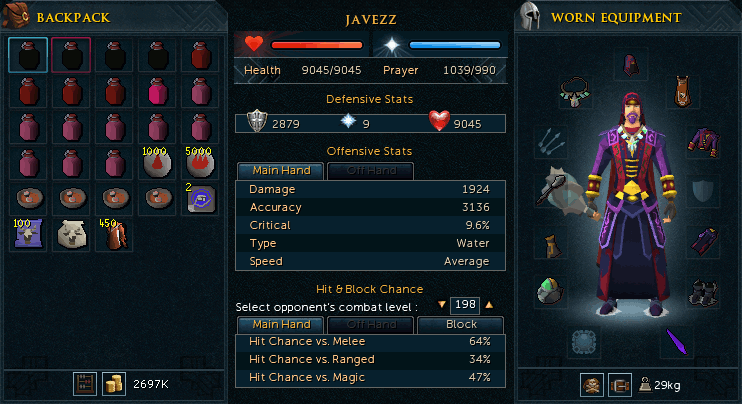 Strategy:
K'ril is perhaps the easiest boss to kill in the main dungeon as he has the specific weakness of Fire spells, whereas the others have no weakness. However, he should still not be taken lightly as his attacks are very powerful and if you're in a team, it is very helpful to have a tanker stand in the middle of the room to be the focus of his attack while the others attack from the northeast corner. Due to his Fire spell weakness, using Fire surge or Blood blitz is highly recommended for this fight. K'ril's attacks are as follows:
Melee attack: K'ril will simply hit you with his giant scimitars, dealing up to 1100 damage.
Magic attack: K'ril will jump in the air and slam a scimitar into the ground, sending out a shockwave of magical orange flames capable of hitting up to 600.
Special attack: K'ril occasionally uses a very powerful special attack in which he will jump into the air and shout "YARRRRR!", before slamming back into the ground and unleashing a cloud of black smoke. This attack is capable of hitting over 4000 on the target player, as well as poisoning them and draining their Prayer points. However, the damage can be spread out between players if they're stood close to the target.
Hard Mode:
K'ril has better drops in Hard Mode, but he also stronger and uses three additional special attacks:
Charge: K'ril will tell the player to run and you should do so. He will then charge towards you and can hit over 1000 if you don't make him run into a wall.
Spikes: K'ril will occasionally spawn spikes under his target which hit over 900 every two seconds until the player moves away.
Rage: K'ril will go into a rage and start to rapidly hit you with increased strength for several seconds.
Saradomin's camp is set up on the East side of the dungeon down two rocky walls. To climb down the walls, you need 70 Agility. Getting the killcount for Commander Zilyana can take a while, as all of the followers are 100+ combat. However, there are often some monsters fighting Zamorakian minions and you can attack these without being attacked back, therefore saving some food and/or Prayer points.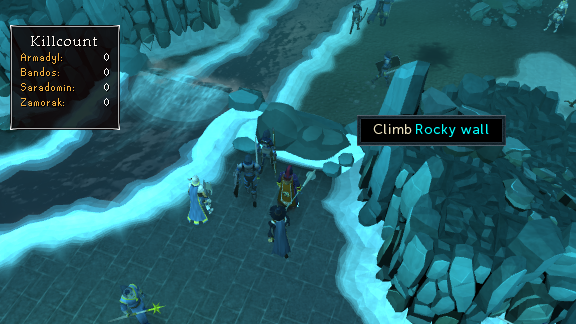 The camp is guarded by Commander Zilyana and her most trusted followers; Starlight (melee attacks), Growler (magic attacks) and Bree (ranged attacks).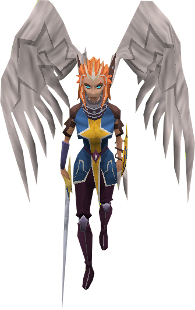 Recommended Equipment:
Example Setup and Inventory: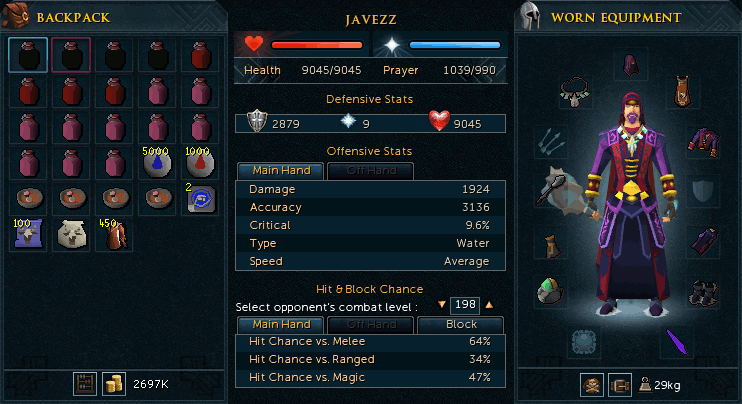 Strategy:
The recommended method of fighting Zilyana is by using water spells, preferably Ice Barrage or Blitz. (Note: Do NOT use Bloodfire spells as this will enrage her and make her attacks more powerful). When you have the 40 kills, turn on Protect from Magic and enter the boss room. Zilyana's attacks are as follows:
Magic attack: Zilyana will raise her sword in the air and it will begin to glow blue before unleashing a magic lightning attack capable of hitting up to 1600 on multiple targets.
Melee attack: Zilyana uses her sword to rapidly hit her target which is also capable of hitting up to 1600.
Both of these attacks only work at close range and so it is recommended to hit Zilyana while running around the edge of the room.
Hard Mode:
Zilyana has better drops in Hard Mode, but she also has two phases you must defeat:
First Phase: This is basically the same as the normal fight, but her attacks are stronger. However, once you get her health down to 0, she will fully heal and enter her second phase.
Second Phase: Zilyana gains an additional ability in that she can charge the tiles on the floor of the room with lightning which moves from tile to tile and can hit over 1000 if you don't avoid it. When her health reaches 50 in this phase, she will collapse to the floor and a new bar will appear under he health bar. You must now finish her off with an ultimate ability before the bar fills up, otherwise she will heal 12,500 and resume fighting.
Armadyl's Eyrie is found on the south side of the dungeon and can only be accessed by crossing the deep chasm with 70 Ranged. Obtaining the kill count to fight Kree'arra is possibly the most difficult of all the God Wars Dungeon bosses as the only followers of Armadyl in the dungeon are the Aviansies and these are almost all above level 100.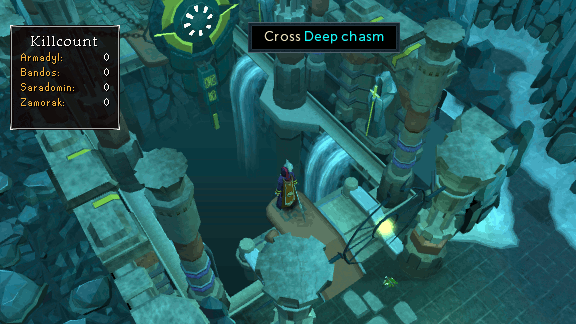 In the Eyrie's boss room you will find Kree'arra and his bodyguards: Wingman Skree (Magic), Flight Kilisa (Melee) and Flockleader Geerin (Ranged).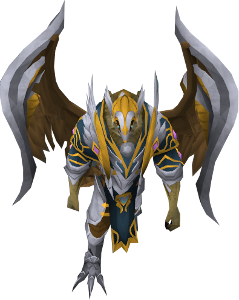 Recommended Equipment
Kree'Arra and his bodyguards cannot be fought with melee as they fly above the ground out of reach and you must therefore use Ranged or Magic.
Example Setup and Inventory: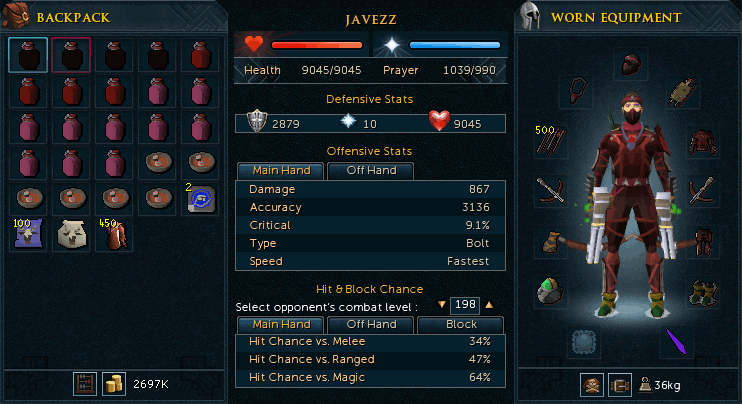 Strategy:
When you have the 40 Aviansie kills, turn on Protect from Missiles and enter the boss room. Kree'arra's attacks are as follows:
Ranged Attack: Kree'arra will fire a blast of wind that is highly accurate and capable of hitting up to 1500.
Melee attack: Rarely used, but very dangerous as Kree'arra will rapidly hit his target twice, dealing up to 1500 with each hit for a total of 3000. This can be completely avoided by simply keeping your distance from Kree'arra.
Magic Attack: Kree'arra will fire a blue tornado that can hit up to 1000.
Hard Mode:
In Hard Mode, depending on how many people are in the room, Kree'arra is able to use multiple attacks at once and also uses a new tornado attack.

At the start of the fight he will summon yellow and blue tornadoes that move around the room until Kree'arra is dead and can hit up to 3000 every 2 seconds until you die or move.

He will occasionally shout "Storms, align to me!" which forms a barricade of tornadoes around him and makes him invulnerable to your attacks. After several seconds of this, he will shout "Feel the power of Armadyl!" and launch the tornadoes at you. Again, if you don't avoid these then you will be dealt rapid, heavy damage.
Nex
in the prison forever. Opening this door requires a
Frozen key
. To obtain this key you will have to kill followers of the other four gods IN their encampments. (About 50 kills of each god will do.)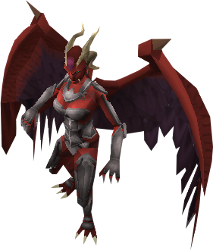 Important Notes: Nex is combat level 1001 and is considered to be the most dangerous monster in RuneScape. If you enter her lair unprepared, you will die within seconds. Also never try to solo Nex (unless your looking for the most effective way to kill yourself.)
It is a good idea to practice yourself in bossfights and to make yourself familiar with the function keys (F1: Inventory, F2: Worn Eguipment, F3: Prayer List, F4: Magic Spellbook, F5: Combat Styles) as this can save you the split second you will need to survive.
Once through the frozen door you will find yourself in a small room without monsters; climb down the pit in the centre of the room.
Once down you are in another safe room. Make sure you have full lifepoints and have drunk from your potions before you leave this area because in the next room there are strong monsters waiting to kill you.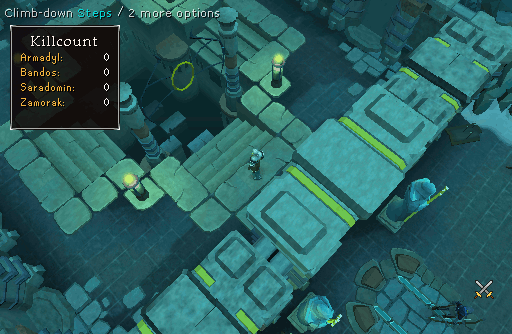 When you are ready, enter the tunnel. In the main room there are
Ancient Rangers
,
Ancient Mages
,
Ancient Warriors
, and
Blood reavers
. (The latter can hit through prayer but with reduced damage.)
The monsters in this room will be agressive unless your defensive armor stats exceed 250 e.g. 250 Ranged defence will prevent the Ancient rangers from attacking.
When you have your killcount, you can enter the barrier room where you can bank with
Ashuelot Reis
and prepare for Nex. Once ready, banish the prison barrier and enter Nex's prison.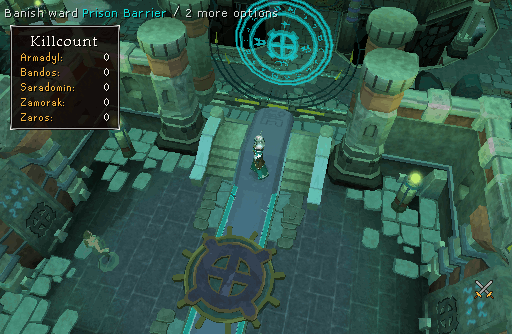 Note: You donít have to get the killcount to enter the bank room. If you wear Ancient Ceremonial robes, you donít have to kill the monsters, but ALL of them will be aggressive and these robes donít have any stats. So prayer and food are recommended.
Setup
You will be using ranged and melee to kill Nex as magic is very inaccurate. There are two options: use Void or use Pernix/Armadyl. The latter is recommended because defensive stats are more important than offensive ones.
Note:If using void replace Armadyl/Pernix and gloves by void armour.
Inventory:
Beast of Burden:(preferably pack yak) Saradomin Brews and Super restores
I also suggest you use the normal prayerbook with Rigour unlocked as you will be ranging most of the time.
Strategy
Nex is very strong and has one of the most complicated attack patterns ingame. As a result this guide is only a general guideline. Every team has their own strategies and tricks.
General strategy:
Have your sound on as Nex will literally shout which special attack she will do.

Nex will attack the person with the lowest magic level first. Or she attacks the person who is the furthest away from her. So the tanker should use fewer super restores so his/her magic level is lower and Nex will attack him/her.

You should use ruby bolts (e) to damage Nex and kill her minions. Switch to diamond bolts (e) for her last phase. (The part where she starts praying.) If you brought a melee weapon, you can attack her minions with melee as they are wearing magic armour.

The tank always uses Protect from Melee. The others use Protect from Magic. Always use the Rigour prayer.

Always stay together so Nex wonít run around the room as this will only make the fight longer.
Summary/Reminder Version
Smoke Phase
Stay in the center.
First use Dragon claws special attacks. If you brought a melee weapon, you can use it in this phase.
Kill Fumus (northwest).
Shadow Phase
Stay in the nothern half of the room.
Keep your distance.
Kill Umbra (northeast).
Blood Phase
Stay southeast.
Don't attack during siphon.
Use special attacks and drink recovery special.
Kill Cruor (southeast).
Ice Phase
Stay southEAST.
Free allies in icicles.
Run away from "Contain this!" Use ranged untill the wall disappears, then contiue with melee (if you brought a melee weapon).
Kill Glacies (southwest).
Curses Phase
Death dot where Glacies was.
Use Staff of Light special attack when tanking.
Finish her and run away from her Wrath.
Initial Phase
Once you have passed the barrier and entered her prison, Nex will appear in the centre and summon her four mages - Fumus (smoke), Umbra (shadow), Cruor (blood) and Glacies (ice); one in each corner of the room. This phase lasts for around 20 seconds and she will be unagressive.
Smoke Phase
During this phase you want to be in melee distance of Nex. If everyone is close enough, she will use few magic attacks and melee the tank.
First thing to do is using your Dragon claws special on her.
Nex uses melee and some kind of Smoke Barrage, which will poison you starting at 88.
Get her to 4/5 lifepoints and then kill Fumus (northwest).
Keep your lifepoints as high as possible as a single hit can do over 700 damage.
Note: If you have the virus when Fumus is dead, run away from your team and wait till it disappears before joining the fight again.
Also keep an eye out for the special attacks listed below.
| | | |
| --- | --- | --- |
| Nex' shouts | Effect of special attack | How to avoid |
| Let the virus flow through you! | One of the players will get the virus. It will spread to players that are standing next to that player. This virus will hit you, lower your combat stats and drain your prayer points. | Just ignore the virus, snip from your super restore when needed and hold your position. You donít want Nex to use magic often. |
| There isÖ NO ESCAPE! | Nex will fly through one of the paths and she will hit anyone in her way. Possibly hitting over 700 damage. | As you are standing on the crossroads, just run a few steps aside. She will return to the center, attack her again. |
| None | Nex will pull you to her, disabling your prayers. | Just toggle your prayers back on and continu fighting. |
Shadow phase
Now you have to move away from her as the closer you are, the more you get hit. If your screen gets darker, you have to take more distance.
Nex will use some kind of Shadow barrage and melee. Use protect from melee if you are the tank or if she is focusing on you.
It is recommended to stay in the northern half of the room so Nex wonít run around randomly.
Get Nex to 3/5 lifepoints and kill Umbra (northeast) whilst praying against magic as this minion can hit about 200.
Keep your lifepoints over 700.
| | | |
| --- | --- | --- |
| Nex' shouts | Effect of special attack | How to avoid |
| Fear the shadow! | Shadow traps appear under every player. After a second you will get hit up to 700 lifepoints. | Move away from your position, but donít run over other peopleís traps as you can get hit by EVERY trap. If you are to late to move and Nex hits you with a Shadow barrage, you can go from max lifepoints to none in 2 secondes. |
| Embrace darkness! | The room turns dark and everyone close to Nex will get hit for a large amount of damage. | As you are ranging from a safe distance, you wonít have problems with this attack. |
Blood phase
Time to use your dragon claws again. Spec as much as you can, using recovery potions when needed.
Try to stay together in the southeastern corner so Nex wonít run trough the room chasing someone.
Youíd better use protect from magic as Nex uses a kind of blood barrage.
Also keep your prayer points as low as possible. Many of her attacks will HALVE your prayer points, so the lower your points are, the fewer you will lose.
Get Nex to 2/5 lifepoints and kill Cruor (southeast). Try not to stand on one spot so Nex wonít heal to much using her blood barrage.
| | | |
| --- | --- | --- |
| Nex' shouts | Effect of special attack | How to avoid |
| I demand a blood sacrifice! | Nex will cast a blood barrage on someone, halving your prayer points and healing herself. | A message in your chatbox will advise you to run away. Donít do it! Itís very hard to dodge this attack, so you will only cause Nex to run around, making the fight longer. |
| A siphon will solve this! | Nex will kneel down for about 3 secondes and summon up to three blood reavers. All damage done to her during this time will HEAL her. She will also kill the blood reavers from the last siphon and heal herself with their remaining lifepoints. | Stop attacking Nex! Instead hit the blood reavers so the next siphon will heal Nex less. |
Ice Phase
Stay in a group where the blood mage Cruor was so you can free your team members from the icy prison. Keep your prayer points low as Nexí ice barrages drain your prayer points. The more points you have, the more you will lose.
Get Nex to 1/5 lifepoints and kill Glacies (southwest).
| | | |
| --- | --- | --- |
| Nex' shouts | Effect of special attack | How to avoid |
| Contain this! | Nex will make a 2x2 box surrounded by ice around her. If you are caught inside your prayers will be disabled and you will take some damage. | Just get away from her. If you are trapped, be ready to heal and put your prayer back on. |
| Die now, in a prison of ice! | Nex will freeze a player in a some stalagmites. The player himself canít break his prison but the others can. If the player is still in the prison after 3 secondes, he will get hit up to 800 damage and his prayers will be disabled. | If you are in the prison, heal to or above maximum lifepoints and spam click outside the box so you will move as soon as you are free. If one of your team mates is trapped, free him by clicking on the stalagmites. |
Curses phase
Nex will only use her normal magic and melee attacks, but these are more powerfull.
She will also use Soul Split, Defect Melee, no prayer, Soul Split, Deflect Melee, no prayer, ect.
Death dot (=standing on the same square) where Glacies was, forcing Nex to come close and to use melee most of the time.
When your tanking, itís time to use your Staff of lightís special attack, halving all melee damage for the next minute. If you are using your Dragon claws special attack, be carefull to attack only when Nex isnít using Deflect Melee.
| | | |
| --- | --- | --- |
| Nex' shouts | Effect of special attack | How to avoid |
| NOW, THE POWER OF ZAROS! | (only at the start of this phase) Nex will heal 6,000 lifepoints at the start of the phase and activate Turmoil, boosting her Attack, Strength, and Defence while lowering yours. | You can't. |
| Taste my wrath! | When she dies, Nex will activate Wrath. | Run away from her and keep your lifepoints high if Nex is almost dead as this attack can deal up to 600 damage to all nearby players. |
The tables below contain the unique drops of each of the 5 God Wars Dungeon Generals.
The Godswords are level 75 two-handed weapons crafted from the hilts and shards dropped by the Generals. Each possesses a powerful special attack, or passive effect which can be switched between by using the sword on the altar in the room of the General who drops the corresponding hilt e.g. the Armadyl godsword must be used on the altar in Kree'arra's room.
| | | |
| --- | --- | --- |
| Godsword | Special Attack | Passive Effect |
| Armadyl godsword | Armadyl's Judgement requires 50% adrenaline/special attack energy and deals up to 250% weapon damage. | This has a 1/4 chance to activate during combat and raises your Attack and Strength level by 1 each time it activates up to 10% of your base Attack and Strength levels. |
| Bandos godsword | Warstrike requires 100% adrenaline/special attack energy and deals up to 200% weapon damage and drains your target's Defence. | This has a 1/4 chance to activate during combat and drains your opponent's Defence level by 1 each time it activates down to 90% of their base Defence level. |
| Saradomin godsword | Healing Blade requires 50% adrenaline/special attack energy and deals up to 170% weapon damage and restores Life points by 50% of the damage dealt and Prayer points by 2.5%. | This has a 1/4 chance to activate during combat and restores 3% of your Life points and Prayer points each time. |
| Zamorak godsword | Ice Cleave requires 60% adrenaline/special attack energy and deals 175% weapon damage and freeze your target for 10 seconds. | This has a 1/4 chance to activate during combat and freezes your target for for 6 seconds. |
This Special Report was written by Ghou, Zaros Ultor, and Javezz. Thanks to Atod, Sccrluk9, Jett_Man, Tuo_Templar, Dea-Proximo, axeking187, Jakesterwars, Tokenblack20, Bob, Crypto416, Sir Brendan8, Sailorscoutx, 4everawake, Richie_S, Scorpia126, Cyberp0lice, Darkblitz, Ludo, Alfawarlord, Bazzy, Egekalaycan, Sarawr, watkinsted, and Rooskii for corrections.
This Special Report was entered into the database on Sun, Dec 02, 2007, at 12:30:24 AM by Jakesterwars, and it was last updated on Mon, Sep 19, 2016, at 12:45:35 PM by Dark.
If you see this guide on any other site, please report it to us so we can take legal action against anyone found stealing our content. This guide is copyrighted by RuneHQ, and its use on other sites is expressly forbidden. Do not ask if you can use our guides or images, the answer is and always will be NO!
Print this page with images - Back to the Index Page - Back to Top