Table of Contents

You must have completed Troll Stronghold and have either 60 Strength or Agility to pass the boulder blocking the way to the dungeon from Trollheim.
The absolute fastest way to make it into the God Wars Dungeon, and to whichever specific boss you are looking to pick a fight with, is by attuning the boss portal in the Max Guild. This can be re-tuned for free the first time and for 100,000 gold coins every time after that. Using this method will teleport you into the specific boss' encampment, allowing you to skip the main area of the dungeon.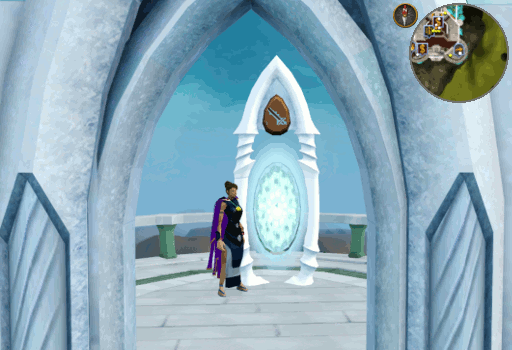 Since not everyone can access the Max Guild, for most people the fastest way to reach the God Wars Dungeon is via the God Wars Dungeon Teleport spell or the tablet. These require 61 Magic and completion of The Mighty Fall, but will teleport you past the boulder blocking the path to the dungeon.
If you don't have access to this spell, the next fastest way to reach the dungeon is via the Trollheim Teleport spell or tablet which require 61 Magic and completion of Eadgar's Ruse. This will teleport you to the summit of Trollheim; you'll need to climb down the mountain and make your way to the boulder as indicated by the yellow line on the map below.
If you don't have access to either of these spells and tablets, you'll need to make your way to the dungeon from Burthorpe via the Death Plateau as indicated by the blue line on the map below. Note that if you do use this route, you'll need a pair of Climbing boots.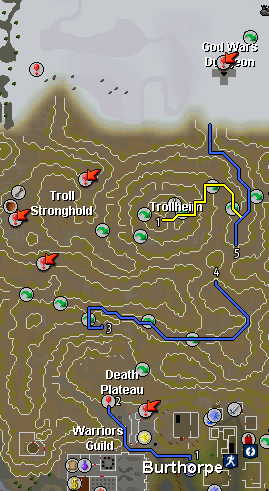 To enter the Icy Region itself, after you pass the Thrower trolls, you will have to shift a rock or climb through a crevice. To do so you need either 60 Strength or 60 Agility respectively.
After you pass this obstacle, your stats and run energy will start to drain because of the cold environment, so you should go to the dungeon itself as fast as possible!Note that this area is inhabited by aggressive Ice wolves (levels 71 and 95), so using Deflect/Protect from Melee is recommended for lower leveled players.
If it is your first time here, there will be a dying knight near the entrance, requesting you to deliver a letter to Sir Tiffy in Falador. You can read this if you want, but you don
This Special Report was written by ChathMurrpau. Thanks to Previous guide writers: Ghou, Zaros Ultor, Javezz, and Telle as well as: Atod, Sccrluk9, Jett_Man, Tuo_Templar, Dea-Proximo, axeking187, Jakesterwars, Tokenblack20, Bob, Crypto416, Sir Brendan8, Sailorscoutx, 4everawake, Richie_S, Scorpia126, Cyberp0lice, Darkblitz, Ludo, Alfawarlord, Bazzy, Egekalaycan, Sarawr, watkinsted, Rooskii, Haxorze, and Sirius XM for corrections.
This Special Report was entered into the database on Sun, Dec 02, 2007, at 12:30:24 AM by Jakesterwars, and it was last updated on Mon, Oct 30, 2017, at 03:27:52 AM by ChathMurrpau.
If you see this guide on any other site, please report it to us so we can take legal action against anyone found stealing our content. This guide is copyrighted by RuneHQ, and its use on other sites is expressly forbidden. Do not ask if you can use our guides or images, the answer is and always will be NO!
Print this page with images - Back to the Special Report Index Page - Back to Top