Table of Contents

Zarosian Artefacts
Members
Artefact
Restoration Materials
Notes
Hotspot: Venator remains - Level: 5 - Restoration: 305.1 Experience
Venator dagger
Third Age iron x 16
Zarosian insignia x 12
Venator light crossbow
Third age iron x 12
Zarosian insignia x 16
Hotspot: Legionary remains - Level: 12 - Restoration: 430.8 Experience
Legionary gladius
Imperial steel x 12
Zarosian insignia x 6
Legionary square shield
Imperial steel x 12
Third Age iron x 8
Zarosian insignia x 8
Primis Elementis standard
Samite silk x 16
Third Age iron x 12
Hotspot: Castra debris - Level: 17 - Restoration: 520.5 Experience
Zaros effigy
Samite silk x 8
White oak x 10
Zarosian insignia x 12
Zarosian training dummy
Third Age iron x 16
White oak x 14
Given to Katarina to unlock her as a Researcher.
Hotspot: Administratum debris - Level: 25 - Restoration: 664.2 Experience
Legatus Maximus figurine
Ancient vis x 10
Goldrune x 8
Zarosian insignia x 14
'Solemn in Umbra' painting
Samite silk x 8
Tyrian purple x 14
White oak x 10
Hotspot: Praesidio remains - Level: 47 - Restoration: 1,423.3 Experience
Ancient timepiece
Ancient vis x 18
Goldrune x 12
Imperial steel x 16
Used to complete the "Time Served" Mystery (item is consumed).
Legatus pendant
Ancient vis x 12
Goldrune x 18
Dragonstone x 1
Added to toolbelt or carried to pass legatus barriers in the Kharid-et Dig Site.
Hotspot: Carcerem debris - Level: 58 - Restoration: 2,193.3 Experience
'Incite Fear' spell scroll
Ancient vis x 18
Blood of Orcus x 18
Vellum x 20
Used to pass the barrier with the trapped demon at level 107 (item is retained)
Used in "The Vault of Shadows" Mystery to access the ice door (item is consumed).
Pontifex signet ring
Ancient vis x 22
Goldrune x 18
Dragonstone x 1
Added to toolbelt or carried to cross the pontifex barriers in the Kharid-et Dig Site.
Hotspot: Kharid-et chapel debris - Level: 74 - Restoration: 5,600 Experience
Ceremonial mace
Goldrune x 28
Imperial steel x 20
Third Age iron x 20
'Consensus ad Idem' painting
Samite silk x 10
Tyrian purple x 50
White oak x 10
Pontifex Maximus figurine
Ancient vis x 16
Goldrune x 28
Zarosian insignia x 24
Dragonstone x 1
Hotspot: Pontifex remains - Level 81: - Restoration: 7,388.9 Experience
Pontifex censor
Ancient vis x 20
Goldrune x 32
Third Age iron x 20
Dragonstone x 1
Pontifex crozier
Goldrune x 32
Imperial steel x 20
Zarosian insignia x 20
Pontifex mitre
Ancient vis x 20
Samite silk x 32
Zarosian insignia x 20
Hotspot: Orcus altar - Level 86: - Restoration: 9,333.3 Experience
'Exsanguinate' spell scroll
Blood of Orcus x 36
Vellum x 40
Used to access the blood door in "The Vault of Shadows" Mystery (item is consumed).
Necromantic focus
Ancient vis x 30
Blood of Orcus x 26
Imperial steel x 20
Hotspot: Armarium debris - Level 93: - Restoration: 12,500 Experience
Zarosian ewer
Third Age iron x 52
Zarosian insignia x 30
Zarosian stein
Imperial steel x 36
Third Age iron x 16
Zarosian insignia x 30
Hotspot: Culinarium debris - Level: 100 - Restoration: 18,666.6 Experience
'Smoke Cloud' spell scroll
Ancient vis x 20
Blood of Orcus x 32
Vellum x 40
Used in "The Vault of Shadows" Mystery to access the smoke door (item is consumed).
Vigorem vial
Ancient vis x 38
Imperial steel x 54
Molten glass x 1
Hotspot: Ancient magick munitions - Level: 107 - Restoration: 27,000 Experience
Ancient magic tablet
Ancient vis x 40
Blood of Orcus x 64
Portable phylactery
Ancient vis x 20
Blood of Orcus x 36
Imperial steel x 48
Used to solve the "The Forgotten Prisoner" Mystery (item is consumed).
'Animate Dead' spell scroll
Ancient vis x 24
Blood of Orcus x 40
Vellum x 40
Used in "The Vault of Shadows" Mystery to access the shadow door (item is consumed).
Hotspot: Praetorian remains - Level: 114 - Restoration: 36,666.6 Experience
Praetorian hood
Ancient vis x 36
Samite silk x 48
Zarosian insignia x 40
Praetorian robe
Ancient vis x 30
Samite silk x 54
Zarosian insignia x 40
Death runes x 50
Praetorian staff
Ancient vis x 58
Imperial steel x 36
Zarosian insignia x 30
Death runes x 50
Used to create an Inquisitor staff (item is consumed).
Hotspot: War table debris - Level: 118 - Restoration: 43,333.3 Experience
Ancient globe
Ancient vis x 60
Tyrian purple x 54
White oak x 20
Battle plans
Ancient vis x 34
Tyrian purple x 34
Vellum x 40
'Prima legio' painting
Samite silk x 20
Tyrian purple x 74
White oak x 20
Zarosian insignia x 20
Zamorakian Artefacts (Members only)
Artefact
Restoration Materials
Notes
Hotspot: Lodge bar storage - Level: 20 - Restoration: 574.4 Experience
Hookah pipe
Goldrune x 12
Orthenglass x 8
Third Age iron x 10
Opulent wine goblet
Goldrune x 16
Third Age iron x 14
Given to Dorian to unlock him as a Researcher.
Hotspot: Lodge art storage - Level: 24 - Restoration: 646.2 Experience
Crest of Dagon
Goldrune x 14
Orthenglass x 18
3 are used to access the Dungeon of Disorder as part of the "Eyes in their Stars" Mystery (items are consumed).
'Disorder' painting
Cadmium red x 14
Samite silk x 6
Vellum x 6
White oak x 6
Hotspot: Cultist footlocker - Level: 29 - Restoration: 735.9 Experience
Greater demon mask
Chaotic brimstone x 8
Demonhide x 12
Leather scraps x 6
Third Age iron x 6
Imp mask
Chaotic brimstone x 10
Demonhide x 12
Leather scraps x 10
Lesser demon mask
Cadmium red x 6
Chaotic brimstone x 8
Demonhide x 12
Leather scraps x 6
Hotspot: Sacrificial altar - Level: 36 - Restoration: 861.5 Experience
Order of Dis robes
Cadmium red x 10
Eye of Dagon x 14
Samite silk x 16
Ritual dagger
Goldrune x 16
Hellfire metal x 24
Ruby x 1
Used to comeplete the "I made dis" Achievement (item is retained).
Hotspot: Dis dungeon debris - Level: 45 - Restoration: 1,283.3 Experience
Branding iron
Eye of Dagon x 12
Hellfire metal x 20
Third Age iron x 14
Manacles
Chaotic brimstone x 18
Eye of Dagon x 14
Third Age iron x 14
Hotspot: Infernal art - Level: 65 - Restoration: 3,500 Experience
'Lust' metal sculpture
Eye of Dagon x 24
Goldrune x 24
Third Age iron x 16
Ruby x 1
'The Lake of Fire' painting
Cadmium red x 34
Samite silk x 10
Vellum x 10
White oak x 10
Hotspot: Shakroth remains - Level: 68 - Restoration: 4,200 Experience
Chaos star
Chaotic brimstone x 28
Hellfire metal x 36
Added to toolbelt or carried to access the Hydra portal for the "Dagon Bye" Mystery.
Combined with Chaotic gatestone to create the Abyssal gatestone.
Spiked dog collar
Chaotic brimstone x 16
Leather scraps x 24
Third Age iron x 24
Used to complete the "Who's a bad boy" Achievement (item is retained).
Hotspot: Animal trophies - Level: 81 - Restoration: 7,388.9 Experience
Larupia trophy
Animal furs x 28
Cadmium red x 18
Orthenglass x 26
Lion trophy
Animal furs x 28
Cadmium red x 18
White oak x 26
She-wolf trophy
Animal furs x 28
Cadmium red x 18
Chaotic brimstone x 26
Hotspot: Dis overspill - Level: 89 - Restoration: 10,500 Experience
'Pandemonium' tapestry
Cadmium red x 42
Samite silk x 12
Vellum x 12
White oak x 12
'Torment' metal sculpture
Eye of Dagon x 20
Hellfire metal x 38
Third Age iron x 20
Hotspot: Byzroth remains - Level: 98 - Restoration: 16,666.6 Experience
Hellfire haladie
Hellfire metal x 44
Leather scraps x 20
Third Age iron x 26
Hellfire katar
Hellfire metal x 50
Leather scraps x 40
2 are traded to Dagon the Gatekeeper after the completion of the "Dagon Bye" Mystery for The Rings of Razulei.
Hellfire zaghnal
Hellfire metal x 38
Orthenglass x 26
White oak x 26
Hotspot: Hellfire forge - Level: 104 - Restoration: 23,333.3 Experience
'Possession' metal sculpture
Chaotic brimstone x 30
Eye of Dagon x 24
Third Age iron x 44
Trishula
Eye of Dagon x 30
Hellfire metal x 48
Third Age iron x 20
Tsutsaroth piercing
Cadmium red x 24
Chaotic brimstone x 30
Hellfire metal x 44
Hotspot: Chthonian trophies - Level: 110 - Restoration: 31,000 Experience
Chaos Elemental trophy
Chaotic brimstone x 52
Hellfire metal x 30
White oak x 34
Virius trophy
Demonhide x 44
Orthenglass x 34
White oak x 34
Hotspot: Tsutsaroth remains - Level: 116 - Restoration: 40,000 Experience
Tsutsaroth helm
Eye of Dagon x 40
Goldrune x 40
Hellfire metal x 50
Tsutsaroth pauldron
Eye of Dagon x 40
Goldrune x 50
Hellfire metal x 40
Tsutsaroth urumi
Eye of Dagon x 40
Hellfire metal x 50
Third Age iron x 40
Saradominist Artefacts (Members only)
Artefact
Restoration Materials
Notes
Hotspot: Prodromoi remains - Level: 42 - Restoration: 1,073.3 Experience
'Frying pan'
Third Age iron x 20
White marble x 24
Used to complete the "Fallen Angels" Mystery (item is consumed).
Hallowed lantern
Keramos x 24
Third Age iron x 20
White candle x 1
Used to restore the statue of Hebe for the "No Secrets Left to Steal" Achievement (item is consumed).
Using it at the top of the lighthouse (requires completion of "The Everlight" Mystery) creates a Hallowed Lantern (lit).
Hotspot: Monoceros remains - Level: 48 - Restoration: 1,493.3 Experience
Ceremonial unicorn ornament
Cobalt blue x 20
Keramos x 26
Given to Eduardo to unlock him as a Researcher.
Ceremonial unicorn saddle
Cobalt blue x 22
Leather scraps x 24
Hotspot: Amphitheatre debris - Level: 51 - Restoration: 1,703.3 Experience
Everlight harp
Everlight silvthril x 30
White oak x 22
Used to restore the statue of Mesomedes for the "No Secrets Left to Steal" Achievement (item is consumed).
Everlight trumpet
Everlight silvthril x 28
Goldrune x 24
Everlight violin
Samite silk x 16
Star of Saradomin x 16
White oak x 20
Hotspot: Ceramics studio debris - Level: 56 - Restoration: 2,053.3 Experience
Folded-arm figurine (female)
Goldrune x 24
White marble x 30
Folded-arm figurine (male)
Goldrune x 24
White marble x 30
Hotspot: Stadio debris - Level: 61 - Restoration: 2,566.6 Experience
Dominion discus
Keramos x 34
Star of Saradomin x 28
Dominion javelin
Keramos x 32
Third Age iron x 30
Dominion pelte shield
Samite silk x 28
Star of Saradomin x 34
Hotspot: Dominion Games podium - Level: 69 - Restoration: 4,433.3 Experience
Bronze Dominion medal
Everlight silvthril x 36
Star of Saradomin x 26
Bronze bar x 1
Dominion torch
Everlight silvthril x 20
Goldrune x 12
Orthenglass x 12
Star of Saradomin x 18
Used to restore the statue of Padosan for the "No Secrets Left to Steal" Achievement (item is consumed).
Used to open the door into the acropolis as part of the "Hallowed Be..." Mystery (item is consumed).
Silver Dominion medal
Everlight silvthril x 36
Star of Saradomin x 26
Silver bar x 1
Hotspot: Oikos studio debris - Level: 72 - Restoration: 5,133.3 Experience
Decorative vase
Cobalt blue x 30
White marble x 36
Kantharos cup
Everlight silvthril x 30
Orthenglass x 36
Sapphire x 1
Used to create the Cup of Nectar at the top of the lighthouse at level 105 (item is consumed).
Patera bowl
Goldrune x 30
Keramos x 36
Sapphire x 1
Hotspot: Oikos fishing hut remnants - Level: 84 - Restoration: 8,555.6 Experience
Dominarian device
Everlight silvthril x 30
Keramos x 22
Third Age iron x 22
Clockwork x 1
Traded to Reldo for the Andvaranaut.
Fishing trident
Goldrune x 22
Star of Saradomin x 22
Third Age iron x 30
Hotspot: Acropolis debris - Level: 92 - Restoration: 11,666.6 Experience
Amphora
Everlight silvthril x 34
Keramos x 46
Rod of Asclepius
Goldrune x 26
Star of Saradomin x 24
White marble x 30
Used to restore the statue of Tromple for the "No Secrets Left to Steal" Achievement (item is consumed).
Hotspot: Iceyene weapon rack - Level: 100 - Restoration: 18,666.6 Experience
Kopis dagger
Everlight silvthril x 50
Leather scraps x 42
Xiphos short sword
Everlight silvthril x 46
Leather scraps x 46
Hotspot: Stockpiled art - Level: 105 - Restoration: 24,500 Experience
'Hallowed Be the Everlight' painting
Cobalt blue x 52
Samite silk x 16
Vellum x 16
White oak x 16
Used to complete the "Hallowed Be..." Mystery.
'The Lord of Light' painting
Cobalt blue x 52
Samite silk x 16
Vellum x 16
White oak x 16
'The Price of Padosan' painting
Cobalt blue x 52
Samite silk x 16
Vellum x 16
White oak x 16
Hotspot: Bibliotheke debris - Level: 109 - Restoration: 29,666.6 Experience
'The Enlightened Soul' scroll
Star of Saradomin x 50
Vellum x 60
'The Euxodian Elements' tablet
Goldrune x 50
White marble x 60
Hotspot: Optimatoi remains - Level: 117 - Restoration: 41,666.6 Experience
Doru spear
Everlight silvthril x 70
White oak x 62
Kandtos lance
Everlight silvthril x 70
Samite silk x 62
Armadylean Artefacts (Members only)
Artefact
Restoration Materials
Notes
Hotspot: Ikovian memorial - Level: 70 - Restoration: 4,666.6 Experience
Ikovian gerege
Third Age iron x 36
Wings of War x 30
Carried or added to toolbelt to enter the Stormguard Citadel.
Toy glider
Stormguard steel x 36
White oak x 30
Toy war golem
Third Age iron x 36
White oak x 30
Clockwork x 1
Hotspot: Keshik ger - Level: 76 - Restoration: 6,066.6 Experience
Avian song-egg player
Armadylean yellow x 32
Stormguard steel x 36
Diamond x 1
Keshik drum
Animal furs x 22
Leather scraps x 16
White oak x 20
Wings of War x 16
Morin khuur
Armadylean yellow x 36
White oak x 32
Hotspot: Tailory debris - Level: 81 - Restoration: 7,388.9 Experience
Aviansie dreamcoat
Animal furs x 22
Armadylean yellow x 20
Samite silk x 30
Traded to Armadyl for the Ring of Solomon.
Ceremonial plume
Armadylean yellow x 38
Goldrune x 34
Phoenix feather x 1
Peacocking parasol
Armadylean yellow x 22
Samite silk x 30
White oak x 20
Hotspot: Weapons research debris - Level: 85 - Restoration: 8,944.4 Experience
Hawkeye lens multi-vision scope
Orthenglass x 34
Stormguard steel x 40
Talon-3 razor wing
Aetherium alloy x 40
Wings of War x 34
Rope x 1
Hotspot: Gravitron research debris - Level: 91 - Restoration: 11,277.8 Experience
Prototype gravimeter
Leather scraps x 20
Quintessence x 34
Third Age iron x 20
Songbird recorder
Orthenglass x 36
Stormguard steel x 44
Diamond x 1
Hotspot: Keshik tower debris - Level: 95 - Restoration: 14,166.6 Experience
Dayguard shield
Stormguard steel x 36
White oak x 20
Wings of War x 28
Stormguard gerege
Goldrune x 20
Stormguard steel x 36
Wings of War x 28
Added to toolbelt or carried to access Howl's Floating Workshop.
Hotspot: Destroyed golem - Level: 98 - Restoration: 16,666.6 Experience
Golem heart
Aetherium alloy x 50
Orthenglass x 16
Quintessence x 24
Soapstone x 16
Used to create a Golem framework.
Golem instruction
Quintessence x 46
Vellum x 44
Black mushroom ink x 1
Used to create a Golem framework.
Given to Elissa Giovani to unlock her as a Researcher.
Hotspot: Keshik weapon rack - Level: 103 - Restoration: 22,166.6 Experience
Blackfire lance
Aetherium alloy x 50
Quintessence x 46
Nightguard shield
Stormguard steel x 30
White oak x 30
Wings of War x 36
Hotspot: Flight research debris - Level: 111 - Restoration: 32,333.3 Experience
Flat cap
Armadylean yellow x 60
Samite silk x 54
Night owl flight goggles
Armadylean yellow x 44
Leather scraps x 40
Orthenglass x 30
Hotspot: Aetherium forge - Level: 112 - Restoration: 33,666.6 Experience
Prototype godbow
Aetherium alloy x 50
Quintessence x 34
Wings of War x 34
Prototype godstaff
Aetherium alloy x 50
Quintessence x 34
Wings of War x 34
Prototype godsword
Aetherium alloy x 50
Quintessence x 34
Wings of War x 34
Hotspot: Howl's workshop debris - Level: 118 - Restoration: 43,333.3 Experience
Chuluu stone
Aetherium alloy x 40
Goldrune x 24
Quintessence x 30
Soapstone x 40
Quintessence counter
Quintessence x 54
Stormguard steel x 40
White oak x 40
Spherical astrolabe
Aetherium alloy x 46
Armadylean yellow x 40
Orthenglass x 48
Bandosian Artefacts (Members only)
Artefact
Restoration Materials
Notes
Hotspot: Gladitorial goblin remains - Level: 76 - Restoration: 6,066.6 Experience
Ekeleshuun blinder mask
Malachite green x 20
Vellum x 24
Vulcanised rubber x 24
Narogoshuun 'Hob-da-Gob' ball
Mark of the Kyzaj x 32
Vulcanised rubber x 36
Rekeshuun war tether
Leather scraps x 26
Vulcanised rubber x 22
Warforged bronze x 28
Hotspot: Crucible stands debris - Level: 81 - Restoration: 7,388.9 Experience
Ogre Kyzaj axe
Fossilised bone x 24
Mark of the Kyzaj x 20
Warforged bronze x 28
Ork cleaver sword
Fossilised bone x 36
Warforged bronze x 36
Hotspot: Goblin dorms debris - Level: 83 - Restoration: 8,166.6 Experience
Thorobshuun battle standard
Malachite green x 22
Mark of the Kyzaj x 16
Samite silk x 20
White oak x 16
Used to obtain the Red hand cave painting (item is consumed).
Yurkolgokh stink grenade
Vulcanised rubber x 36
Yu'biusk clay x 38
Weapon poison (3) x 1
Hotspot: Big High War God shrine - Level: 89 - Restoration: 10,500 Experience
High priest crozier
Goldrune x 28
Malachite green x 24
Mark of the Kyzaj x 26
High priest mitre
Malachite green x 24
Mark of the Kyzaj x 26
Samite silk x 28
High priest orb
Goldrune x 28
Malachite green x 24
Mark of the Kyzaj x 26
Hotspot: Yu'biusk animal pen - Level: 94 - Restoration: 13,333.3 Experience
Beastkeeper helm
Animal furs x 20
Fossilised bone x 24
Vulcanised rubber x 24
Warforged bronze x 16
Idithuun horn ring
Vulcanised rubber x 44
Yu'biusk clay x 40
'Nosorog!' sculpture
Malachite green x 24
Soapstone x 30
Yu'biusk clay x 30
Hotspot: Goblin trainee remains - Level: 97 - Restoration: 15,833.3 Experience
Garagorshuun anchor
Mark of the Kyzaj x 26
Third Age iron x 30
Warforged bronze x 32
Used to obtain the Green hand cave painting (item is consumed).
Ourg megahitter
Leather scraps x 20
Malachite green x 22
Orthenglass x 26
White oak x 20
Given to Asgarnia Smith to unlock her as a Researcher.
Ourg tower/goblin cower shield
Leather scraps x 22
Mark of the Kyzaj x 20
Third Age iron x 26
White oak x 20
Hotspot: Kyzaj champion's boudoir - Level: 100 - Restoration: 18,666.6 Experience
Dorgeshuun spear
Warforged bronze x 50
White oak x 42
Needed to complete the "You Have Chosen..." Mystery (item is consumed).
Used to complete the "Stick It to Da Boss Man" Achievement (item is retained).
'Forged in War' sculpture
Warforged bronze x 50
Yu'biusk clay x 42
Emerald x 1
Needed to complete the "You Have Chosen..." Mystery (item is consumed).
Hotspot: Warforge scrap pile - Level: 104 - Restoration: 23,333.3 Experience
Huzamogaarb chaos crown
Eye of Dagon x 20
Third Age iron x 34
Warforged bronze x 44
Saragorgak star crown
Star of Saradomin x 20
Third Age iron x 34
Warforged bronze x 44
Hotspot: Warforge weapon rack - Level: 110 - Restoration: 31,000 Experience
Drogokishuun hook sword
Fossilised bone x 32
Malachite green x 36
Warforged bronze x 44
Hobgoblin mansticker
Fossilised bone x 46
Warforged bronze x 66
Hotspot: Bandos' sanctum debris - Level: 115 - Restoration: 38,333.3 Experience
Kal-i-kran chieftan crown
Animal furs x 60
Yu'biusk clay x 66
Kal-i-kran mace
Fossilised bone x 40
Third Age iron x 44
Vulcanised rubber x 42
Kal-i-kran warhorn
Animal furs x 40
Fossilised bone x 42
Vulcanised rubber x 44
Hotspot: Makeshift pie oven - Level: 119 - Restoration: 45,000 Experience
'Da Boss Man' sculpture
Malachite green x 44
Soapstone x 44
Yu'biusk clay x 50
Horogothgar cooking pot
Malachite green x 38
Soapstone x 40
Yu'biusk clay x 60
Miscellaneous Artefacts (Members only)
The Tetracompass is essentially the Crystal key of Archaeology. Unlike most artefacts, the Tetracompass (unpowered) has 4 (hence "tetra") different broken parts that must be obtained in order to restore it: the left piece, right piece, dial, and needle. All four pieces of the tetracompass are always obtained in that order, and are found randomly while excavating hotspots/caches. They can be found as early as level 5 Archaeology, despite requiring level 60 Archaeology to restore. The odds of receiving the pieces are affected by tier 4 luck bonuses such as Luck of the dwarves or its Relic counterpart.
Artefact Parts
Restoration Materials
Completed Artefact
Level: 60 - Restoration: 2,065 Experience
Tetracompass left piece
Tetracompass right piece
Tetracompass dial
Tetracompass Needle
Armadylean yellow x 30
Cadmium red x 30
Cobalt blue x 30
Malachite green x 30
Tyrian purple x 30
Tetracompass (unpowered)
Tetracompass (powered)
Once restored, taking the tetracompass to the Monolith will power it, allowing it to lead the player on a hunt similar to a Treasure Trail Compass clue. When the player excavates at the proper location, the compass is replaced by an Ancient casket. This casket will yield 100 of 4 different Archaeology materials and sometimes damaged artefacts. None of the items found in the casket are restricted by the Archaeology level of the player opening it. In addition it can contain complete tomes, a completed Crystal triskelion, and Clue scrolls.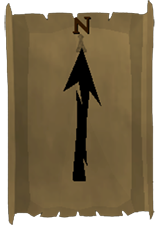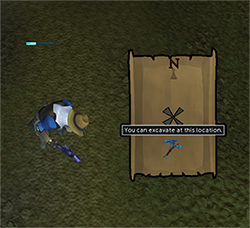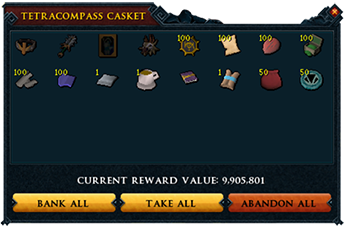 Rather than being discovered through excavation, the Wingsuit v1 (damaged) is found lying around in the North Eastern building in the Recreation section of the Stormguard Citadel Dig Site.
Damaged Artefact
Restoration Materials
Completed Artefact
Levels: 76 Archaeology and 40 Smithing - Restoration: 10,000 Archaeology and 400 Smithing Experience
Wingsuit v1 (damaged)
Armadylean yellow x 1
Leather scraps x 20
Samite silk x 40
Stormguard steel x 9
Wingsuit v1
Once restored, the Wingsuit v1 can be added to a player's toolbelt for convenience. It will need to be upgraded over the course of the "Wing Out" Mystery to permit further exploration of the Stormguard Citadel.
The Spear of Annihilation is a weapon made from a Spear of Annihilation tip, which is a rare drop from Bandos' sanctum debris (requires level 115 Archaeology). It requires several steps to make that are outlined below.
Damaged Artefact
Restoration Materials
Completed Artefact
Step 1: Tipping the Spear - 38,333.3 Experience
Spear of Annihilation tip
Goldrune x 300
Third Age iron x 500
White oak x 500
Spear of Annihilation
with shaft
Step 2: Adding Spokes - 38,333.3 Experience
Spear of Annihilation
with shaft
Aetherium alloy x 500
Warforged bronze x 500
Chaotic spike x 5
Spear of Annihilation
with shaft + spokes
Step 3: Completion - 38,333.3 Experience
Spear of Annihilation
with shaft + spokes
Goldrune x 500
Malachite green x 500
Vulcanised rubber x 500
Spear of Annihilation
Complete Spear - 15,000 Total Experience
This Special Report was written by 3ter 1.
This Special Report was entered into the database on Mon, Apr 20, 2020, at 02:28:55 AM by 3ter1, and it was last updated on Sun, May 24, 2020, at 02:46:40 AM by Chath.
If you see this guide on any other site, please report it to us so we can take legal action against anyone found stealing our content. This guide is copyrighted by RuneHQ, and its use on other sites is expressly forbidden. Do not ask if you can use our guides or images, the answer is and always will be NO!
Print this page with images - Back to the Special Report Index Page - Back to Top