Length:
Long
Quest Requirements:

Skill/Other Requirements:

Quests Unlocked/Partially Unlocked by completing this Quest:

Items Needed to Complete Quest:
Items Recommended for Quest:
Items Acquired During Quest:
2
Super restore (3 dose)
,
Cooked chompy
(3),
Torn page
,
Ruined backpack
,
Knife
,
Rotten food
,
Dragon inn tankard
,
Black prism
,
Book of 'h.a.m'
,
Necromancy book
,
Book of portraiture
,
Charcoal
,
Papyrus
,
Sithik portrait
,
Signed portrait
,
Strange potion
, Brutal arrows,
Comp ogre bow
,
Ogre gate key
,
Ogre artefact
, 2
Zogre bones
, and 3
Ourg bones
.
Quest Points:
1
Reward:
Start Point:
To Start:
Instructions:
Uglug's Shop:
If you give the Relicym's balm (3), to the ogre near Grish named Uglug Nar. He will buy it from you for 650 coins. You will then gain the ability to trade with him to buy the following items: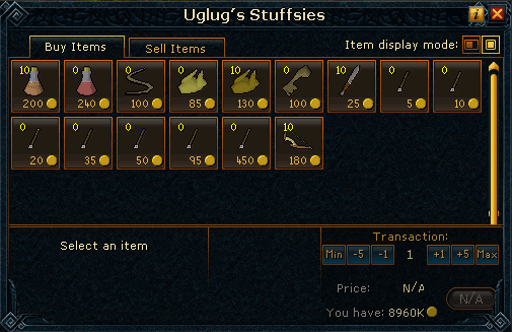 You can sell the Black Prism to Zavistic Rarve for 2k coins or Yanni Salika for 5k upon completion of the quest.
Composite Bow and Ogre Arrows:
Items needed: Any type of Axe, Bow strings, Knife, Feathers, Hammer, Wolf bones, Achey tree logs, Food/Armor, and some type of Nails.
Requirements to make:
| | |
| --- | --- |
| Item | Fletching Level |
| Composite Bow | 30 |
| Bronze Brutal arrows | 7 |
| Iron Brutal arrows | 18 |
| Steel Brutal arrows | 33 |
| Black Brutal arrows | 38 |
| Mithril Brutal arrows | 49 |
| Adamant Brutal arrows | 62 |
| Rune Brutal arrows | 77 |
Bow:
To make the Comp ogre bow, you must first ask Grish the question, "Is there a stronger bow?" Using your axe cut down an Achey tree. Once you have some Achey tree logs go kill a wolf to get Wolf bones. Once you have the Achey tree logs along with Wolf bones use your Knife on the Achey tree log and a menu will come up onto your screen. Click on the bow option to make the unstrung bow then use a Bow string on it to make a Comp ogre bow.



Arrows:
Cut down a Achey tree and then use your knife on the Achey tree logs. A menu will come up again but this time choose the arrow shafts option. (The number of shafts made is random each time.) Now use your feathers with the shafts (it takes about 4 feathers per shaft.) Finally use your nails on the headless arrows and you are done! The bow gives a +33 ranged bonus.



Bones:
These bones are obtained by killing the Zombie and Skeleton Ogres, picklocking coffins, or using a key on them. Fayrg and above are only available through coffins. You need 20 Thieving to picklock them and if you fail you can lose up to 3 thieving points.
This Quest Guide was written by bainsy44, cactuar, and Chopsteeq. Thanks to Fireball0236, Zergi, trekkie, Darkfader23, copacabana, Bellsab, Anikin_Skywalker, knighter 871, uber, Zacharai, Tim8607, watsermetjou, neodvdhawk, kraven, pitchblac222, DRAVAN, dknifton2004, casuals87, Im4eversmart, Job_is_God, Alk12, Alfawarlord, Crysis, Nightwalk123, Realruth, ClickMeMore, stpbutcool, Art0p0s, dr bunny1, Skullboy518, Irish 2, FireHazard772, Alk12, and Rooskii for corrections.
This Quest Guide was entered into the database on Thu, May 19, 2005, at 06:34:44 AM by Im4eversmart, and it was last updated on Sat, May 23, 2020, at 12:15:12 PM by Alk12.
If anything is incorrect or missing, or if you have any new information to submit to this database, please submit it to us on our Content Submissions Forums.
If you see this guide on any other site, please report it to us so we can take legal action against anyone found stealing our content. This guide is copyrighted by RuneHQ, and its use on other sites is expressly forbidden. Do not ask if you can use our guides or images, the answer is and always will be NO!
Print this page with images - Back to the Quest Guide Index Page - Back to Top