Length:
Long
Quest Requirements:

Skill/Other Requirements:

Quests Unlocked/Partially Unlocked by completing this Quest:

Items Needed at Quest Start:
Items Needed to Complete Quest:
None.
Items Recommended for Quest:
Items Acquired During Quest:
23
Karambwanji
,
Karambwan vessel (Empty)
,
Karambwan vessel (Full)
,
Raw karambwan
,
Monkey corpse
,
Poison karambwan
,
Karambwan paste (Poison)
, Spear(kp),
Monkey skin
,
Monkey bones
,
Seaweed sandwich
,
Burnt jogre bones
,
Karambwanji paste (Raw)
,
Pasty jogre bones (Burnt) (Raw)
,
Marinated j' bones (Burnt)
, and a
Crafting manual
.
Quest Points:
2
Reward:
2K
Coins
, 5K
Cooking
XP, 5K
Fishing
XP, 5K
Attack
XP, 5K
Strength
, Poisoned
Rune spear(kp)
, access to the village shops, ability to pray at the tribal statue, ability to properly fish and cook
Raw karambwan
, ability to properly make Marinated bones, the ability to fight
The Shaikahan
, unlocks
Barbarian Training
, and 2 free keys for
Treasure Hunter
.
Start Point:
To Start:
Instructions:
Tribal Statue:
Upon completing the quest, you unlock the ability to pray at the tribal statue in the center of Tai Bwo Wannai. The ability to use this altar makes the Tai Bwo Wannai Clean Up mini-game much easier and faster because you won't need to bring any food and can just use the protect from melee prayer.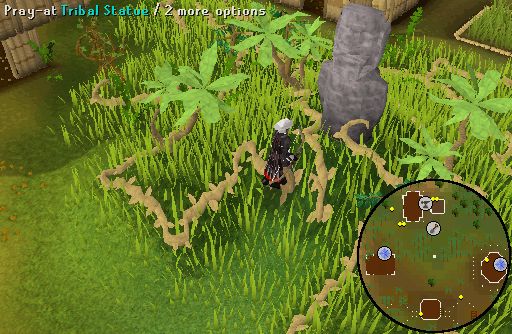 This Quest Guide was written by Im4eversmart and Alfawarlord. Thanks to DRAVAN, Fireball0236, Alk12, Chaosblade77, Piro_Omar, Dracon, Brenden, alex200599, Headbiter, Demonichell, Job is God, gothkim69, Agamemnus, Eq_S_Guy, Ghoulies, bordag, Oswyn Randar, thehi, Bammoxx, Eragon7985, DarkAdvisor, kibbyy, Who Cares, Jarkur, Quick Art, and Alucks for corrections.
This Quest Guide was entered into the database on Tue, Sep 14, 2004, at 09:50:55 PM by DRAVAN, and it was last updated on Wed, Oct 11, 2017, at 01:24:49 AM by DRAVAN.
If anything is incorrect or missing, or if you have any new information to submit to this database, please submit it to us on our Content Submissions Forums.
If you see this guide on any other site, please report it to us so we can take legal action against anyone found stealing our content. This guide is copyrighted by RuneHQ, and its use on other sites is expressly forbidden. Do not ask if you can use our guides or images, the answer is and always will be NO!
Print this page with images - Back to the Quest Guide Index Page - Back to Top