Length:
Short
Quest Requirements:

None
Skill/Other Requirements:

None.
Quests Unlocked/Partially Unlocked by completing this Quest:

Items Needed at Quest Start:
None.
Items Needed to Complete Quest:
None.
Items Recommended for Quest:
Items Acquired During Quest:
Broomstick
,
Magic slate
,
Betty's wand
,
Bat
,
Blackbird
,
Rat
,
Reptile
,
Spider
,
Snail
,
Newt label
,
Toad label
,
Newts and toads label
,
Newt
,
Broom ointment
,
Bowl
, and 10 portions of
Goulash
.
Quest Points:
2
Reward:
Start Point:
To Start:
Instructions: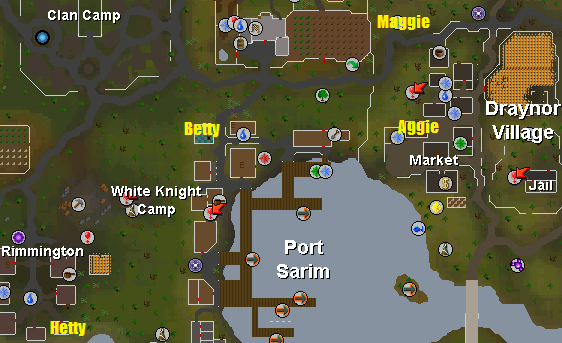 Broom:
After the quest, you may take your Broomstick to several other witches to have them enchant it. You may use magic boosting items, such as potions, to get the required Magic level. However, using the Assist System is not allowed and not all witches are accessible to F2P users.
Purple cats:
If you have also completed Gertrude's Cat, you will now be able to dye your cats purple. Please see the Purple Cat guide on how to accomplish this.
This Quest Guide was written by Tenseiken and Skeletonmat. Thanks to Alfawarlord, diamondi3ack, lanka, Motion_Man, Realruth, uknowme60, BobbehMan, IAngeliqueI, carcavelos, Lilroo503, Hilwin1, Eragon7985, Phox1616, TitanofLife, Hellhound462, ClearlyUnique, and Javezz for corrections.
This Quest Guide was entered into the database on Wed, Oct 29, 2008, at 08:49:15 AM by Maonzhi, and it was last updated on Fri, Oct 13, 2017, at 04:17:56 PM by ChathMurrpau.
If you see this guide on any other site, please report it to us so we can take legal action against anyone found stealing our content. This guide is copyrighted by RuneHQ, and its use on other sites is expressly forbidden. Do not ask if you can use our guides or images, the answer is and always will be NO!
Print this page with images - Back to the Quest Guide Index Page - Back to Top