Length:
Short-Medium
Quest Requirements:

Skill/Other Requirements:

24 Necromancy
Quests Unlocked/Partially Unlocked by completing this Quest:

Items Acquired During Quest:
*Only acquired if you do not have them when speaking with
Malignius Mortifer
while starting the quest.
Quest Points:
1
Reward:
1,500 Necromancy XP lamp; 250 Runecrafting XP lamp; Access to lesser, regular, and greater essence rituals; Access to Necro runecrafting; Access to Necro incantations; City of Um teleport incantation; Lesser Bone Shield incantation; 2
Treasure Hunter
keys
Start Point:
Ritual site in the City of Um.
To Start:
Instructions:
Make sure you have nothing in your inventory and talk to Malignius Mortifer. Choose to talk about the Rune Mythos quest when prompted and accept the quest. You can choose to exhaust the other chat options, but you only have to select "I'm good. What's next?" to progress. He will then give you everything needed for the Lesser Essence ritual: 200 noted Pure essence, 8 Basic ghostly ink, 4 Regular ghostly ink, AND 4 Basic ritual candles. Note that he will only do this once and if you have some of the items, he will only give you what you are missing.




Go to the pedestal in the center of the Ritual site, click it and select the Lesser Essence ritual. To complete the Ritual, you will need 2 "Elemental I" glyphs (3 Basic ghostly ink each) and 2 "Change I" glyphs (2 Basic ghostly ink and 1 Regular ghostly ink each) as well as 4 basic candles. Adjust your site as necessary using the provided items. Once the site is prepared, stand on the platform and begin the ritual. This will consume the Pure essence you were given.




Go to the ritual chest next to Malignius, take as much Impure essence as you can carry (1 inventory slot each) and bank the remaining items.




Time to take a hike. Make your way to the North East corner of the city where the Runecrafting symbol is on the map. To speed things up a bit, you can teleport to the City of Um lodestone. Enter the dark portal there.




Go North to the Spirit altar and talk to Rasial, the first Necromancer. After the dialog ends, he will teleport away. Use the Spirit altar to craft some Spirit runes.




Return to Malignius and talk to him about the quest to finish and receive your rewards.




Congratulations, Quest Complete!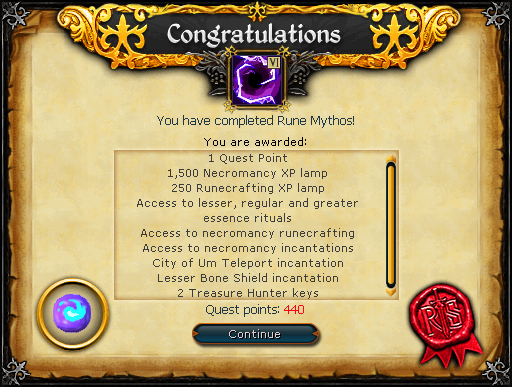 This Quest Guide was written by 3ter 1 and ChathMurrpau.
This Quest Guide was entered into the database on Sat, Aug 26, 2023, at 02:17:50 PM by Chath, and it was last updated on Sat, Aug 26, 2023, at 09:08:46 PM by Chath.
If anything is incorrect or missing, or if you have any new information to submit to this database, please submit it to us on our Content Submissions Forums.
If you see this guide on any other site, please report it to us so we can take legal action against anyone found stealing our content. This guide is copyrighted by RuneHQ, and its use on other sites is expressly forbidden. Do not ask if you can use our guides or images, the answer is and always will be NO!
Print this page with images - Back to the Quest Guide Index Page - Back to Top