Length:
Short
Quest Requirements:

Skill/Other Requirements:

Be able to defeat a level 7 enemy without any weapons or armor.
Be able to solve very taxing puzzles and logic problems.
Must be a female character (your gender can be changed by the
Make-over mage
).
Note:
If you have completed
Druidic Ritual
prior to January 31, 2012, you will have to complete the updated version in order to do this quest.
Quests Unlocked/Partially Unlocked by completing this Quest:

Items Needed at Quest Start:
None.
Items Needed to Complete Quest:
None.
Items Recommended for Quest:
None.
Items Acquired During Quest:
Chicken
,
Fox
,
Grain
,
Vials of Liquid (Dihydrogen monoxide)
,
Tin ore powder
,
Cupric ore powder
,
Nitrous Oxide
,
Sodium chloride
,
Cupric sulphate
,
Acetic acid
,
Gypsum
,
Alchemical notes
,
Magnet
,
Vials
,
Metal spade
,
Tin
,
Bronze wire
,
Shears
,
Knife
,
Chisel
, ??? mixtures,
Tin (filled)
,
Bronze key
,
Metal spade (without handle)
, and an
Hourglass
.
Quest Points:
1
Reward:
Start Point:
White Knights' Castle.
To Start:
Instructions:
Gaze of Saradomin and Initiate Armor:
Upon completing the quest you will receive the Gaze of Saradomin. This means that your respawn point (if you die) will be set to the courtyard of the White Knights' Castle in Falador. However, you may ask Sir Tiffy Cashien to shift your respawn point back to Lumbridge.
You may also purchase Initiate armor from Sir Tiffy Cashien: 20K gp for the complete set, 10K gp for the Initiate hauberk (platebody), 8K gp for the Initiate cuisse (platelegs), or 6K gp for the Initiate sallet (helm). Initiate is one of the few sets of armor that boost your Prayer bonus. Besides the completion of the quest, you also need a level of 20 Defence to wear this type of armor.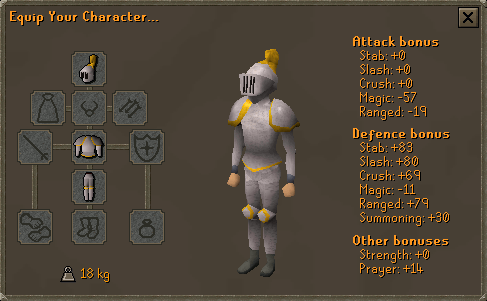 This Quest Guide was written by Boksi, Slow Cheetah, and markusthaman. Thanks to Im4eversmart, DeadCorpse99, Froggel, Beechy999, kidmuscle1, MP3two, trekkie, Ghoulies, the_real_gte, giantbug123, Holy Imam, jezza_xdude, TheRulnig, ABSinclair, Xtotre, G3N0 Unknown, Will778, Alk12, Zamorakgiant, Alex201285, Alfawarlord, Rinka Leffel, fireparas, AlbanianBaby, 2003 Veteran, and FireHazard772 for corrections.
This Quest Guide was entered into the database on Mon, Jun 27, 2005, at 01:22:18 PM by Im4eversmart, and it was last updated on Wed, Oct 30, 2019, at 02:43:00 PM by Alk12.
If anything is incorrect or missing, or if you have any new information to submit to this database, please submit it to us on our Content Submissions Forums.
If you see this guide on any other site, please report it to us so we can take legal action against anyone found stealing our content. This guide is copyrighted by RuneHQ, and its use on other sites is expressly forbidden. Do not ask if you can use our guides or images, the answer is and always will be NO!
Print this page with images - Back to the Quest Guide Index Page - Back to Top