Length:
Medium-Long
Quest Requirements:

None
Quests Recommended:
Items Recommended for Quest:
Items Acquired During Quest:
Quest Points:
4
Reward:
Start Point:
The Blue Moon Inn, just North of the
Varrock
lodestone.
To Start:
Instructions:
Foreshadowing
Congratulations, Foreshadowing segment complete!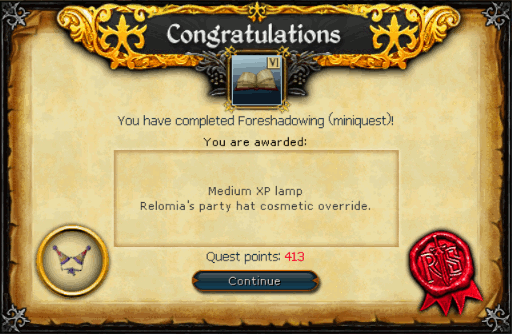 Flashback
Congratulations, Flashback segment complete!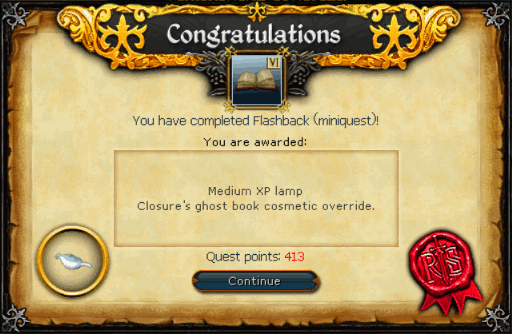 Fortunes
Congratulations, Fortunes segment complete!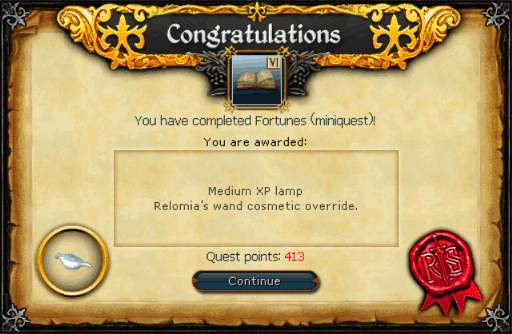 Finale
Congratulations, Finale segment complete!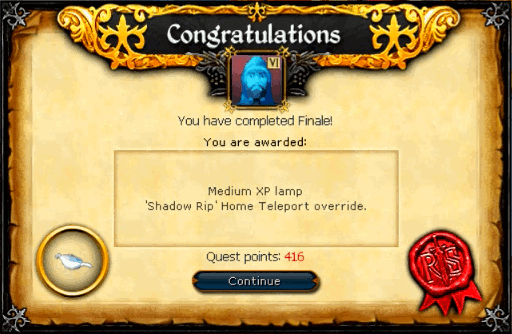 Once Upon a Time in Gielinor Series completion
Speak to Closure, yet again, and after a brief discussion will comment about how drained he is and how much he needs a break. This will conclude the entire series and award you the post series rewards (4 Quest points, access to the epilogue (below), and 2 TH keys).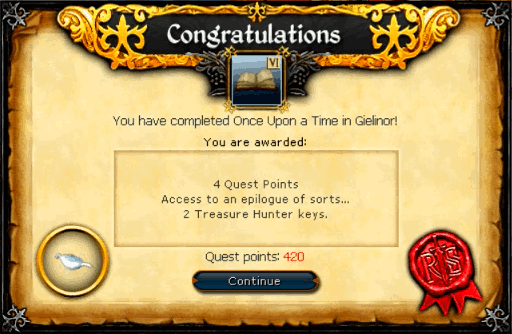 Epilogue
Talk to Closure, for the last time in this series, and he will agree with himself that a break is within order - "would you mind keeping an eye on things while I'm taking a break?" Unfortunately, he won't give you a choice as he will immediately teleport off. But now is your chance!




Enter the door to the North West and enter Closure's personal space. Within this room you will find some drawers just East of the door. Invade his privacy (look in the drawers) and you will find a clue scroll – I knew he was holding out on me! Reading the clue scroll will point you to Relomia.




Travel to Draynor and speak with her just North West of the Old Man's building. She will exchange the scroll for the next one which has a riddle.




Right click the scroll and choose dig. This will present you with a Reward casket containing the "Ghostly undergarment" cosmetic override!




Congratulations, Epilogue complete!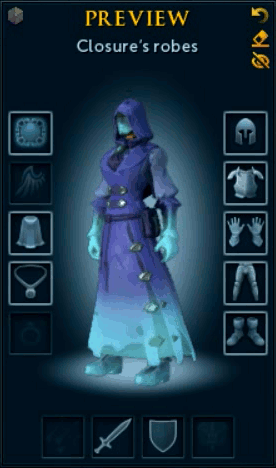 This Quest Guide was written by 3ter and ChathMurrpau.
This Quest Guide was entered into the database on Sun, Dec 05, 2021, at 12:12:04 AM by Chath, and it was last updated on Mon, Feb 20, 2023, at 03:42:54 PM by KsbSingle.
If you see this guide on any other site, please report it to us so we can take legal action against anyone found stealing our content. This guide is copyrighted by RuneHQ, and its use on other sites is expressly forbidden. Do not ask if you can use our guides or images, the answer is and always will be NO!
Print this page with images - Back to the Quest Guide Index Page - Back to Top