Length:
Long
Quest Requirements:

None
Skill/Other Requirements:

Quests Unlocked/Partially Unlocked by completing this Quest:

Items Needed at Quest Start:
1K
Coins
, Armor, and a Weapon.
Items Needed to Complete Quest:
None.
Items Recommended for Quest:
Items Acquired During Quest:
Quest Points:
5
Reward:
Start Point:
To Start:
Instructions:
Gnome Gliders:
Upon completion of the quest, you unlock the ability to use the Gnome Glider transportation system. To use a gnome glider, talk to the Gnome pilot near a glider and select the destination you wish to fly to. Do note that you must first fly to Ta Quir Priw (Grand Tree). From there on, you may fly to any of the available locations. Sometimes, however you may crash and land short of where you were heading to.

Below is a list of the places you can fly to:
Ta Quir Priw - The Grand Tree
Lemantolly Undri - Western part of the Feldip Hills (requires completion of the One Small Favor quest)
Gandius - South of the Ship Yard on eastern Karamja
Kar-Hewo - Al Kharid
Lemanto Andra - West of the Digsite
Sindarpos - White Wolf Mountain
Crash Island - East of East of Ape Atoll (requires completion of the Monkey Madness quest)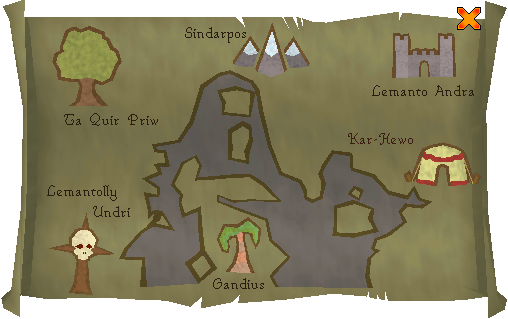 Gnome Translation Guide:
-A-
Arpos: Rocks
Ando: Gate
Andra: City
Ataris: Cow

-C-
Cef: Threat
Cheray: Lazy
Cinqo: King
Cretor: Bucket

-E-
Eis: Me
Es: A
Et: And
Eto: Will

-G-
Gandius: Jungle
Gal: All
Gentis: Leaf
Gutus: Banana
Gomondo: Branch

-H-
Har: Old
Harij: Harpoon
Hewo: Grass

-I-
Ip: You
Imindus: Quest
Irno: Translate

-K-
Kar: No
Kai: Boat
Ko: Sail

-L-
Lauf: Eye
Laquinay:Common sense
Lemanto: Man
Lemantolly: Stupid man
Lovos: Gave

-M-
Meso: Came
Meriz: Kill
Mina: Time(s)
Mos: Coin
Mi: I
Mond: Seal

-O-
O: For

-P-
Por: Long
Prit: With
Priw: Tree
Pro: To

-Q-
Qui: Guard
Quir: Guardian

-R-
Rentos: Agility

-S-
Sarko: Begone
Sind: Big

-T-
Ta: The
Tuzo: Open

-U-
Undri: Lands
Umesco: Soul

This Quest Guide was written by pj and Alfawarlord. Thanks to Shinraz, Swaty, Koppen, micka190, Pingpong7172, kang227, Your Homey 1, jacobzcoool, Pirate Bob49, faital03, xxtigurxx, Hafling, Tim8607, Ju Juitsu, flatlander20, T man300, pokemama, acdcfreak64, Keystone, amiele, Poofy, Robin Hewd24, dragoon889, Burtybob, BeastLordZor, Hilwin1, Toeby, Jarkur, and Xenocrime. for corrections.
This Quest Guide was entered into the database on Sat, May 08, 2004, at 02:19:43 PM by Freakybat, CJH, Headshot, and it was last updated on Sun, Jun 17, 2018, at 01:09:07 PM by Ksb Single.
If you see this guide on any other site, please report it to us so we can take legal action against anyone found stealing our content. This guide is copyrighted by RuneHQ, and its use on other sites is expressly forbidden. Do not ask if you can use our guides or images, the answer is and always will be NO!
Print this page with images - Back to the Quest Guide Index Page - Back to Top