Difficulty:
Intermediate
Length:
Long
Quest Requirements:

Skill/Other Requirements:

Items Needed at Quest Start:
Items Needed to Complete Quest:
6
Ecto-tokens
(or 3,900-12,300
coins
for
chartering
ships),
Nettle tea
,
Bucket of milk
,
Needle
,
Thread
,
Silk
,
Knife
, 3
Blue dyes
, 3
Yellow dyes
, 3
Red dyes
,
Spade
(Toolbelt does not work), 500
Coins
,
Oak shieldbow
,
Bucket of slime
, and a
Ghostspeak amulet
.
Items Acquired During Quest:
Porcelain cup (Ghosts Ahoy)
,
Cup of tea (Ghosts Ahoy)
,
Cup of milky tea (Ghosts Ahoy)
, 2
Buckets
,
Bowl
,
Model ship
,
Chest key (Ghosts Ahoy)
,
Map scrap (1)
,
Map scrap (2)
,
Map scrap (3)
,
Treasure map
,
Book of haricanto
,
Signed oak bow
,
Translation manual
,
Bedsheet
,
Bedsheet (Ecto)
,
Petition form
,
Ashes
,
Bone key (Ghosts Ahoy)
,
Mystical robes
, and a
Ghostspeak amulet (enchanted)
.
Quest Points:
2
Reward:
Start Point:
To Start:
Speak to
Velorina
in her house, East of the Northern city gate.
Instructions:
Congratulations! Quest complete!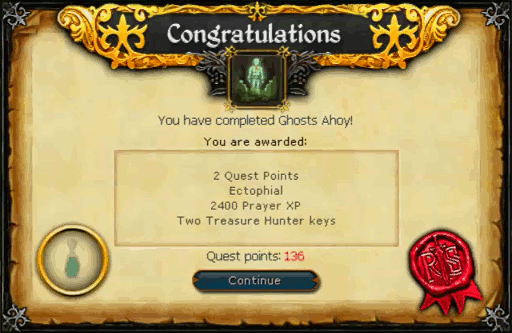 Ectophial:



By emptying it, the Ectophial allows you to teleport directly to the Ectofuntus. Upon appearing at the Ectofuntus, you automatically refill the vial for the next use. If you lose or drop it, you can retrieve it by talking to Velorina. Do note that you cannot have more than one Ectophial at a time. Velorina will sense if you have one in your bank.
This Quest Guide was written by ChathMurrpau. Thanks to Previous guide writers: MuH-K0o0o and Alfawarlord, as well as Scamfighter, DRAVAN, Chaosblade77, Andro_Girl, Fireball0236, Pingu Head, Xtarminator0, Watsermetjou, fieldy409, DeadCorpse99, Giac Jr, meowmix686, Im4eversmart, sheep01, Firk, trekkie, Kazan Jonni , Blaol_tride, March1392, Tim8607, carduel, jubala, Realruth, The-Smore, Lord_Zekka, Kittyhawk816, DarkAdvisor, Pizza Steeve, sonic ya, Jarkur, and Meshes for corrections.
This Quest Guide was entered into the database on Wed, Feb 16, 2005, at 04:11:39 AM by pokemama, and it was last updated on Sat, Nov 11, 2017, at 11:13:44 PM by ChathMurrpau.
If you see this guide on any other site, please report it to us so we can take legal action against anyone found stealing our content. This guide is copyrighted by RuneHQ, and its use on other sites is expressly forbidden. Do not ask if you can use our guides or images, the answer is and always will be NO!
Print this page with images - Back to the Quest Guide Index Page - Back to Top