Length:
Medium
Quest Requirements:

Skill/Other Requirements:

Quests Unlocked/Partially Unlocked by completing this Quest:

Items Needed at Quest Start:
Items Needed to Complete Quest:
None.
Items Recommended for Quest:
A long-range weapon (Halberd,
Chargebow
etc.) to kill an evil creature that tends to get stuck behind some obstacles,
Ring of duelling
and a Watchtower teleport method.
Items Acquired During Quest:
Quest Points:
2
Reward:
Start Point:
To Start:
Instructions:
Small crystal seed:
You can turn the Small crystal seed into a Crystal saw by selecting the sing-glass option on the singing bowl in Brimstail cave. If you lose your seed or saw, you can retrieve another seed from talking to Brimstail. The Crystal saw gives you +3 level boost in Construction when building objects or areas in your player owned house that require a saw to be built. When you have built 28 things with it, the saw will revert back to a Small crystal seed.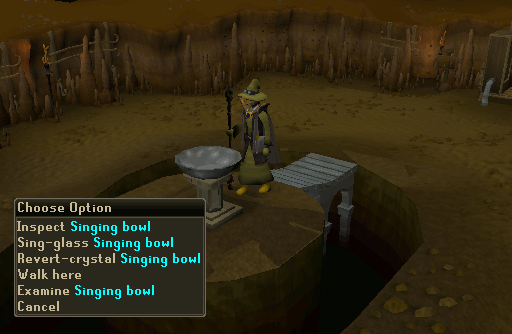 This Quest Guide was written by Markusthaman. Thanks to kaiza666, Belgarath, crito, Clamball, ArnoudX, computre, Robin-E, HugARhino, airbusa300, Tumeg, Piro_Omar, Fireball0236, Im4eversmart, Lordofchao50, Boomer_Q, Turbo_kilee, Olorin, andro_girl, Ceielo, Chickenman51, Bum4548, Amithysia, diamondi3ack, Kitty0333100, Bob, Eragon7985, Alfawarlord, RisingSouI, and Unview for corrections.
This Quest Guide was entered into the database on Tue, Aug 15, 2006, at 09:17:34 AM by Im4eversmart, and it was last updated on Wed, Jun 10, 2015, at 10:04:14 PM by Jarkur.
If anything is incorrect or missing, or if you have any new information to submit to this database, please submit it to us on our Content Submissions Forums.
If you see this guide on any other site, please report it to us so we can take legal action against anyone found stealing our content. This guide is copyrighted by RuneHQ, and its use on other sites is expressly forbidden. Do not ask if you can use our guides or images, the answer is and always will be NO!
Print this page with images - Back to the Quest Guide Index Page - Back to Top