Length:
Long
Quest Requirements:

None
Skill/Other Requirements:

Quests Unlocked/Partially Unlocked by completing this Quest:

Items Needed to Complete Quest:
Items Recommended for Quest:
Items Acquired During Quest:
Quest Points:
2
Reward:
15.3k
Mining
XP, 2k
Herblore
XP, 2
Gold bars
,
Codex Ultimatus
*, Ability to clean specimens to obtain Kudos at the
Varrock Museum
and
Digsite pendant
, Ability to pan and dig at the Digsite, Ability to make
Frozen keys
, and 2
Treasure Hunter
keys.
*
Can only be obtained if you have 75
Attack
, 75
Magic
, 75
Ranged
, OR 91
Constitution
.
Start Point:
To Start:
Instructions:
Congratulations! Quest Complete!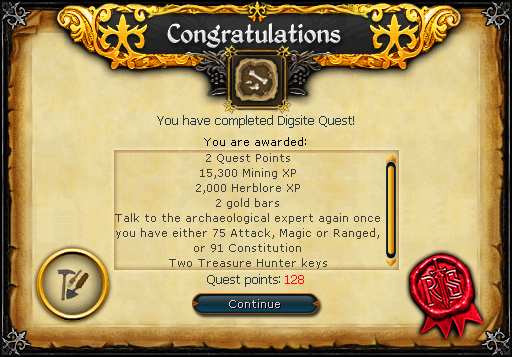 This Quest Guide was written by Elyria1, Alk12, and Alfawarlord. Thanks to reigndragon, tortoisesr, Samurai5911, Bartboy1800, mamyles1, Raggs, Ghoulies, whitey21, Canada Eh895, havfunonline, Chaosblade77, Maverick2283, Arnar A, evilishies, FunkyMetal, king chazo, stormer, kevin rigby, Nitr021, ya sissy jrr, Ascalon70, The_pokemon_nerd, aaron0791, Jakesterwars, Lilroo503, Jarkur, Genetic9, Abarai121, Covid19ForME, RastaMurder, ChathMurrpau, and ScarlyWars for corrections.
This Quest Guide was entered into the database on Wed, Jun 09, 2004, at 12:23:34 PM by Pirate Bob49 and CJH, and it was last updated on Sun, Apr 25, 2021, at 12:22:00 AM by Chath.
If you see this guide on any other site, please report it to us so we can take legal action against anyone found stealing our content. This guide is copyrighted by RuneHQ, and its use on other sites is expressly forbidden. Do not ask if you can use our guides or images, the answer is and always will be NO!
Print this page with images - Back to the Quest Guide Index Page - Back to Top