Length:
Short
Quest Requirements:

Skill/Other Requirements:

None.
Quests Unlocked/Partially Unlocked by completing this Quest:

Items Needed at Quest Start:
Armor and Weapon.
Items Needed to Complete Quest:
None.
Items Recommended for Quest:
Items Acquired During Quest:
Quest Points:
1
Reward:
Start Point:
To Start:
Instructions:
Additional Rewards:
You can receive an additional 20K Mining XP for mining a crack in one of the rooms of the Kalphite nursery (requires 80 Mining). To reach the room with the fissure, go down the well northwest of the Kalphite Lair into the Kalphite nursery. In this nursery players may also obtain an Aten (heru's shield) and an Uraeus (apep's axe) by slicing off the dung ball the Kalphites are pushing. Step into the tunnel along the east wall of the Kalphite nursery and make your way through the whole tunnel. Enter the next room containing quicksand. By mining the crack in the floor you will receive the XP and open up a secret treasure room, containing a Scabaras mask and a Was.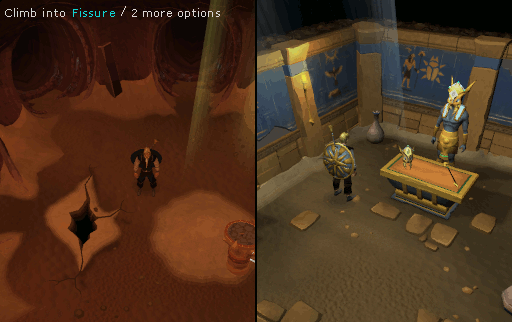 Those with 80 Agility can receive an additional 20K Agility xp, an Ankh and an Apmeken mask. To claim these rewards, enter the tomb behind the Monkey elders at the Monkey colony.
This Quest Guide was written by Zidane3838 and Varunky. Thanks to Javezz, Bob, Alfawarlord, Love Love, DRAVAN, and Alucks for corrections.
This Quest Guide was entered into the database on Thu, Sep 27, 2012, at 04:39:08 PM by Javezz, and it was last updated on Wed, May 16, 2018, at 01:35:03 PM by DRAVAN.
If anything is incorrect or missing, or if you have any new information to submit to this database, please submit it to us on our Content Submissions Forums.
If you see this guide on any other site, please report it to us so we can take legal action against anyone found stealing our content. This guide is copyrighted by RuneHQ, and its use on other sites is expressly forbidden. Do not ask if you can use our guides or images, the answer is and always will be NO!
Print this page with images - Back to the Quest Guide Index Page - Back to Top