Length:
Short
Quest Requirements:

None
Quests Unlocked/Partially Unlocked by completing this Quest:

Items Recommended for Quest:
Items Acquired During Quest:
Quest Points:
1
Reward:
Start Point:
Imperial Guard training camp in
Burthorpe
, East of Burthorpe Castle.
To Start:
Instructions:
Additional Rewards:
After the quest, you can speak to Commander Denulth again and he will give you an assignment to deliver a box of Supplies to the archers on the cliff overlooking the Death Plateau. To deliver this box, pass through the same cavern in Sabbot's cave as before. Once you have reached the area where you encountered The Map, you will notice an Ambush Commander and some Archers. Give them the supplies and you will be rewarded with 3 Reward lamps, each granting 180 experience in the skill of your choice. You can repeat this assignment up to 5 times.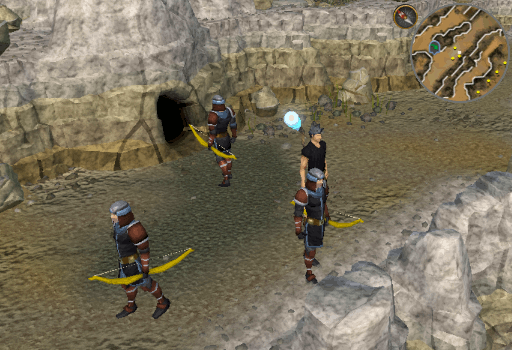 This Quest Guide was written by ChathMurrpau. Thanks to previous guide writers: Im4eversmart, leaderofdarkness, and Alfawarlord, as well as Henry_n, Nitr021, Bingo_324, Chaosblade77, coolcat-tap, EverettP, dragoon889, Klukers345, QueenSteffie, Mr Style, Mustang, and Davidfanning for corrections.
This Quest Guide was entered into the database on Mon, Aug 09, 2004, at 10:33:21 PM by xxtigurxx, and it was last updated on Fri, Nov 01, 2019, at 10:34:16 AM by Alk12.
If anything is incorrect or missing, or if you have any new information to submit to this database, please submit it to us on our Content Submissions Forums.
If you see this guide on any other site, please report it to us so we can take legal action against anyone found stealing our content. This guide is copyrighted by RuneHQ, and its use on other sites is expressly forbidden. Do not ask if you can use our guides or images, the answer is and always will be NO!
Print this page with images - Back to the Quest Guide Index Page - Back to Top