Length:
Medium
Quest Requirements:

Skill/Other Requirements:

Quests Unlocked/Partially Unlocked by completing this Quest:

Items Needed at Quest Start:
3
Bronze wires
,
Ghostspeak amulet
,
Spade
, 50
Coins
or telekinetic grab runes (1
Law rune
and 1
Air rune
),
Silver bar
,
Hammer
,
Needle
(Toolbelt will not work), 5
Thread
, an
Empty pot
(if you need to make more
Ecto-tokens
), Armor, and a Weapon.
Items Needed to Complete Quest:
None.
Items Recommended for Quest:
Items Acquired During Quest:
Decapitated head (Empty)
,
Pickled brain
,
Decapitated head (Full)
,
Obsidian amulet
,
Marble amulet
,
Star amulet
,
Cavern key
,
Torso (Creature of Fenkenstrain)
,
Arms
,
Legs
,
Shed key
,
Garden brush
, 3
Garden canes
,
Extended brush
,
Conductor mould
,
Conductor
, and a
Tower key
.
Quest Points:
2
Reward:
Start Point:
To Start:
Read the signpost.
Instructions:
Werewolf Agility Course and Skullball:
With the Ring of charos equipped, you can now gain access to the Werewolf Agility Course and Skullbal arena. To access these, descend down the trapdoor at the small shed South East of Canifis. An Agility of 60 is need to use the Werewolf Agility Course. To start a game of Skullball, an Agility of 25 is required. For more information, check the Agility skill guide.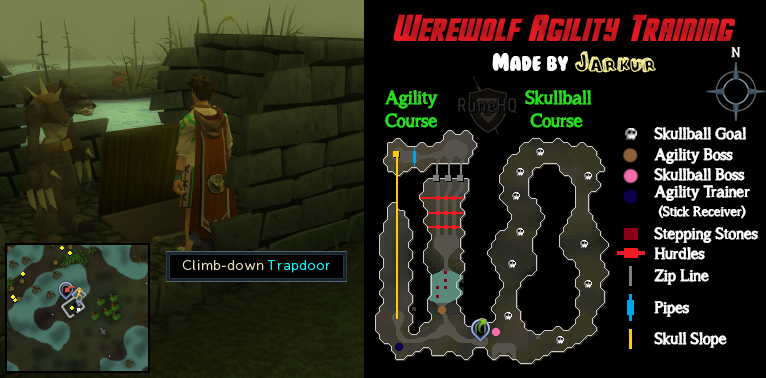 This Quest Guide was written by Hero, 6th maverick, and Alfawarlord. Thanks to Wolfman809, Im4eversmart, Armahkarma, Lask Frildur, DRAVAN, Pingu Head, Lewt04, t virus, Dark Zeph, Nitr021, SirKelvin, AlphaDash1, HiddenWoody, Zevenberge, bardok55, samandsam, Monkeymatt, Andro_Girl, SosikOwnUSon, luckybucket, TheVoidCutie, Jarkur, KristinCohen, and WorldUnWakes for corrections.
This Quest Guide was entered into the database on Fri, Feb 04, 2005, at 08:19:09 PM by monkeymatt, and it was last updated on Sat, Jul 20, 2019, at 08:40:50 PM by Alk12.
If anything is incorrect or missing, or if you have any new information to submit to this database, please submit it to us on our Content Submissions Forums.
If you see this guide on any other site, please report it to us so we can take legal action against anyone found stealing our content. This guide is copyrighted by RuneHQ, and its use on other sites is expressly forbidden. Do not ask if you can use our guides or images, the answer is and always will be NO!
Print this page with images - Back to the Quest Guide Index Page - Back to Top