Length:
Long
Quest Requirements:

Quests Recommended:
Skill/Other Requirements:

Quests Unlocked/Partially Unlocked by completing this Quest:

Items Needed to Complete Quest:
Items Recommended for Quest:
Items Acquired During Quest:
Quest Points:
3
Reward:
Start Point:
To Start:
Instructions:
Congratulations, Quest Complete!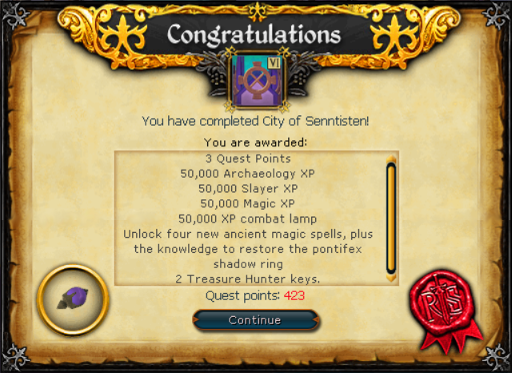 Upon completing the quest you will gain the ability to make a Pontifex shadow ring. To do so, take the Pontifex observation ring (reclaimed from Ariane in Kharid-et if previously lost/destroyed) and a Dragonstone to an Archaeology workbench. The restoration yields 2,193.3 Archaeology experience. The resulting ring can teleport you to the cathedral and can then be upgraded using anima dropped/harvested from within the Senntisten Elder God Wars dungeon.
Using 1,000 of each anima on the ring will provide additional benefits while worn:
With all 4 animas used on it, you can now gain up to 8 Tier 3 Elder troves per hour; these have a chance to contain Pernix Quiver fragments. After this, you can bring the ring to Wahisietel, in the cathedral, with 5,000 of each anima to make all the abilities of the ring passive effects that apply regardless of whether or not you wear it.
This Quest Guide was written by Dimir Editor and ChathMurrpau.
This Quest Guide was entered into the database on Tue, Apr 05, 2022, at 03:51:45 PM by Chath, and it was last updated on Thu, Sep 29, 2022, at 05:20:08 PM by Chath.
If anything is incorrect or missing, or if you have any new information to submit to this database, please submit it to us on our Content Submissions Forums.
If you see this guide on any other site, please report it to us so we can take legal action against anyone found stealing our content. This guide is copyrighted by RuneHQ, and its use on other sites is expressly forbidden. Do not ask if you can use our guides or images, the answer is and always will be NO!
Print this page with images - Back to the Quest Guide Index Page - Back to Top