Length:
Short
Quest Requirements:

None
Skill/Other Requirements:

Quests Unlocked/Partially Unlocked by completing this Quest:

Items Needed at Quest Start:
Items Needed to Complete Quest:
None.
Items Recommended for Quest:
Armor and a Weapon (if you are a low level).
Items Acquired During Quest:
Wolfbone arrowtips
,
Achey tree logs
,
Ogre arrow shafts
,
Flighted ogre arrows
,
Ogre arrows
,
Ogre bellows
,
Bloated toad
,
Ogre bow
,
Raw chompy
,
Bones
,
Feathers
, and a
Seasoned chompy
.
Quest Points:
2
Reward:
Start Point:
To Start:
Instructions:
After completing the quest, you can continue hunting Chompy birds to unlock a series of special hats that show how many you have killed.

You can hunt the birds within the yellow boxes shown in the image below, excluding a small area south of Rantz as this is his personal hunting ground and he does not like you using it. It is also preferable to stay close to one of the small swamp pools so that you can quickly obtain toads for bait.

Note: If you complete the Skrach Uglogwee sub-quest of Recipe or Disaster, then you can hunt Jubbly birds as an alternative to Chompy birds.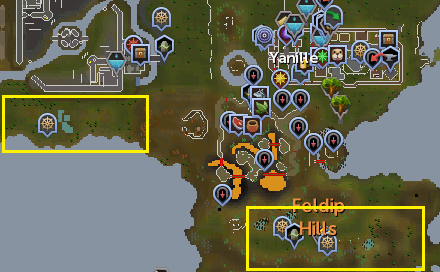 Rewards:
For each Chompy bird killed, you will automatically put a mark on your ogre bow. Once a bird has been killed you may also pluck it for some Raw chompy meat and Feathers. This is advised, if you wish to make some more ogre/brutal arrows.

With a certain number of kills comes an Ogre Rank and a Chompy hat. You can check how many birds you have killed by selecting the "Check kills" option on your Ogre bow (or Comp ogre bow if you complete Zogre Flesh Eaters). Show the bow to Rantz to receive the following ranks and hats:
Ogre Hat
Ogre Rank
Number of Kills
Needed
N/A
Ogre Novice
1
N/A
Novice
4
N/A
Ogre Beginner
6
N/A
Beginner
10
N/A
Ogre Learner
15
N/A
Learner
20
Ogre Bowman
30
Bowman
40
Ogre Yeoman
50
Yeoman
70
Ogre Marksman
95
Marksman
125
Ogre Woodsman
170
Woodsman
225
Ogre Forester
300
Forester
400
Ogre Bowmaster
550
Bowmaster
700
Ogre Expert
1000
Expert
1300
Ogre Dragon Archer
1700
Dragon Archer
2250
Expert Ogre Dragon Archer
3000
Expert Dragon Archer
4000
This Quest Guide was written by MuH-K0o0o, Manana447, and Alfawarlord. Thanks to Xjoe, MrStormy, Demonichell, Fireball0236, The Fast, Articuno888, Freakybat, trekkie, sabata3, stormer, henry-x, DRAVAN, leonard57, Phoenix Knight, Nitr021, hologrampker, mordormage, silver be, killerbean69, DarkBlitz, Beaverboy40, Suno Regin, Im4eversmart, Javezz, and ZegaKaz for corrections.
This Quest Guide was entered into the database on Tue, May 18, 2004, at 01:37:33 PM by MrStormy and CJH, and it was last updated on Sun, Dec 31, 2017, at 11:27:06 PM by Numerous One.
If you see this guide on any other site, please report it to us so we can take legal action against anyone found stealing our content. This guide is copyrighted by RuneHQ, and its use on other sites is expressly forbidden. Do not ask if you can use our guides or images, the answer is and always will be NO!
Print this page with images - Back to the Quest Guide Index Page - Back to Top