Quest:
None
Examine Information:
Manufacturer of fine leathers.
He has a certain bovine aroma.
Miscellaneous Information:
The Tanner can tan your hides into leathers to be used for
Crafting
leather armor. The only way to tan hides your self is using the Make Leather lunar spell (members only and requires level 83
Magic
and 250,000 Produce points at
Livid Farm
to unlock).
The cost for tanning each hide can be found in the table below: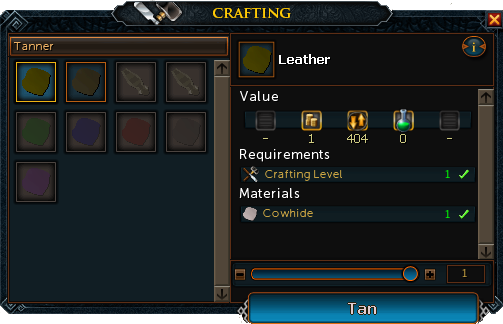 Additionaly, there are more persons in RuneScape that perform the tanning service, namely:
Name
Location description
Location image
Notes
Tanner
Second floor of the Crafting Guild.
Level 40 Crafting is required to enter the guild. A bank chest is close by near the Clan Camp.
Tanner
South of the West bank in Varrock.
Tanner

*

In Ithell slightly West of the bank.
Completion of Plague's End is required to have access to Prifddinas. For members, this is the closest tanner to a bank.
Leatherworker

*

In the Ranging Guild.
Level 40 Ranged is required to enter the guild. This location is furthest from a bank.
Ellis
In Al Kharid, North of the bank.
Jack Oval
Southwest of the Heroes' Guild.
There is a bank just to the North.
Sbott

*

In Canifis, just West of the bank.
Sbott is the only one that is more expensive than the other tanners.

*

Members Only