Quest:
Examine Information:
He's in control of the Shantay Pass.
Miscellaneous Information:
You can use him to "teleport" to
Port Sarim
in the following way:
Talk to him and say "What is this place?"
Next say "I am definitely an outlaw, prepare to die!" (you'll be imprisoned in the nearby jail)
Next say "Deport me to Port Sarim!"
You will then be at Port Sarim jail, in a closed cage. You need to pick the lock (a picklock is not required) to get out of jail.
In addition to his ability to "teleport" you, he also runs a store called the Shantay Pass Shop. This store sells desert clothes and items to help survival in the harsh desert conditions.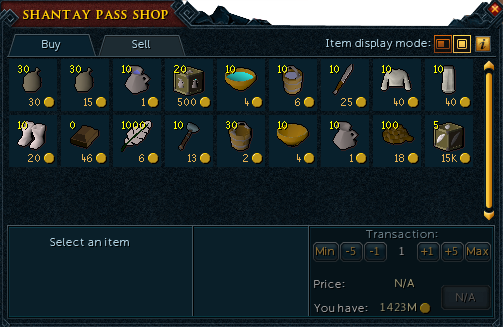 This Data was submitted by: Prince Kyle, Bunnyfear, Kyle72890, j12352, HU-Man, s02003048, alk12, lord iris1, Eragon7985, Amoa123, ChathMurrpau, SiriusXM, and Hail4Gaming.

Persons Index Page - Back to Top