Quest:
Examine Information:
A local villager of Mort'ton.
Miscellaneous Information:
Razmire Keelgan runs the
Mort'ton
General Store, but to talk to him and access the store you'll need to first cure
Afflicted Razmire
temporarily with
Serum 207
or permanently with
Serum 208
.
Once he has been cured, you can access his General Store which stocks some typical General Store items, as well as items which can be used to rebuild the temple to the northeast of
Mort'ton
, including
Olive oil (3)
,
Vials of water
,
Pots of flour
, and
Flamtaer hammers
.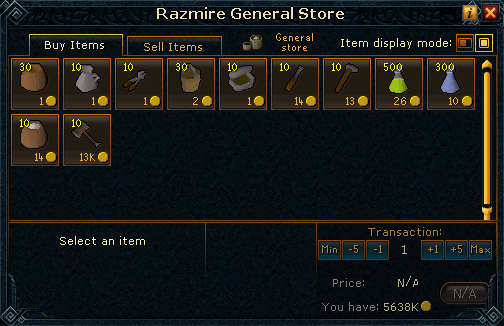 In addition to the General Store, Razmire also runs a Builders' Supplies Store which stocks more items used to rebuild the temple, including
Limestone
,
Limestone bricks
,
Timber beams
,
Swamp paste
, and
Planks
.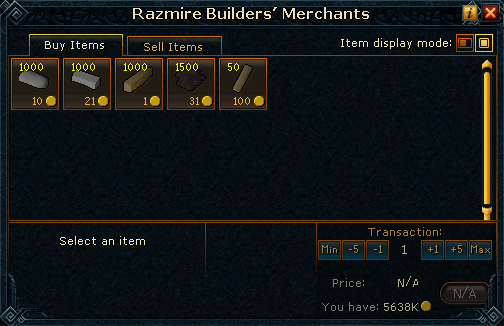 During
Shades Of Mort'ton
you'll need to kill 5
Loar shades
and bring him the remains, then later tell you about rebuilding the temple near the village.
After completing the Medium
Morytania Task Set
, you can claim 30
Planks
, 20
Oak planks
, or 10
Teak planks
from him per day.