Quest:
None
Examine Information:
A collector of ancient artefacts.
Miscellaneous Information:
Madrith is a man of many talents and below are all the ways he can help make you a better warrior and equip you with weapons of death:
Ancient Artifacts
Mandrith, along with his brother
Nastroth
, will buy any of the Ancient artefacts dropped by
Revenants
or the
Chaos Elemental
. He will not buy them in noted form and does not buy any of the ancient weapons/armor. The table below lists the artefacts that he will buy and the buy price. Each artefact has a high alch value that is less than the sell value so it is always worth selling them to Mandrith or Nastroth.
Artefact
Sell Price
High Alch
Price
Low Alch
Price
Artefact
Sell Price
High Alch
Price
Low Alch
Price
Broken statue headdress
5,000
3,000
2,000
Guthixian brazier
200,000
120,000
80,000
Third age carafe
10,000
6,000
4,000
Ruby chalice
250,000
150,000
100,000
Bronzed dragon claw
20,000
12,000
8,000
Bandos statuette
300,000
180,000
120,000
Ancient psaltery bridge
30,000
18,000
12,000
Saradomin statuette
400,000
240,000
160,000
Saradomin amphora
40,000
24,000
16,000
Zamorak statuette
500,000
300,000
200,000
Bandos scrimshaw
50,000
30,000
20,000
Armadyl statuette
750,000
450,000
300,000
Saradomin carving
75,000
45,000
30,000
Seren statuette
1,000,000
600,000
400,000
Zamorak medallion
100,000
60,000
40,000
Ancient statuette
5,000,000
3,000,000
2,000,000
Armadyl totem
150,000
90,000
60,000
Wilderness Slayer Master
Mandrith is the Wilderness Slayer Master. He only provides tasks for slayer monsters in the wilderness and they must be completed only in the wilderness. His tasks are called "Slayer Bounties" and function as normal slayer task do.
Slayer Points
Mandrith awards Slayer points in the same way as all other Slayer Masters except he uses a separate counter. Mandrith ignores your normal slayer task count and starts a new one himself. Completing tasks for Mandrith will not change your normal slayer task count and vice versa but you may only have one active slayer task regardless of the Slayer Master. Mandrith requires you complete 4 tasks for him before he will provide any slayer points.
The table below outlines the points awarded by each Slayer Master upon completion of a task (note that you will only receive half of the full points reward until you have completed
Smoking Kills
).
Slayer master
Points Per
Task
Points Per
10th Task
Points Per
50th Task
Co-Op Points Per
Co-Op Task
Mandrith
20
100
300
8
Bounty Emblem
To gain potential on a Bounty Emblem it must be in the players inventory for every kill of a Wilderness Slayer Task. There are two ways to get a t1 bounty emblem. If you have Slayer Bounty points it will cost 50 points or you can complete one task for Madrith and he will provide it to the player. To upgrade the Bounty Emblem the player must complete "Bounties" or slayer tasks from Mandrith. Each completed task adds 100 potential to the emblem. The emblem will auto upgrade upon reaching the required potential, see the chart below to see the potential required to upgrade for each level.
While carrying the Bounty Emblem there is risk. If the player dies while the emblem is in the player inventory it will be downgraded by one level. If the person was killed by another player who has an emblem with them the killing player will gain half of the potential lost. For example, if the player doing a task has an emblem of level 4 it took 600 potential to go from level 3 to 4. When the player is kill the emblem will downgrade back to level 3 and the killer will get half of the potential lost 300 potential.
The emblem can be turned in at any level to get either Slayer Bounty Points or Deathmatch Points to spend in their respective shops (
Slayer Bounty Rewards Shop
or
Deathmatch Rewards Shop
). The chart below shows the point totals gained when turned in at each level. Each additional level provides a large increase in points when redeemed but also provides larger risk when in the wilderness as being killed with it will loose more potential.
Emblem Level
Potential Required
to Upgrade
Tasks Required
to Upgrade
Cumulative Tasks
Required

Slayer Bounty Points

Death Match Points
Bounty Emblem (t1)
375
4
4
10
1
Bounty Emblem (2)
450
5
9
25
2
Bounty Emblem (t3)
600
6
15
60
6
Bounty Emblem (t4)
750
8
23
150
15
Bounty Emblem (t5)
900
9
32
400
40
Bounty Emblem (t6)
1,200
12
44
1,000
100
Bounty Emblem (t7)
1,500
15
59
2,500
250
Bounty Emblem (t8)
2,250
23
82
6,000
600
Bounty Emblem (t9)
3,000
30
112
15,000
1,500
Bounty Emblem (t10)
N/A
N/A
N/A
40,000
4,000
Slayer Monsters
Slayer Challenge
Requirements:
Mandrith's Slayer Challenge is to kill 15 of each of his possible slayer task monsters. Additionally, you may kill each of the wilderness bosses for an additional reward.
Slayer Monsters:
Bosses:
Reward:
21,500 Slayer experience, 35 Slayer Points, 100 Bounty emblem potential. Killing the 4 bosses adds 8,500 Slayer experience.
Slayer Bounty Rewards Shop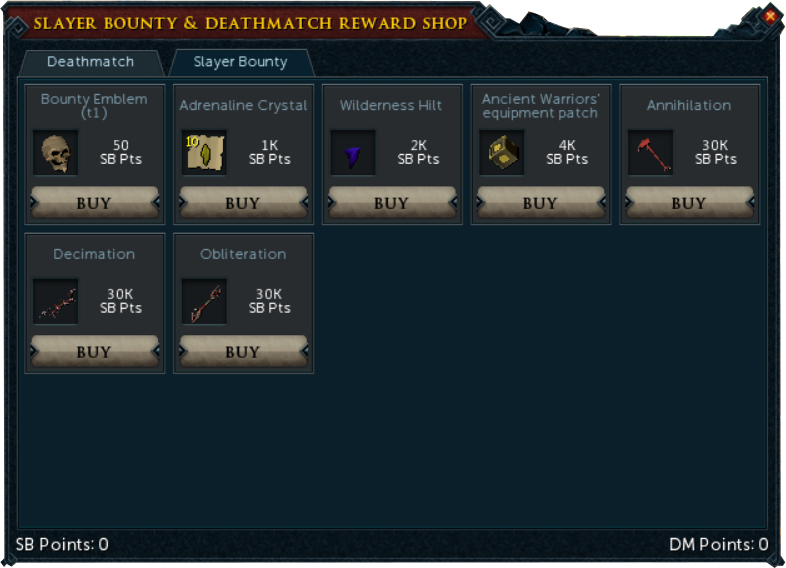 Deathmatch Rewards Shop