Quest:
Examine Information:
A female elf.
Miscellaneous Information:
Bring her a
Crystal weapon seed
(what's left when
Crystal bow
or
Crystal shield
deteriorates) and she will recharge it, for a fee. The fee starts at the new price (900K or 750K, respectively), and reduces each time you visit her, but doesn't go below 180K or 150K respectively.
She moves about every 5 minutes, the first location is South of the bridge to Tirannwn and just to the West. After
The Prisoner of Glouphrie
she is in the middle of
Llyeta
.
The second location is South of the bridge to Tirannwn and towards the East.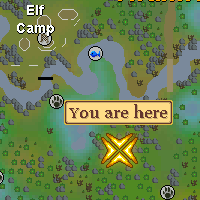 She is also at the Empyrean Citadel during
Missing, Presumed Death
.
This Data was submitted by: Craftarcher, bainsy44, trekkie, renwick, and Carnage.
If anything is incorrect or missing, or if you have any new information to submit to this database, please submit it to us on our Content Submissions Forums.