Quest:
None
Examine Information:
An expert on axes.
Miscellaneous Information:
If you ever get an
Al Kharid Flyer
telling you to buy your axes at Bob's Axes, Bob is the guy you want talk to.
He will fix Barrows equipment(members) and the
Frozen key
for you if you use it on him.
Bob also gives you an
Antique lamp
and the
Explorer's ring (2)
after completion of all
Lumbridge easy tasks
.
Bob's Brilliant Axes sells: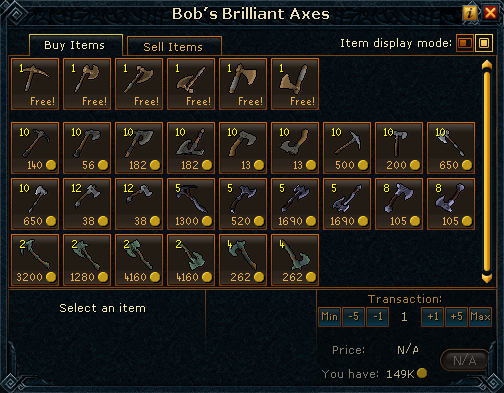 This Data was submitted by: Lifeforce, Prince Kyle, 0daydevil0, The monk ii, Bunnyfear, lil saint189, Fivestar24, A Random, Terr002, Dark, Zaros Ultor, Star, Alk12, and powotae.

Persons Index Page - Back to Top