Quest:
Examine Information:
Runes are his passion.
Miscellaneous Information:
Aubury can teleport players to the
Rune essence mine
after completion of the
Rune Mysteries
quest.
He no longer sells the
skillcape
for
Runecrafting
; one of the game updates gave
Larriar
the privilege.
If you are taking advantage of the free 30 Air runes and 30 Mind runes that he offers, they will be restocked slowly - over the course of an hour.
Aubury owns a rune shop that sells: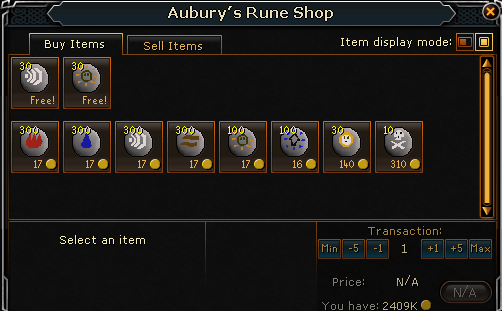 During the Dimension of Disaster quest you need to acquire 10
Earth runes
, 4
Fire runes
, 1
Nature rune
, and 1
Cosmic rune
from his shop.
This Data was submitted by: -=G'ed=-, Prince Kyle, crazy_crab23, Bunnyfear, grindalyx, Meowmix686, Sccrluk9, Bowler225, Ralkal, Parsonsda, Star, and Powotae.
If anything is incorrect or missing, or if you have any new information to submit to this database, please submit it to us on our Content Submissions Forums.