Quest:
Examine Information:
He looks fairly well-to-do.
Miscellaneous Information:
Arhein runs a General Store on
Catherby
docks as well as selling 80
Seaweed
and 40
Pineapples
per day for 2gp each if you ask him about them.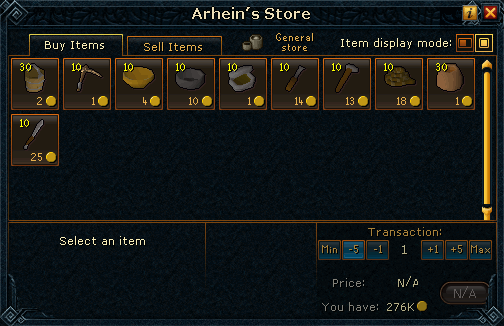 During
Merlin's Crystal
you'll use the information that Arhein ships candles to Keep La Faye to hide yourself in one of his shipments and sneak into the keep.
During
One Small Favour
you must obtain a
Weather report
for him in return for a lightweight rope he's designed called T.R.A.S.H. that you need to complete another favour for
Captain Bleemadge
.
This Data was submitted by: dakar007, CJH, gargoose, havfunonline, Im4eversmart, Motion Man, hubatish, and Ksb Single.

Persons Index Page - Back to Top