//echo '
' . $updatePromptShort . '
'; ?>
Difficulty:
Novice
Length:
Short
Quest Requirements:

None
Skill/Other Requirements:

No requirements. The ability to defeat level 40-49 enemies.
Items Needed at Quest Start:
Rope
, a Weapon, Armor, and Food.
Items Needed to Complete Quest:
None.
Items Recommended for Quest:
Antipoison potions ( 6-8 doses)and rope.
Items Acquired During Quest:
Anger battleaxe, Anger mace, Anger spear, and Anger sword.
Quest Points:
1
Reward:
1 Quest point, 500 Defence XP, 500 Hitpoints XP, 500 Gold coins, and access to the Dungeon of Tolna
Start Point:
Rift entrance, northwest of the Digsite.
To Start:
Talk to Launa.
Instructions:
Speak with Launa and agree to help search for her son and husband.




Use your Rope on the rift and climb down. You will find yourself in the Rage Room. Take a weapon off the rack and wield it. You can change weapons at any point.




Each weapon kills a certain monster. Kill monsters to get your rage level up.





| | |
| --- | --- |
| Weapon Name | Monster Name |
| Sword | Angry unicorn |
| Spear | Angry bear |
| Mace | Angry rat |
| Battleaxe | Angry goblin |



Once your rage level is high enough, you will see a short clip of the past about how Tolna left Launa. When it is over, go through the East exit to reach the Fear room.


In this room move around searching the holes until level 42 Fear reapers (25 Hp) appear. Kill these until you are not afraid.




Once you have killed enough reapers you will see another cutscene and the black hole will light up. Go through it and you will be in the Confused Room.


In this room are some level 43 Confusion beasts (28 Hp) that can poison you. Only one of them is real, the rest are just hallucinations. Attack them until you find one you can actually hit. All the others will take 0's until the 8th hit, then they will then disappear. Once you kill the real one, a door will disappear. Continue killing them until only one door remains.




Go through the door and you will end up in the Hopeless Room. Kill each level 40 Hopeless creature. Each one must be defeated 3 times to make them really die. Once you have killed them all a hope bridge will appear. Cross over it and use the exit.




You will see a short cutscene and then you must prepare to fight Tolna. Kill each of his three level 46 heads (37 Hp). The heads can poison you for 1 damage. After all three are defeated Tolna will become human again.




Talk to Tolna and you will appear outside the rift and then talk to him again.

Congratulations! Quest Complete!




The Dungeon: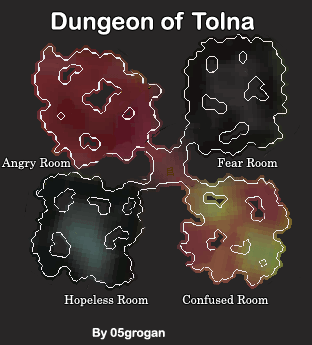 The Monsters:
| | |
| --- | --- |
| Monster Name | Combat Level |
| Angry bear | 47 |
| Angry goblin | 47 |
| Angry rat | 47 |
| Angry unicorn | 47 |
| Fear reaper | 55 |
| Confusion beast | 66 |
| Hopeless creature | 71 |
All monsters have 50 hp. If you are looking to train then use the angry monsters since they have a lower level but the same hitpoints.