Difficulty:
Novice
Length:
Short
Quest Requirements:

Skill/Other Requirements:

3 Herblore
Quests Unlocked/Partially Unlocked by completing this Quest:

Items Needed at Quest Start:
None.
Items Needed to Complete Quest:
None.
Items Recommended for Quest:
Armour, Food, and Antipoison potions.
Quest Points:
1
Reward:
775 Herblore experience.
Start Point:
Deep in Karamja jungle, Tai Bwo Wannai's circular bamboo house.
To Start:
Speak to Trufitus.
Instructions: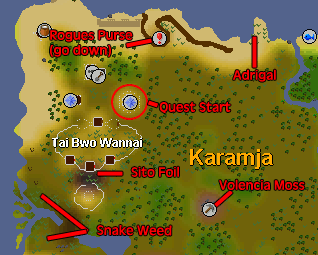 Make your way to the Tai Bwo Wannai Village and talk to Trufitus, at his house just west of the Mahogany and Teak trees. Ask him where the inhabitants of the village are. He will tell you that they are too afraid to stay in the village and have returned to the jungle. Ask him if you might be able to help him. He will say that you can help him to make a potion which he needs to communicate with the gods by collecting some herbs scattered around the island (refer to the above map for the locations of the herbs).




Head Southwest of the village and go over the muddy land bridge. Go a little West and look for a marshy jungle vine and search it, then clean the herb. Go back to Trufitus and give him the herb.




The next herb he sends you after is called Ardrigal. Go Northeast past the cliffs and follow the shore till you come to a little peninsula with palms. Search the palms to find the herb (beware of Harpie Bug Swarms in this area). Head back to Trufitus after you get the herb.




The next herb is Sito Foil. Search the scorched earth near the two ever burning fires just south of the Tai Bwo Wannai village to get the herb. Once you've found it, take it back to Trufitus.




The second to last herb is called Volencia moss. Head southeast towards the nature altar and you'll come across a mine. Search one of the plain rocks to find the the herb and return to Trufitus once again.




The last herb required is called Rogues Purse. Head North again to the shore to find a cliff. Go east past the Harpie bug swarms and then back west to find the entrance to a cavern. Search the rocks and climb down.




Once inside the Jogres dungeon, look for a fungus covered cavern wall. Search it to find a Grimy rogue's purse and clean the dirt off the herb. Leave the dungeon by climbing up the hand holds and return to Trufitus for a final time.



Congratulations! Quest Complete!




This Old School Quest Guide was written by Gnat88. Thanks to Pirate Bob49, MarilynManson, DRAVAN, Nitr021, Demonichell, Giac Jr, 1deadly1, watsermetjou, sugababes1, hoops eleven, burke64, Madame Kate, and SpankThyBox for corrections.
This Old School Quest Guide was entered into the database on Tue, Mar 02, 2004, at 10:16:05 PM by Weezy and CJH, and it was last updated on Sat, Oct 20, 2018, at 09:58:36 PM by DRAVAN.
If anything is incorrect or missing, or if you have any new information to submit to this database, please submit it to us on our Content Submissions Forums.
If you see this guide on any other site, please report it to us so we can take legal action against anyone found stealing our content. This guide is copyrighted by RuneHQ, and its use on other sites is expressly forbidden. Do not ask if you can use our guides or images, the answer is and always will be NO!
Print this page with images - Back to the Old School Quest Guide Index Page - Back to Top