Difficulty:
Novice
Length:
Short
Quest Requirements:

None.
Quests Unlocked/Partially Unlocked by completing this Quest:

Items Needed to Complete Quest:
Feather
Items Recommended for Quest:
weight reducing gear
Games necklace
Draman staff
Super energy or stamina potions
Ring of Charos
Items Acquired During Quest:
| | | | | | |
| --- | --- | --- | --- | --- | --- |
| | Enchanted scroll | | Enchanted quill | | Mysterious orb |
Quest Points:
1
Reward:
20% Favour in any house; double favour gain for all houses; and two antique lamps.
Start Point:
Piscarilius House docks.
To Start:
Speaking with Veos.
Instructions:
Ask Veos if he has any quests for you and he will tell you of his client from the mainland. The hierarchy and general social organization of Kourend, as well as some other knowledge about the houses, interest the client. After you agree to help him, you will receive an enchanted scroll. It'll tell you to use a quill to write on it. This is where your feather comes in. Use the feather on the scroll to receive an Enchanted quill.



Note:

If you have never been to Kourend, Veos can be found at the Northern Port Sarim docks. Once you have talked to him, he will allow you to travel to Kourend.




Now you'll have to speak to the general store owners around Kourend, making sure that you have the enchanted quill in your inventory. First head to the general store in the Piscarilius House (number 1 in the map below) and speak with Leenz. Be sure to go through all chat options until the Enchanted quill begins to make some notes.




Then Speak with Regath from the Arceuus House (number 2 in the map above). During the conversation, you'll receive a message that your quill and scroll start glowing and you'll get a horrible pain, you won't be damaged however.




After you finish with Regath, take the West path to the Lovakenj House and speak with Munty (number 3 in the map above). Be sure to go through all chat options. Continue to go West until you reach the path among the rocks that leads South. Follow it and you'll reach the Shayzien House, speak with Jennifer (number 4). Again, be sure to go through all chat options until your Enchanted quill takes notes.




Lastly, head East and go to the general store in Hosidius and speak with Horace (number 5). For the last time, be sure to go through all chat options until your Enchanted quill takes notes. At this point, you should get a message saying that you have all the information you need.




Head back to Veos and speak with him. He will tell you that when you mentioned the Dark Altar, his client heard you and entered your mind. Veos asks if you don't mind helping the client one more time because he's impressed with your knowledge. He'll give you a mysterious orb and tell you to activate it next to the Dark Altar.




Rub your games necklace to teleport you to the Wintertodt camp or use the fairy ring code: CIS to get to the Dark Altar. If you use your games necklace, run South from the camp and then East.

NOTE: C-I-S fairy ring needs to be activated by paying Trossa (found near the ring) a one time fee of 80k.


Click the orb to activate it while standing next to the altar and the orb will shatter. You'll hear the voice in your head telling you to return to Veos.




When you return to Veos(be sure you are not at his Port Sarim location), he won't know what you are talking about or even remember sending you out for help for his client. Then, the client will take over his body and speak with you. If you try using the Ring of Charos, the client will tell you that his name is Xeric. He will reward you.


Congratulations! Quest Complete!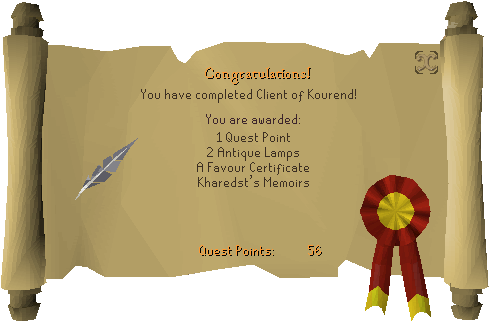 This Old School Quest Guide was written by L1ttleR3d. Thanks to L1ttleR3d, Haseo, yoshimitseui, GoodLivin, Alk12, and Balista77 for corrections.
This Old School Quest Guide was entered into the database on Mon, Jun 26, 2017, at 06:53:10 PM by L1ttleR3d, and it was last updated on Wed, Feb 20, 2019, at 03:47:00 AM by Chath.
If anything is incorrect or missing, or if you have any new information to submit to this database, please submit it to us on our Content Submissions Forums.
If you see this guide on any other site, please report it to us so we can take legal action against anyone found stealing our content. This guide is copyrighted by RuneHQ, and its use on other sites is expressly forbidden. Do not ask if you can use our guides or images, the answer is and always will be NO!
Print this page with images - Back to the Old School Quest Guide Index Page - Back to Top