Skill Levels Required:
None.
Quests Required:
None.
Items Needed:
Armor and a weapon.
Skill Levels Recommended:
A high combat level is recommended.
Items Recommended:
A Fire cape, food and potions.
Starting Point:
The TzHaar Fight Pit lobby in the northwestern part of the TzHaar City.
Is this MiniGame Safe to play?:
Yes
Getting Started:
Getting there
Make your way to the top of the Musa Point Volcano on Karmaja and walk through the middle to the entrance of TzHaar City. The Fight Pit itself can be found in the northwestern corner of the city. There are various ways to reach the TzHaar City.
The Fairy code BLP will take you to straight to the TzHaar City.
Take the boat from Port Sarim to Musa Point and walk west from there into the volcano.
Use an Amulet of glory to teleport to Karmaja and walk west from there into the volcano.
Charter a boat from one of the various harbors to Brimhaven and walk southeast from there into the volcano.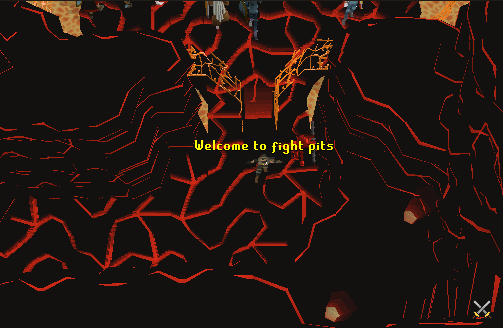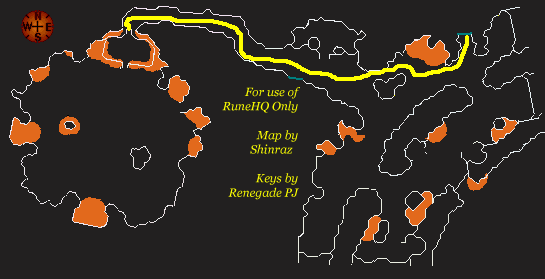 The Game:
It might take a while before it starts and it could be possible that there's already a game in progress. You can look through the viewing orb to the game or you can chat with others. When the other game has finished, you'll join automatically. You'll now have a short wait until you receive a message that you can start to attack. If you die, you'll return to the waiting room. If you are the last person standing, you have won and can call yourself the champion of the pit. You will recieve some Tokkul for your participation. The amount depends on how many people you've killed, their levels, and how many times you've been the champion.
Threats:
There are some threats in there to be aware of:
Teams are one of the biggest threats. They are about 3-8 people and kill other people.
Now the monsters in there. They show up 5 minutes after each other. First are the Tz-Kih. They are level 22 and not very hard, but they drain prayer with every hit (one more than the damage they hit you). Then you get the Tz-Keks. These are level 45 monsters and not very hard either, but they do recoil damage to melee. The last monster you'll encounter is the Tok-Xil. These are level 90 ranging monsters and harder than the others. After another 5 minutes you'll get the deadliest threat. This is like sitting in a dark cave without a lamp or candle. You'll be hit constantly for 1hp very rapidly.
The Screen: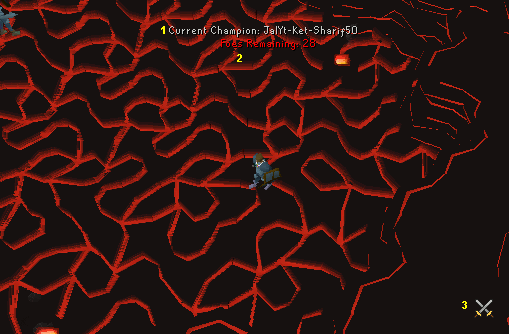 The current champion. They won the last game.
How many foes are alive. 28 in this example.
It's a multicombat area here.
The Weapons
With the TokKul, you can buy the new weapons. These are also dropped by the monsters in the town, or received from attempts at the Fight Caves.
Obsidian throwing rings (Toktz-xil-ul) (ranging)

Price: 375 TokKul a piece



Obsidian sword (Toktz-xil-ak) (melee)

Price: 60000 TokKul



Obsidian shield (Toktz-ket-xil) (melee)

Price: 67500 TokKul



Obsidian dagger (Toktz-xil-ek) (melee)

Price: 37500 Tokkul



Obsidian staff (Toktz-mej-tel) (mage)

Price: 52500 TokKul



Obsidian mace (Toktz-xil-em) (melee)

Price: 45000 TokKul



Obsidian Maul (Toktz-xil-om) (melee)

Price: 75000 TokKul
This Old School Minigame Guide was written by Fireball0236.
This Old School Minigame Guide was entered into the database on Wed, Oct 26, 2005, at 09:52:37 AM by Fireball0236, and it was last updated on Sun, Mar 08, 2015, at 06:18:17 PM by Javezz.
If anything is incorrect or missing, or if you have any new information to submit to this database, please submit it to us on our Content Submissions Forums.
If you see this guide on any other site, please report it to us so we can take legal action against anyone found stealing our content. This guide is copyrighted by RuneHQ, and its use on other sites is expressly forbidden. Do not ask if you can use our guides or images, the answer is and always will be NO!
Print this page with images - Back to the Old School Minigame Guide Index Page - Back to Top