Skill Levels Required:
None.
Quests Required:
Items Needed:
None.
Skill Levels Recommended:
A high combat level.
Items Recommended:
Armor, weapon, food, coins.
Starting Point:
Is this MiniGame Safe to play?:
Yes
Getting Started:
Talk to Dominic, he will tell you about the dreams. He will give you the option of three different modes: Practice, Endurance, and Rumble each with two difficulties: Normal and Hard. After selecting your mode, pay the fee by using money with Dominic's coffer, then drink from the vial to begin the fight.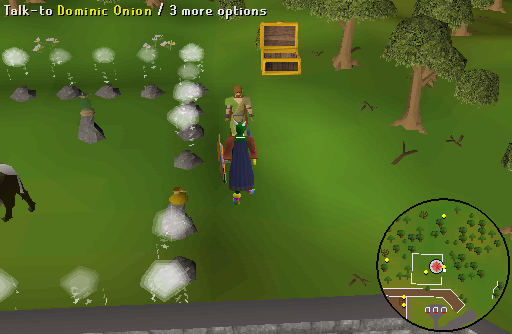 After selecting your mode, pay the fee by using money with Dominic's coffer, then drink from the vial to begin the fight.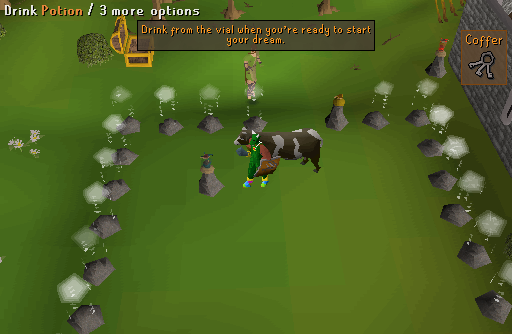 Table of Contents:
The dreams contain boss monsters from quests you have completed, any items required to kill the bosses will be provided in the area (for example an anti-dragon shield for Elvarg), these items can not be taken out of the arena.
In this mode you get to choose which boss monster you want to fight and is free to play, however you do you not gain reward points.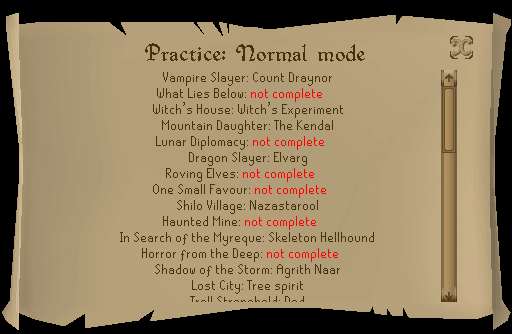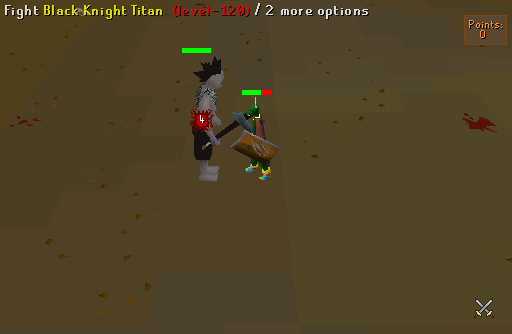 In this mode you fight through all the boss monsters you have unlocked one by one until you die or leave the arena. Normal difficult costs 1000 coins and hard mode costs 5000 coins.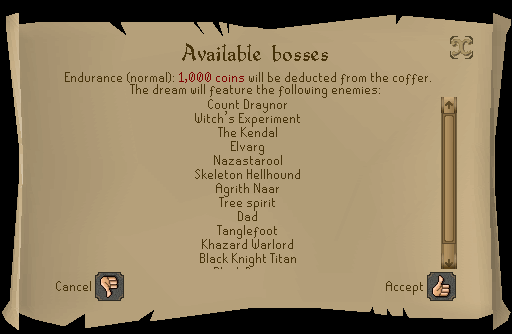 In this mode you, or a group of up to 5 people, fight a group of randomly generated bosses at once. Once any boss is defeated, a new one will spawn until all players die or leave the arena. Normal difficulty costs 2000 coins and hard mode costs 6000 coins, all players participating must pay the fee.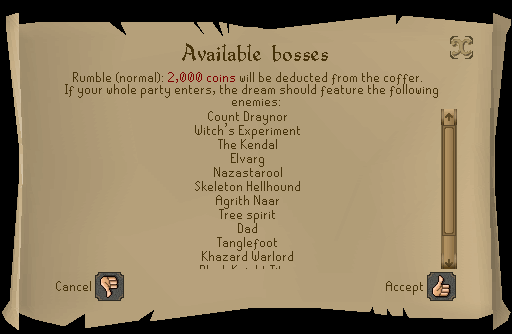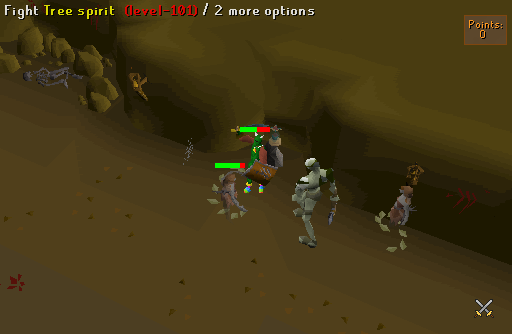 Normal: Bosses are the same difficulty as they were during their respective quests.
Hard: Bosses have higher combat levels for a hard difficulty than during their quests.
Note: Iron man accounts can only buy scrolls of redirection from the resources tab of the shop.
Snape grass - 175
Red spiders' eggs - 300
Flax - 75
Bucket of sand - 200
Potato cactus - 1250
Seaweed - 200
Dragon scale dust - 750
Compost potion (4) - 5000
Air rune - 25
Water rune - 25
Earth rune - 25
Fire rune - 25
Rune essence - 60
Pure essence - 70
Herb box - 9500
Vial of water - 145
Scroll of redirection - 775

The scroll of redirection can be used to redirect a teleport to house tablet to one of the following locations: Rimmington, Taverly, Pollnivneach, Relleka, Brimhaven, Yanille, or Trollheim.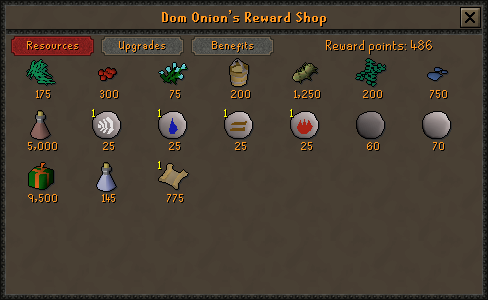 You can imbue some items to increase combat stats. Items that can be imbued are: Crystal bow, Ring of Suffering, Crystal shield, Black mask, Berserker ring, Warrior ring, Seers' ring, and Archers' ring.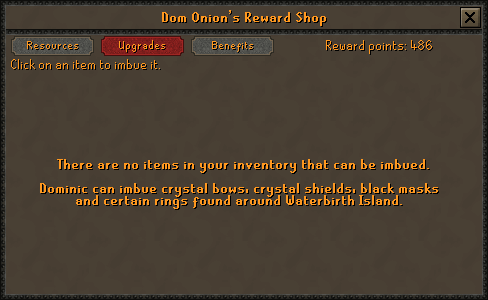 You can purchase some potions to be used ONLY in Nightmare Zone dreams. They are sold by the dose.

Super ranging - 250
Super magic potion - 250
Overload - 1500
Absorption - 1000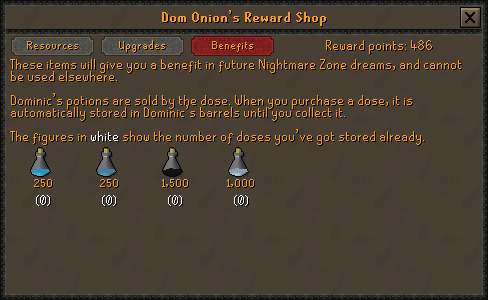 This Old School Minigame Guide was written by McSwindler. Thanks to DRAVAN for corrections.
This Old School Minigame Guide was entered into the database on Mon, Nov 25, 2013, at 08:41:52 AM by Double_D_Edd, and it was last updated on Wed, Feb 15, 2017, at 08:05:28 PM by DRAVAN.
If anything is incorrect or missing, or if you have any new information to submit to this database, please submit it to us on our Content Submissions Forums.
If you see this guide on any other site, please report it to us so we can take legal action against anyone found stealing our content. This guide is copyrighted by RuneHQ, and its use on other sites is expressly forbidden. Do not ask if you can use our guides or images, the answer is and always will be NO!
Print this page with images - Back to the Old School Minigame Guide Index Page - Back to Top