Difficulty:
Novice
Length:
Short
Skill Levels Required:
None.
Quests Required:
None.
Items Needed:
None.
Rewards:
Starting Point:
Instructions: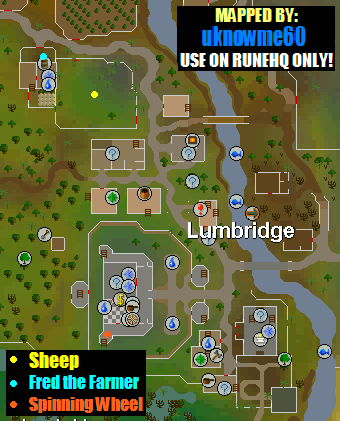 Step 1 (Show/Hide)
Start the quest by speaking to Fred the Farmer. You can find Fred at his farm northwest of the sheep pen, which is north of Lumbridge Castle.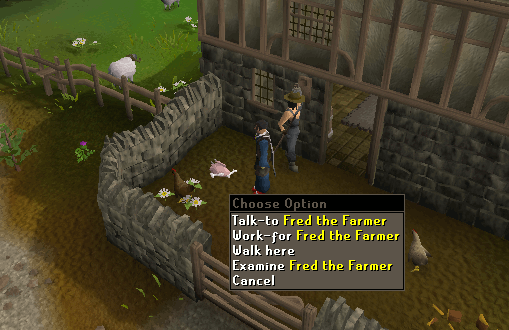 Step 2 (Show/Hide)
He will tell you that his sheep need shearing but that he does not have time to do it, and will ask if you could help by bringing him 20 Balls of black wool. Agree to help him and pick up the Shears from the table.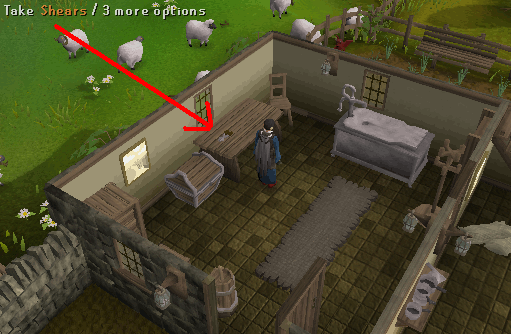 Step 3 (Show/Hide)
Head to the field next to Fred's house, and either click on the black sheep or use your shears with them to get some Black wool. Once you have gathered 20 wools, head over to Lumbridge Castle.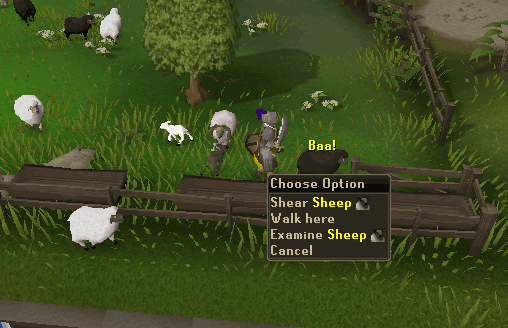 Step 4 (Show/Hide)
When you have made it to the castle, go up the ladder in the southwestern corner to the next level. Use your all your pieces of wool on the Spinning wheel to get Balls of black wool. You may also click the spinning wheel and click 'make x' to have the spinning process go faster.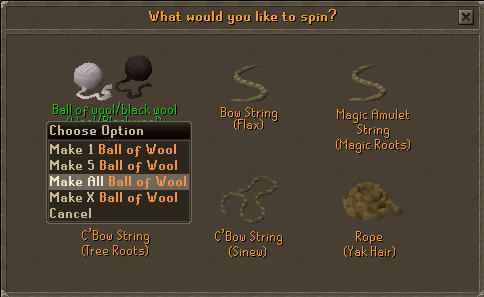 Step 5 (Show/Hide)
Take the Balls of black wool back to Fred the Farmer to receive your reward.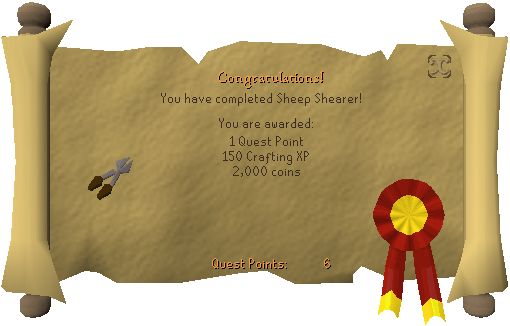 This Miniquest Guide was written by Stormer.. Thanks to Weezy, Meowmix686, Chaosblade77, Fireball0236, tj, Nitr021, pokemama, Forrest Far, Markussen, havfunonline, uknowme60, Brenden, Shebok10, Alfawarlord, and Jarkur. for corrections.
This Miniquest Guide was entered into the database on Tue, Jun 21, 2016, at 12:24:53 AM by Dark, and it was last updated on Tue, Jun 21, 2016, at 12:26:25 AM by Dark.
If you see this guide on any other site, please report it to us so we can take legal action against anyone found stealing our content. This guide is copyrighted by RuneHQ, and its use on other sites is expressly forbidden. Do not ask if you can use our guides or images, the answer is and always will be NO!
Print this page with images - Back to the Miniquest Guide Index Page - Back to Top