Skill Levels Required:
None.
Quests Required:
None.
Items Needed:
Skill Levels Recommended:
Items Recommended:
Starting Point:
Farmer Winkin's farm.
Is this MiniGame Safe to play?:
Yes
Getting Started:
Rewards:
Points can be exchanged for experiences, farming related items, and flags at Mrs Winkin's Rewards shop. To get compost potions, you must have completed the Garden of Tranquillity quest. The table below shows a list of prices for each item on the screen. If you choose to use your points on experience, you get 1 XP per point if your Farming is 40 or above. However if you do not have achieved level 40 Farming, you will receive less then 1 XP per point.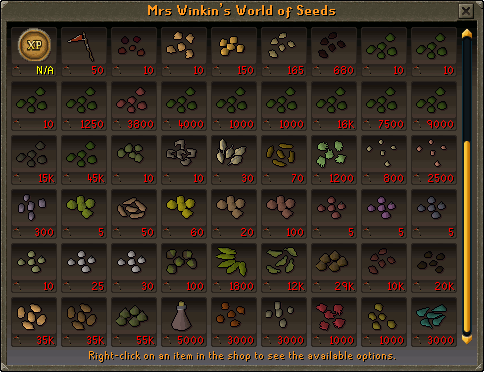 This Minigame Guide was written by Jakesterwars. Thanks to Alfawarlord, JoeC, JJPippin, Tyke, Skylo, Clamball, doomdrgn, Nasty7891, Darkshark31, Dylan Mon 42, Skeletonmat, Hilwin1, Amoa123, Bammox, and Sumurai8 for corrections.
This Minigame Guide was entered into the database on Tue, Feb 19, 2008, at 08:03:50 PM by Jakesterwars, and it was last updated on Tue, Feb 25, 2014, at 05:12:44 PM by Alfawarlord.
If you see this guide on any other site, please report it to us so we can take legal action against anyone found stealing our content. This guide is copyrighted by RuneHQ, and its use on other sites is expressly forbidden. Do not ask if you can use our guides or images, the answer is and always will be NO!
Print this page with images - Back to the Minigame Guide Index Page - Back to Top