Skill Levels Required:
None.
Quests Required:
None.
Items Needed:
Armor and a weapon (any kind).
Skill Levels Recommended:
Items Recommended:
Starting Point:
Is this MiniGame Safe to play?:
Yes
Getting Started:
Rewards:
The last player standing is rewarded with Tokkul, the money of the Tzhaar. The amount is based on how many player you have participated, their levels, and how many times you have been the champion before. Anyone who walked out during a game is also not included. If you have a Fire cape equipped you will receive twice as much Tokkul. A red skull will also appear above the champion, showing everyone who won the last game.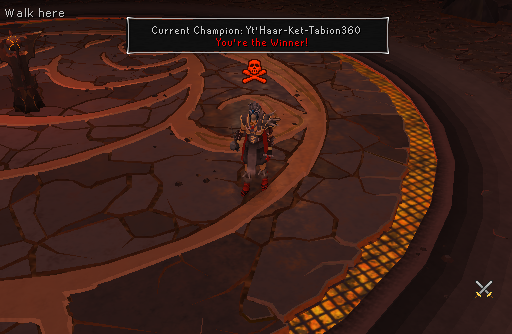 There is also a chance that you receive a a Hybrid armor robe (body) as a drop. This item will be dropped during the activity. The more games you have won the greater the chance of receiving this item as a drop. Each robe/body increases the amount of damage you can deal by 3%. When the whole set is worn, the amount of damage will increase by +15%.
This Minigame Guide was written by Ossie000 and Alfawarlord. Thanks to Toastie162, TheRulnig, Tyti9, DRAVAN, Seethru, Hyrune, henkman, moonracer, shinraz, JasonMagicka23, and Raticate5 for corrections.
This Minigame Guide was entered into the database on Wed, Oct 26, 2005, at 09:52:37 AM by Fireball0236, and it was last updated on Sun, Jun 10, 2012, at 10:55:04 AM by Tabion.
If anything is incorrect or missing, or if you have any new information to submit to this database, please submit it to us on our Content Submissions Forums.
If you see this guide on any other site, please report it to us so we can take legal action against anyone found stealing our content. This guide is copyrighted by RuneHQ, and its use on other sites is expressly forbidden. Do not ask if you can use our guides or images, the answer is and always will be NO!
Print this page with images - Back to the Minigame Guide Index Page - Back to Top