Skill Levels Required:
None.
Quests Required:
Items Needed:
Skill Levels Recommended:
Items Recommended:
Starting Point:
Is this MiniGame Safe to play?:
No
Getting Started:
Rewards: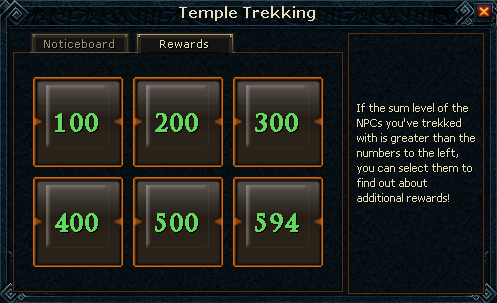 After successfully completing a route, the traveler will give a Reward token, which can be blue, yellow, or red depending on the chosen route. The amount of a certain item received when cashing in tokens depends on which person you escorted, what route you chose and how well you did during all events. All rewards except for seeds and tomes are noted. Tokens can be exchanged at the start point, respectively Hiylik Myna outside of the Paterdomus or Burgh de Rott's bank. Reward tokens can be claimed at any time by simply clicking on them. You then get the choice for which reward you receive. Quantity, however, will vary.
Items
Amount per token
Blue token
Yellow token
Red token
Bow strings
30-90
70-210
100-300
Ores
7-21 (Iron), 14-42 (Coal)
10-30 (Iron), 20-60 (Coal)
20-60 (Iron), 40-120 (Coal)
Grimy herbs
10-30 (Guam to Harralander)
3-11 (Ranarr to Kwuarm)
2-7 (Snapdragon to Torstol)
Raw sharks
8-24
10-30
18-54
Pure essence
50-150
70-210
100-300
Silver bars
55-165
75-225
120-360
Watermelon seeds
2-8
4-12
5-15
Tomes:
On occasion you will receive a tome. This will grant you experience in a chosen skill. There are seven different tomes dedicated to Agility, Firemaking, Fishing, Mining, Slayer, Thieving and Woodcutting.


Experience gained: 1100 - 1650 XP


Experience gained: 2035 - 3025 XP


Experience gained: 4015 - 5005 XP
Additional rewards:
Several dangerous events will drop a certain item when you have successfully dealt with them.
Name
Image
Info
Obtained
Riyl remains
Can be burned using Willow pyre logs or better
Saving Mort'ton challenge - easy route
Asyn remains
Can be burned using Yew pyre logs or better
Saving Mort'ton challenge - medium route
Fiyr remains
Can only be burned using Magic pyre logs
Saving Mort'ton challenge - hard route
Perfect snail shell
Trade with Barlak in Dorgesh-Kaan to receive 500 crafting XP and 600gp
Giant Snail challenge
Snail shell
Trade with Barlak in Dorgesh-Kaan for 600gp
Giant Snail challenge
Snake hide
Tan these for 20gp (not 15gp like normal snake hide).
These can be used to make snake hide armor
Swamp Snake challenge
Nail beast nails
Second ingredient in the Sanfew serum cure all potion
Nail beast challenge
Talon beast charm
This is a secondary ingredient for the Talon beast pouch, used in Summoning.
Nail beast challenge
Lumberjack outfit
Gives a 5% experience boost when woodcutting
Cross the river challenge
Construction outfit
Gives a 5% experience boost when training Construction
Bought from signposts when certain levels are acheived
Ghast Familiar
Costs 50k, requires 87 summoning to summon
Bought from signposts when you have 594 total character levels
Each time you get your traveller's combined combat levels to a multiple of 100 (up to 500), you will recieve a piece of kit from the Constructor's Outfit or another unlockable. The full kit gives a 5% bonus:
| | |
| --- | --- |
| Combined Combat Level | Piece of Kit/Unlockable |
| 100 | Shortcut option from the swamp gates to the Nature spirit's grotto |
| 200 | Constructor's hat |
| 300 | Constructor's trousers |
| 400 | Constructor's garb |
| 500 | Option to teleport to Temple Trekking/Burgh de Rott added to Games Necklace |
Once all your traveller's combat levels are maxed, you can gain another reward too: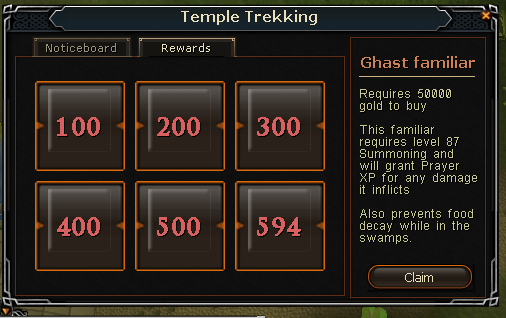 This Minigame Guide was written by carduel. Thanks to Andro_Girl, Clawsork_31, Cuine100, Killmouski, aaron_bloom, Korndezee, Suferkid, Sccrluk9, Jordan23140, Maonzhi, JoeC, Flyingzamboni, Sc0tty, Plxda, Egekalaycan, Crypto416, Voiges, Mufus, Kitty Hawk, Noble_K, Parsonsda, a2_304, Ralkal, and Avoricofgol for corrections.
This Minigame Guide was entered into the database on Sun, May 21, 2006, at 10:42:56 AM by Oblivion590, and it was last updated on Mon, Mar 30, 2015, at 08:53:12 AM by Jarkur.
If you see this guide on any other site, please report it to us so we can take legal action against anyone found stealing our content. This guide is copyrighted by RuneHQ, and its use on other sites is expressly forbidden. Do not ask if you can use our guides or images, the answer is and always will be NO!
Print this page with images - Back to the Minigame Guide Index Page - Back to Top