Skill Levels Required:
Quests Required:
Skill Levels Recommended:
Items Recommended:
Starting Point:
Puro-Puro.
Is this MiniGame Safe to play?:
Yes
Getting Started:
Rewards:
There are two choices of rewards in this activity: looting the imps or trading them for items.
When trying to loot an impling jar, the jar might break. If this happens, you will simply get rid of it, but still keep the loot. Click on the impling jar images below to be taken to that item's database page.

Baby impling jar

Young impling jar

Gourmet impling jar

Earth impling jar

Essence impling jar

Eclectic impling jar

Nature impling jar

Spirit impling jar
Charms (Blue, Crimson, Gold, Green) can also be obtained, however, they are automatically looted and the impling will not be placed in a jar.

Magpie impling jar

Ninja impling jar

Pirate impling jar
Normal
After Pieces of Hate
In Trouble Brewing Mini-Game
See Trouble Brewing Mini-Game guide for more information.

Divine impling jar
Divine impling loot is given in proportion to your Divination level e.g. Sparkling energy at level 40-49 or Gleaming energy at level 50-59. You will ALWAYS recieve some energy (80-121) and another reward, be aware that the second reward may be energy as well.

Dragon impling jar

Zombie impling jar

Kingly impling jar

Crystal impling jar
You can also exchange the implings you have caught with Elnock Inquisitor for one of the following items.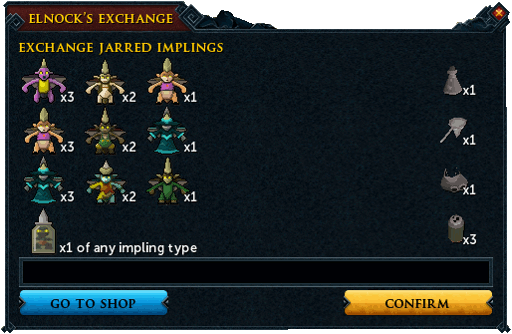 This Minigame Guide was written by ChathMurrpau. Thanks to previous guide writer Sir_Bob126, as well as King_of_Smiles, Aredjay, Andro_Girl, Jett_Man, Sksfrontiers, Frosty35, Crypto416, Grundoes, Jakesterwars, Tafkan, JoeC, Spikesummers, Belgarath, Poopymath, Ubernisation, Pac Sun Man, luigi1130, ice king xxx, Pk 0wner4, Escatore, Dwayne_Dibly, Wolves425, Motion_Man, MadeyeMike, Brainhault, Slayer_killa, Kayelle, LittleJake07, Radmite, Sup934, Dh5567, Iamdead173, Knighthawk76, Random605, Walk w jesus, Iriel_Red, kaoskiller1, Cloudsfinalh, Radmite, Alfawarlord, Lilroo503, Clamball, and Javezz for corrections.
This Minigame Guide was entered into the database on Fri, Jul 06, 2007, at 04:52:01 PM by Jakesterwars, and it was last updated on Mon, Oct 14, 2019, at 04:29:57 AM by Chath.
If anything is incorrect or missing, or if you have any new information to submit to this database, please submit it to us on our Content Submissions Forums.
If you see this guide on any other site, please report it to us so we can take legal action against anyone found stealing our content. This guide is copyrighted by RuneHQ, and its use on other sites is expressly forbidden. Do not ask if you can use our guides or images, the answer is and always will be NO!
Print this page with images - Back to the Minigame Guide Index Page - Back to Top