Directions:
To get there, you may either speak to the Squire on the pier at
Port Sarim
to travel to the island by ship free of charge, or use a Call to Arms scroll, with a summoned Void ravager, Void shifter, Void torcher or a Void spinner.
Quests Available in the Area:
Nearest Bank:
This area features its own bank.
Map: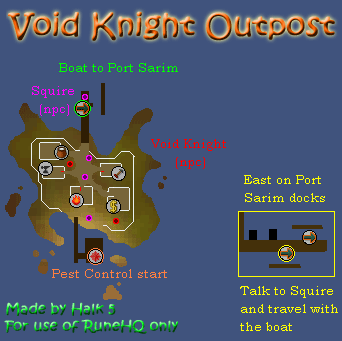 Instructions:
Island Features:
Pest Control - The main feature of this island. A co-operative multiplayer combat minigame. The landers at the south side of the island brings players to the Pest Control island when there are 5-25 players in them.
A Bank - The closest bank to Port Sarim and many other places accessible by ship, by a free boat journey.
An Anvil - The Smith can repair Barrows armour. This makes the island more popular for that reason alone.
Void Knight Archery Store - Sells both Arrow tips and Javelins from Bronze to Rune.
Void Knight Magic Store - Sells all elemental, mind, chaos and death Runes.
Void Knight General Store - Sells Ration packs which can be used to heal 500 life points.
The Conquest minigame .
Music Unlocked:
Null and Void - Void Knight Outpost
Pest Control (music track) - Pest Control Island
This Map was written by halk 5, DRAVAN, and alk12. Thanks to Digipoke, Watsermetjou, Fireball0236 for corrections.
This Map was entered into the database on Tue, Apr 25, 2006, at 09:10:45 PM by DRAVAN, and it was last updated on Sat, Nov 28, 2015, at 04:26:58 PM by DRAVAN.
If you see this guide on any other site, please report it to us so we can take legal action against anyone found stealing our content. This guide is copyrighted by RuneHQ, and its use on other sites is expressly forbidden. Do not ask if you can use our guides or images, the answer is and always will be NO!
Print this page with images - Back to the Map Index Page - Back to Top