Directions:
Varrock Teleport - This teleportation method is available if the player's magic level is at least 25 and they have 3 air, 1 fire, and 1 law rune in their inventory.

Lodestone - Once players have discovered the required lodestone (located by the south gate) they can use the Home Teleport spell to teleport to Varrock.

Balloon transport system- South of the Lumber Yard north-east of Varrock is a large hot air balloon.

Spirit tree - A magical Spirit Tree can be found within the Grand Exchange, north-east of the market area.

Fairy Ring - These strange rings of fungi were created by the fairies long ago.

Canoe system - This transportation system allows travel to several landing points along the River Lum.

Skills necklace and Combat bracelet - These pieces of jewellery can be used to visit the Cooking Guild and Champions' Guild, respectively. Each has four charges.

Gnome Gliders - These strange gnomish inventions are capable of transporting players to several areas across Gielinor.

On Foot - There are several entrances to Varrock, outlined in the previous section.
Quests Available in the Area:
Nearest Bank:
Varrock's banks are located near the east gate and near the west gate. They are very large buildings, and are easy to spot. They are great places to buy and sell items, as many players tend to congregate at these two banks. There is also a third bank in the Cooks' Guild, which was added as part of the Varrock Tasks.
Map: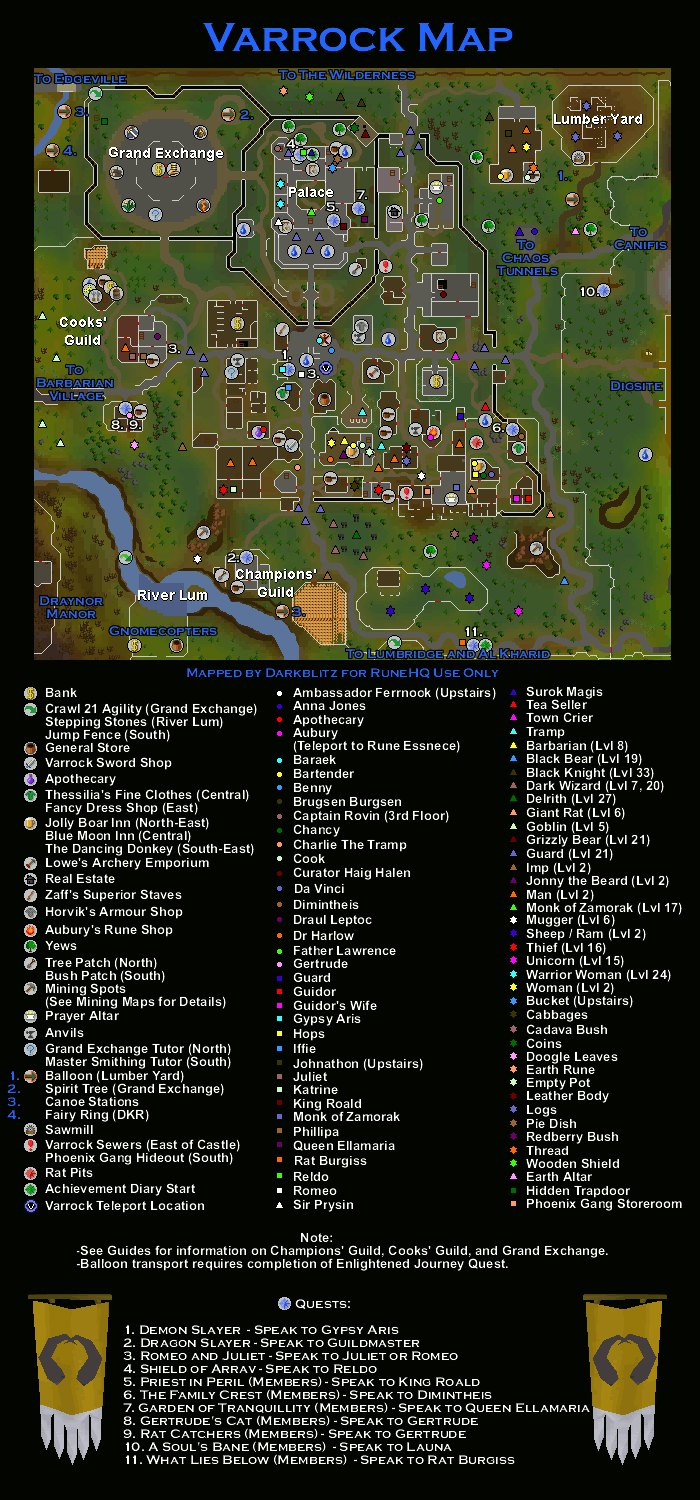 This Map was written by LogGamer and Thedarkblitz. Thanks to Fireball0236, watsermetjou, Alfawarlord, Skeletonmat, Maonzhi and Thehi. for corrections.
This Map was entered into the database on Sun, Dec 11, 2005, at 07:50:35 PM by Switcher, and it was last updated on Fri, Jan 01, 2016, at 06:11:16 PM by DRAVAN.
If you see this guide on any other site, please report it to us so we can take legal action against anyone found stealing our content. This guide is copyrighted by RuneHQ, and its use on other sites is expressly forbidden. Do not ask if you can use our guides or images, the answer is and always will be NO!
Print this page with images - Back to the Map Index Page - Back to Top