Quests Required to Enter Area:
Directions:
To enter the village press squeeze through loose railing. If you talk to Elkoy he will lead you through the maze, saving a bit of time.
Map: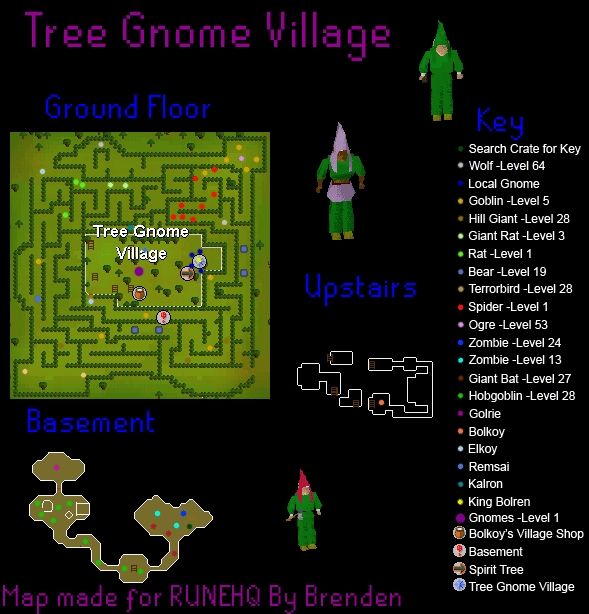 Instructions:
Features:
Gnome Village Dungeon - there are skeletons, giant bats and hobgoblins in here, as well as a jail with a gnome called Golrie (he is featured in Waterfall Quest, Roving Elves, and The Path of Glouphrie).

Spirit tree - after completing the Tree Gnome Village quest, players have access to the Spirit tree transportation system. The trees have options to teleport to Varrock, the area south of Ardougne, the Tree Gnome Stronghold, and after the quest The Path of Glouphrie, near the Poison Waste Slayer Dungeon.

Gnome glider - after completing The Prisoner of Glouphrie quest, players can use a new glider route, piloted by Captain Belmondo. It is located just outside the village near Elkoy and the farming patch.

Tree Gnome Village tree

Gnomes gathered around the spirit tree.

Tortoise - these are level 90, and if they carry gnomes they have melee, range and mage attacks. They drop Tortoise shell, which can be sold to Barlak in Dorgesh-Kaan for 600 coins, and also used as a Summoning pouch requirement for the level 67 War tortoise.

Bolkoy's Village Shop
Personalities Found:
King Bolren
Elkoy
Golrie
Local Gnome
Commander Montai
Bolkoy
Remsai
Kalron
Lieutenant Schepbur
Captain Belmondo
Golrana
Bolrie
Monsters Found:
Gnome - level 1
Spider - level 1
Giant Rat - level 3
Goblin - level 5
Zombie - level 13 or 24(dungeon)
Bear - level 19
Giant Bat - level 27(dungeon)
Terrorbird - level 28
Hill Giant - level 64
Hobgoblin - level 28(dungeon)
Ogre - level 96
Wolf - level 64
This Map was written by Brenden and DRAVAN. Thanks to Fireball0236 and Hampster_Hat for corrections.
This Map was entered into the database on Sun, Feb 12, 2006, at 02:11:15 AM by Fireball0236, and it was last updated on Tue, Dec 08, 2015, at 10:07:53 PM by DRAVAN.
If anything is incorrect or missing, or if you have any new information to submit to this database, please submit it to us on our Content Submissions Forums.
If you see this guide on any other site, please report it to us so we can take legal action against anyone found stealing our content. This guide is copyrighted by RuneHQ, and its use on other sites is expressly forbidden. Do not ask if you can use our guides or images, the answer is and always will be NO!
Print this page with images - Back to the Map Index Page - Back to Top