Quests Required to Enter Area:
Items Needed to Enter Area:
Directions:
Teleport to Zamorak's Hideout using the
Communication device
. Once there, enter the door to the West.
Nearest Landmark:
Zamorak's hideout
Map: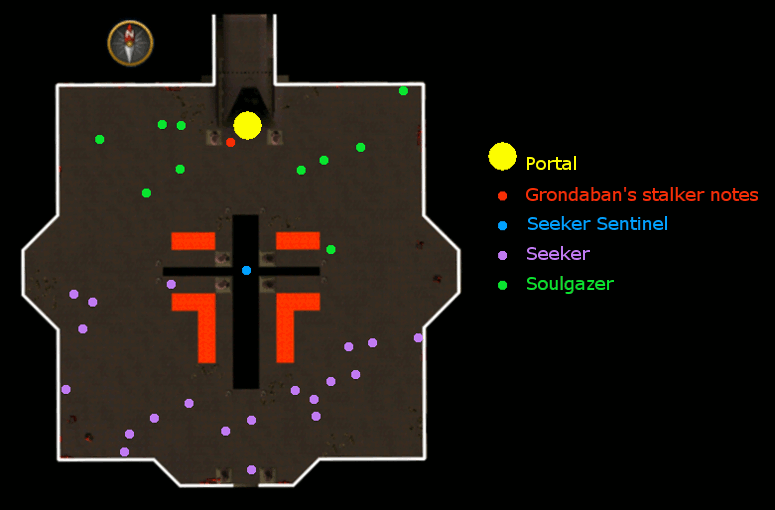 Instructions:
Table of Contents

In the center of the dungeon can be found a Seeker Sentinel, silently gazing about the room. This Seeker can neither be reached, nor interacted with.
Along the Northern wall is a passage way blocked by a gate. In front of this gate can be found a portal to the Stalker home dimension. When you obtain Seeker's charms and Soulgazer's charm, you will want to bring them here to use on the portal.
The Seeker's charm will increase your chances of a Soulgazer (Elite) or Veil-ripper Ozharakha spawning for the next 10 kills. The Soulgazer's charm will unlock the Baby soulgazer pet.
This Map was written by ChathMurrpau.
This Map was entered into the database on Thu, Feb 15, 2018, at 10:42:30 PM by ChathMurrpau, and it was last updated on Sun, May 27, 2018, at 07:28:48 PM by ChathMurrpau.
If you see this guide on any other site, please report it to us so we can take legal action against anyone found stealing our content. This guide is copyrighted by RuneHQ, and its use on other sites is expressly forbidden. Do not ask if you can use our guides or images, the answer is and always will be NO!
Print this page with images - Back to the Map Index Page - Back to Top