Directions:
Near Shantay Pass in
Al Kharid
. You can access the garden from the Sorceress's house, which is just east of the path leading to Shantay Pass. Speak to the Sorceress' Apprentice on the ground floor until you convince her to teleport you to the garden.
Nearest Bank:
Nearest Landmark:
Map: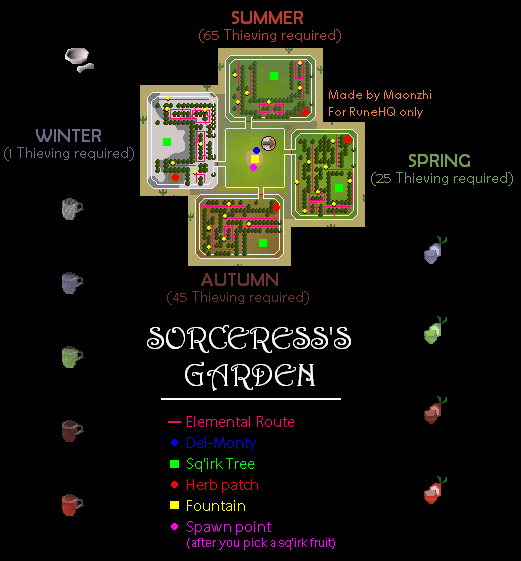 Instructions:
The garden is split into five different area. You start in the central gardern by a fountain and Del-Monty the cat. Drinking from the fountain will teleport you back to the Sorceress' house. Del-Monty will tell you about the garden and the minigame, if you speak to him while wearing a catspeak amulet.
Around the central garden are four seasonal gardens.

The Winter garden has a tree with the most under-ripe fruits (five required for one glass of Sq'irk juice).
The Spring garden has a tree with the slightly under-ripe fruits (four for one glass).
The Autumn garden has a tree with overripe fruits (three for one glass).
The Summer garden has a tree with perfectly ripe fruits (two for one glass).
This Map was written by Maonzhi and DRAVAN. Thanks to Fireball0236 for corrections.
This Map was entered into the database on Thu, Mar 29, 2007, at 10:33:13 AM by Alk12, and it was last updated on Tue, Dec 08, 2015, at 10:00:03 PM by DRAVAN.
If anything is incorrect or missing, or if you have any new information to submit to this database, please submit it to us on our Content Submissions Forums.
If you see this guide on any other site, please report it to us so we can take legal action against anyone found stealing our content. This guide is copyrighted by RuneHQ, and its use on other sites is expressly forbidden. Do not ask if you can use our guides or images, the answer is and always will be NO!
Print this page with images - Back to the Map Index Page - Back to Top