Quests Required to Enter Area:
Directions:
There are six forms of transportation to Shilo Village: Vigroy's cart, the Lady of the Waves, fairy ring code C•K•R, Karamja gloves and juju teleport spiritbags, and the wicked hood (Nature Altar) .
Map: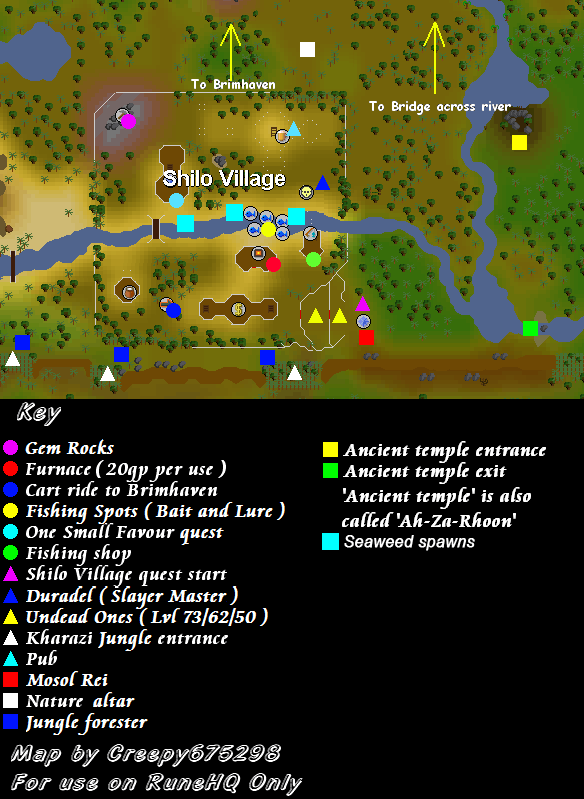 Instructions:
Shops:
Obli's General Store sells everything that a normal general store sells, and more. The most notable things are the charcoal and papyrus, used in the Legends' Quest. It also sells packs of 50 vials, both filled with water and empty, which respawn very slowly. However, the maximum quantity in the shop is 20 packs of each, amounting to a total of 1000 vials.

Fernahei's Fishing Hut sells a small selection of fishing equipment: fishing rods, fly fishing rods, fishing bait, and feathers. When fly fishing the shop can be used to top up the used up feathers. Trout, pike, and salmon can also be sold to this shop.

Yanni Salika owns the antique store in Shilo Village, and is also the starting point for the One Small Favour quest. He will trade players coins for several old quest items from both Shilo Village and Zogre Flesh Eaters.

Kaleb Paramaya runs the Paramaya Inn in the northern part of the village. The inn has no use after RuneScape Classic, but Kaleb still sells wine and beer. Players also come here to claim their Karamja gloves 2 after completing the Medium Karamja Tasks.
Slayer Master:
Shilo Village also contains the third highest level slayer master, Duradel. Players with a combat level of 100, as well as a Slayer level of 50 can get Slayer assignments from the now third highest levelled Slayer Master Duradel. He is upstairs in the house that has the Slayer Master mark on it on the minimap. From the fishing shop go up the ladder and cross the bridge to get to Duradel.
This Map was written by Creepy675298 and DRAVAN. Thanks to Inaithnir, magicblade28, Dorny2208 and Fireball0236 for corrections.
This Map was entered into the database on Tue, Jan 31, 2006, at 11:44:20 AM by Fireball0236, and it was last updated on Tue, Dec 08, 2015, at 10:11:58 PM by DRAVAN.
If you see this guide on any other site, please report it to us so we can take legal action against anyone found stealing our content. This guide is copyrighted by RuneHQ, and its use on other sites is expressly forbidden. Do not ask if you can use our guides or images, the answer is and always will be NO!
Print this page with images - Back to the Map Index Page - Back to Top