Directions:
There are many ways to reach the village.

Home teleport:To Seer's Village lodestone

Camelot Teleport - Requires 1 Law rune and 5 Air Runes.

Camelot Teleport Tablet - By breaking a Camelot Tablet either by making it in your POH, by using the 1 law rune and 5 air runes amount of runes on a lectern or by trading via player or Grand Exchange.



Fairy Rings: ALS (McGruber's Wood). - To get to Seers' Village, head East out of the Broken Fence (Requires no agility to pass through) and head east after that.

CJR (East of Sinclair Mansion). - To get to Seers' Village, head down South to reach the path, then head East onto the path, then head South onto the path.

DJR (West of Sinclair Mansion). - To get to Seers' Village, head down into the river till you have reached the road. Then head East on the road till you have reached the intersection. Head south after that.
Quests Available in the Area:
Nearest Bank:
The Seers' Village bank used to be a very popular trading spot. Most Fletching items (such as flax and bow strings) used to be sold here. The bank was also a trading arena for Treasure Trail rewards and rare items. Trading was drastically reduced after the introduction of the Grand Exchange.
Map: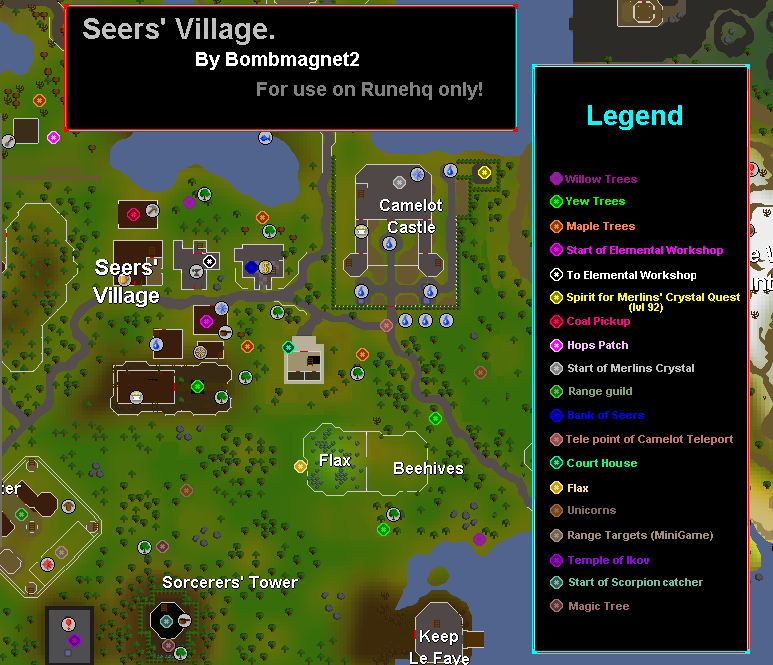 Instructions:
Features:
The Elemental Workshop is accessible through the building with the anvil, and is used in The Elemental Workshop I , The Elemental Workshop II , The Elemental Workshop III , and Elemental Workshop IV.

Flax Field: Located to the south-east of Seers' Village is a large flax field for picking flax which is used in Fletching.

Beehive Field: The beehive field is located south-east of Seers' Village. It's just to the east of the Flax Field

Saradomin Altar: The Saradomin Altar is located in the church north-west of the Flax Field.

Poison Salesman: The Poison salesman loiters in or around the pub and plays a role in The Fremennik Trials, and Murder Mystery quests.

Forester's Arms Pub: The local pub is one of the target bars in Bar Crawl.

Coal Trucks Depot: North of the bar is a small building with several Coal Trucks inside it. From here players can retrieve all of the coal mined from the Coal Trucks, providing it was loaded into the carts at the Coal Trucks. A coal cart can hold up to 120 coal.

McGrubor's Wood: To the west of Seers' Village, McGrubor's Wood is used in Fishing Contest and Plague City
Monster:
Highwayman (level 5)
Guard dog (level 44)
Wolf (level 64) - These wolves are to the north and past the Sinclair Mansion.
Chickens (level 3)
Unicorn (level 15)
This Map was written by bombmagnet2 and DRAVAN. Thanks to Emerald If i, Fireball0236, Manicks, and Ponteaus for corrections.
This Map was entered into the database on Sun, Nov 20, 2005, at 02:42:36 AM by Fireball0236, and it was last updated on Tue, Dec 29, 2015, at 11:21:16 PM by DRAVAN.
If anything is incorrect or missing, or if you have any new information to submit to this database, please submit it to us on our Content Submissions Forums.
If you see this guide on any other site, please report it to us so we can take legal action against anyone found stealing our content. This guide is copyrighted by RuneHQ, and its use on other sites is expressly forbidden. Do not ask if you can use our guides or images, the answer is and always will be NO!
Print this page with images - Back to the Map Index Page - Back to Top